Relief supplies began reaching thousands of people stranded in fire-ravaged Australian towns after deadly bushfires ripped through popular tourist spots and rural areas.
Navy ships and military aircraft were deployed alongside emergency crews to provide humanitarian relief and assess the damage from the deadliest spate of blazes yet in a months-long bushfire crisis.
Police said three more bodies were discovered today, bringing the confirmed death toll since late Monday to eight, including a volunteer firefighter who died when a "fire tornado" flipped his 10-tonne truck.
The latest deaths take to at least 17 the number of people killed in one of Australia's most devastating bushfire seasons of recent years.
New South Wales Rural Fire Service says that there are 110 fires burning across the region. In a post on Twitter, the fire service said that over 50 fires were yet to be contained.
At 5.30am there are 110 fires burning across NSW with over 50 yet to be contained.

Firefighters will make the most of more favourable conditions today to protect properties before deteriorating conditions again this Saturday.#NSWRFS #NSWFires pic.twitter.com/vb3o55n8XU

— NSW RFS (@NSWRFS) January 1, 2020
Fanned by soaring temperatures, columns of fire and smoke blackened entire towns yesterday and Monday, forcing thousands of residents and holidaymakers to seek shelter on beaches.
Many stood in shallow water to escape the flames.
The fires encircled seaside communities to trap thousands of holidaymakers and locals, cutting electricity and communication services that in many areas remained down.
New South Wales (NSW) Rural Fire Service commissioner Shane Fitzsimmons said emergency services faced a "real challenge" accessing isolated areas to help injured people, at least three of whom were later airlifted out suffering burns.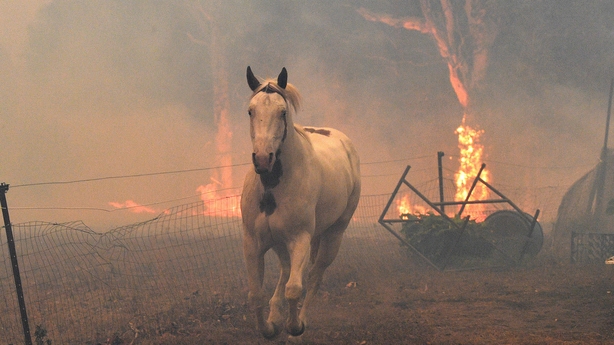 As fires raged across the country, some of the stranded were taking advantage of temporary road re-openings to return home while others faced a second trying night bedding down in make-shift accommodation.
In the coastal town of Eden, where evacuees were camping at football fields, volunteer Loureen Kelly said food was "running low very quickly" amid panic buying.
"Basic things like bread we ran out of yesterday. We had milk and very low to no fruit in town," she told public broadcaster ABC, adding that the community had rallied to provide food to the evacuees.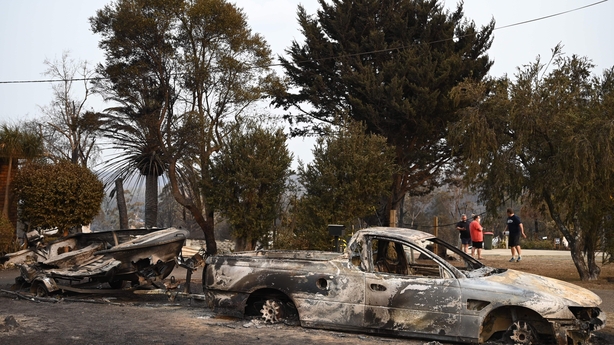 Police said early assessments have found nearly 200 homes have been destroyed, though they cautioned it was an early estimate.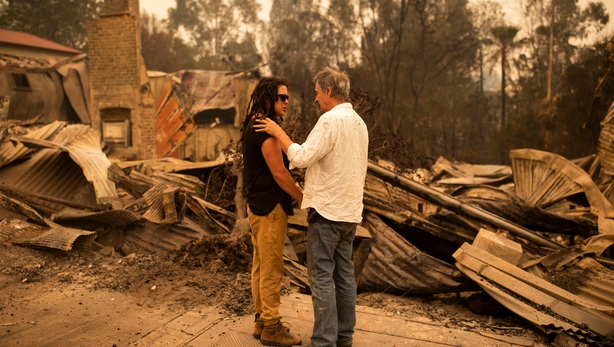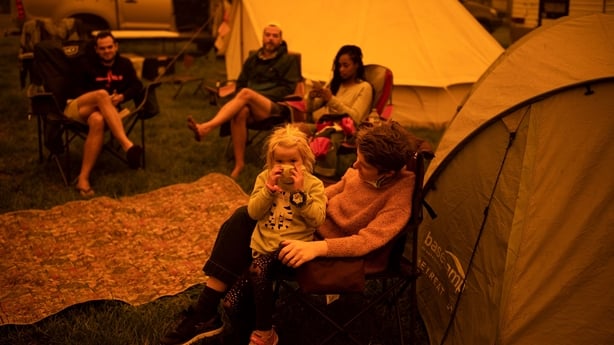 In Victoria state, four people remain missing, state Premier Daniel Andrews said, after a massive blaze ripped through Gippsland - a rural region about 500km east of Melbourne.
In Mallacoota where 4,000 had huddled on the foreshore as fire swept through, authorities were preparing for the possibility that the town could be cut off for weeks.
Aircraft have begun dropping supplies and ships carrying two weeks' worth of supplies have arrived.
Paramedics reportedly assessed the injured and moved those requiring further treatment to a 25-bed floating medical centre off the coast.
Many people have returned to find their homes burned to the ground, with the task of rebuilding shattered communities expected to take years.
Gary Hinton escaped flames roaring through Cobargo early yesterday and returned to the stricken town to find his father's house largely intact, but many other buildings reduced to cinders.
"It wasn't good. It's turned out pretty devastating for everyone," he told AFP.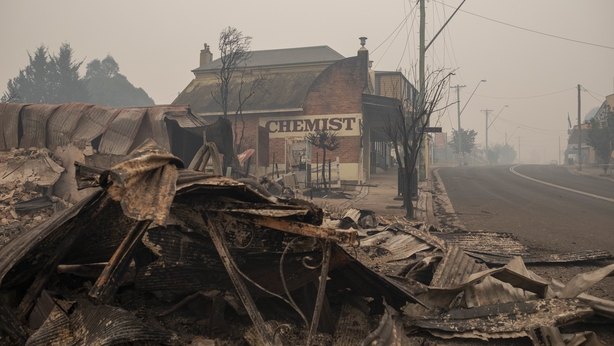 In Milton, a small town on the on the NSW south coast, locals queued for hours for the few remaining items left of shelves in supermarkets.
Emma Schirmer, who evacuated from her house in Batemans Bay with her three-month baby yesterday, said the local shop was limiting sales to six items per customer, while a power outage meant shoppers could pay only with cash.
As shops run low and firefighters struggle with exhaustion, Australia's military, including Black Hawk helicopters, fixed-wing aircraft and naval vessels were being deployed.
Victoria Emergency Management commissioner Andrew Crisp said. "We'll be prioritising those (fires) and hitting them as hard as we can. We don't need any new fires."
Authorities warned the fire danger would spike on Saturday as temperatures soar again.
"At the very least, weather conditions will be at least as bad as what they were yesterday," NSW Premier Gladys Berejiklian said.
"That makes this a long and dangerous and complex fight, a long and dangerous process to support everyone who's been impacted by it," Victoria Premier Daniel Andrews added.
Meanwhile, Australia's capital Canberra was blanketed in thick smoke, reaching about 20 times hazardous levels, prompting health warnings.
The smoke has also drifted to New Zealand where it has turned the daytime sky orange across the South Island.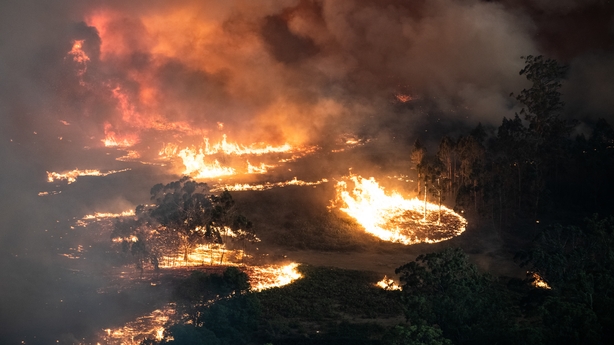 This season's blazes have destroyed more than 1,000 homes and scorched about 13.5m acres - an area bigger than Denmark or the Netherlands.
For weeks, major Australian cities have been choked by toxic bushfire smoke, and today air quality reached hazardous levels in Canberra as visibility in the capital plummeted.