Today marks 30 years since the Romanian communist dictator Nicolae Ceausescu was deposed and executed on Christmas Day 1989.
He was put on trial with his wife Elena following ten days of protests that led to the fall of Europe's last communist dictatorship.
Ceausescu had been in office since 1965 and had been implementing grandiose plans for the reconstruction of Bucharest, even though the country was being pushed into deep debt, with people suffering chronic food shortages, electricity cuts and minimal heating.
Unrest first broke out with reports of massacres in the western city of Timisoara, 350km northwest of the capital Bucharest, following an uprising that began on 17 December 1989.
It provoked international outrage, with demonstrations in neighbouring Bulgaria, Hungary and Czechoslovakia.
Ceausescu blamed "fascist, reactionary groups" for organising the anti-government protests in Romania and admitted for the first time that the army had to intervene to restore order, although he made no mention of casualties, despite reports of hundreds or even thousands of people being shot by troops.
By 21 December, the unrest had spread to Bucharest with demonstrators interrupted a government rally, addressed by Ceausescu.
Bucharest radio and television briefly stopped transmission of Ceausescu's speech, in which he said the protests were organised by people wanting to end socialism and put Romania under foreign domination.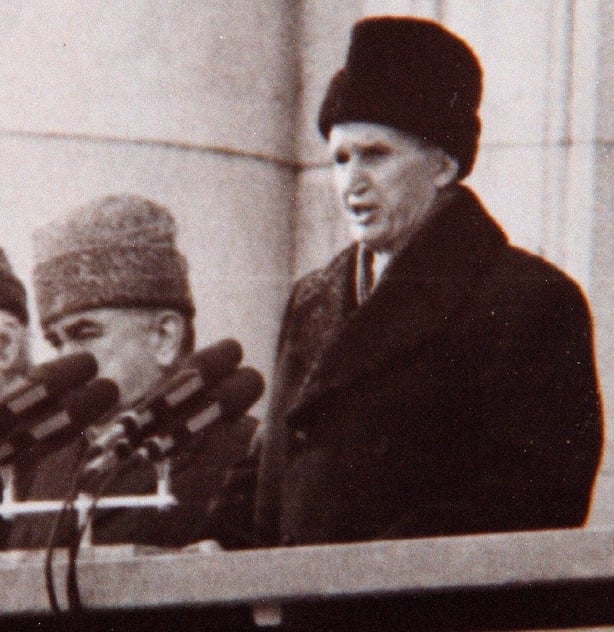 He added that Romania's integrity and independence must be defended with all its might.
Pitched battles broke out in Bucharest and other cities as the security forces that had kept Ceausescu in power fought with the army for control of the country.
On a day when emotions swung wildly from elation to terror in Bucharest, a capital of two million people, huge crowds gathered in the broad square in front of the old royal palace to celebrate the ignominious departure of the dictator.
Amid the confusion there were contradictory reports on the fate of Ceausescu and his wife Elena. Some sources claimed the pair had been arrested, others said they had fled the country.
Captured in the city of Targoviste close to Bucharest, Nicolae and Elena were put on trial on 25 December 1989, by a military tribune for genocide and abuse of power.
The two-hour trial ended with both being found guilty on all counts and sentenced to death.
Shortly after, paratroopers shot them with service rifles in the courtyard right outside the building. Footage of the trial and the executed corpses of Ceausescu and his wife were shown on television.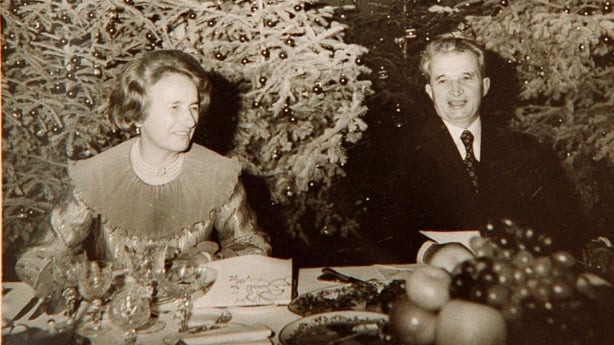 The Ceausescus' palace, filled with art and luxury items, was eventually opened to the public.
This week, thousands of people marched in the Romanian capital Bucharest to remember those who lost their lives in the revolution 30 years ago.
The marchers observed a minute's silence in Revolution Square then released hundreds of balloons, which organisers said represented the 1,142 people killed during the uprising.
President Klaus Iohannis and several ministers from his centre-right administration laid commemorative wreaths and lit candles in front of a monument to the victims.
"We want to know the truth about December 1989," Mr Iohannis said a few hours earlier, as he opened an exhibition on the revolution.
"We want the guilty to be judged and for justice to be done," he said.
Romania's former president, Ion Iliescu, is currently on trial accused of crimes against humanity for his alleged role in power during the final days of the revolution.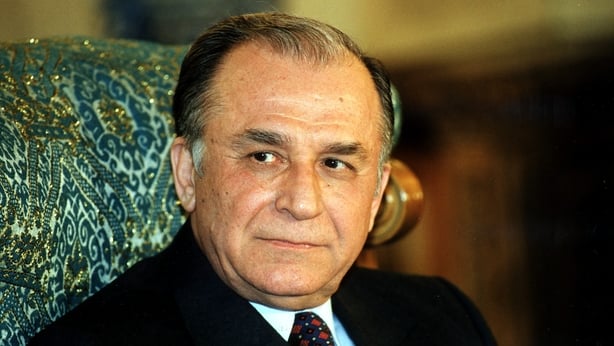 "It's thanks to those who died in December 1989 that we live in a free country," said 52-year-old Veronica Nicolau at the rally.
"I came to express my gratitude to these young innocents who were killed in cold blood," said Petre Cojan, a 73-year-old pensioner close to tears.
"One day, we will know the truth and then we will finally be able to celebrate the revolution rather than just commemorating it," he added.
Up until 22 December 1989, it was Ceausescu who gave the order to the army and the security forces to fire on protesters.
But most of the more than 900 victims died after he had been toppled from power and when Mr Iliescu had taken over.
His trial started last month following the re-opening of a long and controversial investigation and is expected to hear from more than 5,000 witnesses.
---
From the RTÉ Archives - 25th anniversary of Ceausescu overthrow
We need your consent to load this rte-player contentWe use rte-player to manage extra content that can set cookies on your device and collect data about your activity. Please review their details and accept them to load the content.Manage Preferences