US House of Representatives Speaker Nancy Pelosi has described President Donald Trump as an ongoing threat to American democracy.
She made the comment as the bitterly divided chamber holds an impeachment debate before historic votes tonight on two charges accusing Mr Trump of abusing his power and obstructing Congress.
He is accused of attempting to force Ukraine into investigating a main 2020 re-election rival, Joe Biden.
He is also accused of obstructing Congress by refusing to cooperate with the impeachment investigation, barring staff from testifying and holding back documentary evidence.
Impeachment by the Democratic-controlled House would trigger a trial in the Senate.
Mr Trump would become only the third US president to be impeached.
"Today we are here to defend democracy for the people," Ms Pelosi said in a speech on the House floor after reading the pledge of allegiance, drawing applause from members of her party.
As the debate unfolded, President Trump on Twitter called the Democratic-led proceedings "an assault on America" and on his party.
In a series of speeches on the House floor, Republicans defended the president and accused Democrats of seeking to topple him from power using an unfair and rigged process to nullify the results of the 2016 election.
"If we do not act now, we would be derelict in our duty. It is tragic that the president's reckless actions make impeachment necessary," Ms Pelosi added.
"He gave us no choice. What we are discussing today is the established fact that the president violated the Constitution. It is a matter of fact that the president is an ongoing threat to our national security and the integrity of our elections - the basis of our democracy," she said.
SUCH ATROCIOUS LIES BY THE RADICAL LEFT, DO NOTHING DEMOCRATS. THIS IS AN ASSAULT ON AMERICA, AND AN ASSAULT ON THE REPUBLICAN PARTY!!!!

— Donald J. Trump (@realDonaldTrump) December 18, 2019
Representative Doug Collins, the leading Republican on the House Judiciary Committee, said: "This is an impeachment based on presumption. This is basically also a poll-tested impeachment on what actually sells to the American people. Today's going to be a lot of things. What it is not, is fair. What it is not, is about the truth."
Republican Representative Jim Sensenbrenner called the articles of impeachment pursued by Democrats "a bunch of bunk."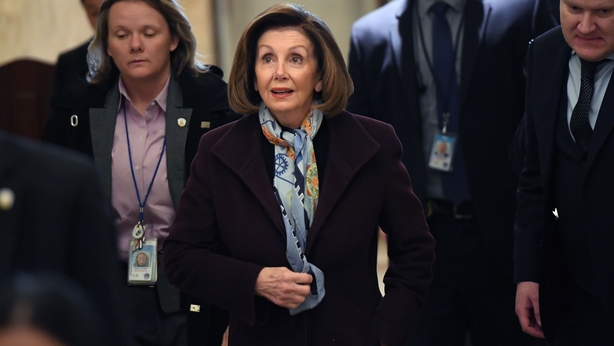 Impeachment is an extraordinary check on presidential power in the US Constitution enabling Congress to remove presidents who commit "high crimes and misdemeanors".
"The founders' great fear of a rogue or corrupt president is the very reason why they enshrined impeachment in the Constitution," Ms Pelosi added.
The vote would set the stage for a trial expected next month in the US Senate on whether to convict Mr Trump and remove him from office.
While the House twice previously has voted to impeach presidents - Bill Clinton in 1998 and Andrew Johnson in 1868 - no president has ever been removed from office via impeachment.
---
Read more:
Trump impeachment vote: What you need to know
---
There have been protests in support of impeachment in several cities including New York, Boston, New Orleans and Los Angeles.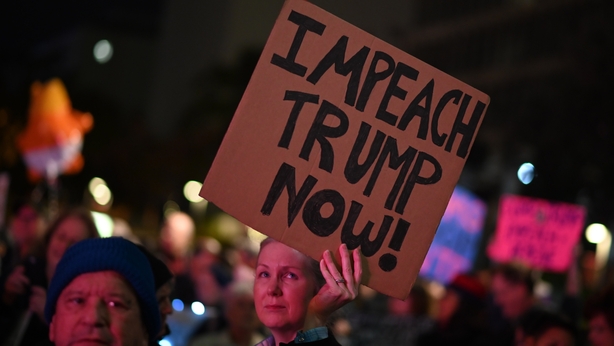 Demonstrators waved signs urging Congress to "Dump Trump" and "Protect our Democracy".
One sign wished fellow protesters a "merry impeachment" in reference to the Christmas holiday.