Two more people have died following Monday's volcanic eruption on White Island, bringing the official death toll to eight, New Zealand police have said.
There are believed to be two British women among about 30 people taken to hospital suffering burns following the incident, with all but five in a stable but serious condition.
Two more people, the seventh and eighth fatalities, whose nationalities have not been given, have now died in hospital.
Nine people have been confirmed as missing, according to authorities.
An operation to recover victims from the island has been delayed amid fears of worsening conditions, police said on Wednesday, as monitoring agency GeoNet said further eruptions on the island were likely.
Police said it was too dangerous to return to the island at the moment owing to the "serious physical and chemical hazards" rescuers would face.
White Island, off the country's North Island in the Bay of Plenty, erupted while dozens of people were exploring New Zealand's most active volcano.
Police have named seven Australians and two New Zealand citizens among the missing.
The updated death toll comes as increasing tremors on the island have hampered efforts to recover the bodies those thought to be left on the island.
Dozens of tourists and their tour guides were engulfed in steam and hot ash when the active volcano erupted on Monday.
27 people have horrific burns to 30% or more of their body and 22 are also on airway support due to the severity of their burns, medical authorities said.
"We anticipate we will require an additional 1.2 million square centimetres of skin for the ongoing needs of the patients," Counties Manukau Chief Medical Officer, Dr Peter Watson, said at Middlemore Hospital in Auckland.
"The nature of the burns suffered is complicated by the gases and chemicals in the eruption. This has necessitated more rapid treatment of these burns than is the case for thermal-only burns," said Dr Watson.
Surgical teams were engaged in around-the-clock treatment.
"This is just the start of a very long process that for some patients will last several months," he said.
The Australian government said it expected to transfer up to ten injured citizens from New Zealand starting in the next 24 hours, if medical staff approve them for travel.
A mother and daughter were the first Australians to be named as victims. Brisbane woman Julie Richards, 47, and her daughter Jessica, 20, had been confirmed dead, family friend John Mickel told Sky News.
Australian Gavin Dallow, 53, and his stepdaughter Zoe Hosking, 15, were also identified as being among the dead.
"Our hearts break at the loss of Zoe at such a young age," the Dallow family said in an emailed statement. "We mourn the loss of Gavin and Zoe."
Six friends who had been travelling with three other Australians who died - Jason Griffiths, and couple Karla Mathews and Richard Elzer - released a joint statement via the country's foreign affairs department.
The group said they had spent five "wonderful" days together on a cruise before they were "devastated" by the news the trio had been on the island when it erupted and Ms Mathews and Mr Elzer had not made it off.
"We then located our third friend, Jason Griffiths, in a hospital in the early hours of the next morning," they said.
"From that moment until the moment of his passing, Jason was surrounded by friends and family members.
"We are incredibly saddened to have lost three of our closest friends."
Authorities monitoring the uninhabited island said conditions were worsening and there was now a 40-60% chance of a massive eruption similar to Monday in the next 24 hours.
"In summary, yesterday there was a high risk of an eruption.Today there is an even higher risk of an eruption. And the parameters are worsening at the moment," Graham Leonard, a senior volcanologist at GNS Science, told a news conference in Wellington.
Geological agency GeoNet also said in a statement: "The situation remains highly uncertain as to future activity. Eruptions in the next 24 hours are still likely to occur."
A plume of smoke could be seen coming from the island this morning.
Police said the safety of recovery teams was the priority and are awaiting advice from experts on when they could access the island. That has prompted some criticism authorities are being too cautious.
"We cannot put other people in jeopardy to go out there until we're absolutely certain that the island is actually safe," Acting Assistant Commissioner Bruce Bird told a media conference in Whakatane.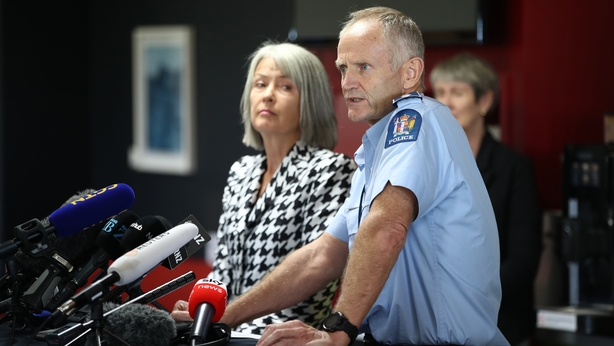 When the volcano exploded it is believed to have sent super heated steam, ash and cannonball-like rocks hurtling from the caldera at supersonic speed.
Police Minister Stuart Nash said injuries to tourists and guides exploring at the time were so severe that some victims could not identify themselves.
"There are a number of people in hospital who cannot communicate, they have significant burns not only to skin but internal organs," he told Radio New Zealand.
"We're working very closely with a number of agencies to ensure we get this identification right."
A total of 47 tourists and guides were on the island when the blast occurred, hailing from Australia, the United States, Britain, China, Germany, Malaysia and New Zealand.
Mr Nash said the survivors were receiving world-class treatment but warned "there are still some very, very seriously injured people in hospital".
"We wish them the best but we're not out of the woods yet, of that there's no doubt," he said.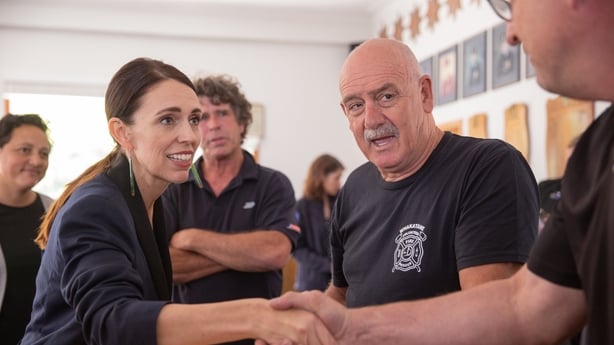 Police have said they understand the frustration of family members who want clarity over the fate of their missing loved ones but recovery teams had no choice but to wait before accessing the island.
Seismologists have predicted there is a 50% chance of another eruption on the island.
Poisonous gases are still pouring from the volcanic vent and the island is blanketed in a thick layer of acidic ash.
"It would be madness for us to send men and women across to White Island in a situation that was not safe for them," Mr Nash said.
New Zealand authorities said reconnaissance flights had determined that after survivors fled the initial blast no one was left alive on the island.
Police hope to use drones to measure toxic gas levels around the island and determine whether it is safe to return, but windy conditions have so far prevented them from doing so.
With weather expected to deteriorate tomorrow, pressure is building to begin the recovery operation.
"We're assessing all factors every two or three hours to see if we can go," Superintendent Bird told reporters.
The eruption at White Island - also known as Whakaari - occurred on Monday afternoon, spewing a thick plume of white ash 3.6km into the sky.
Visitors at the time included a group of more than 30 from a Royal Caribbean cruise ship, the Ovation of the Seas, which left Sydney on a 12-day voyage last week with up to 4,000 passengers on board.
The ship had delayed its departure from nearby Tauranga in the wake of the disaster but set off for Wellington early this morning.
"A team will remain onsite in Tauranga and all hospital locations to ensure those affected by Monday's incident are taken care of in terms of medical help, counselling, accommodations, and transport," the company said in a statement.
"Our priority continues to be to ensure that all guests and crew impacted are well taken care."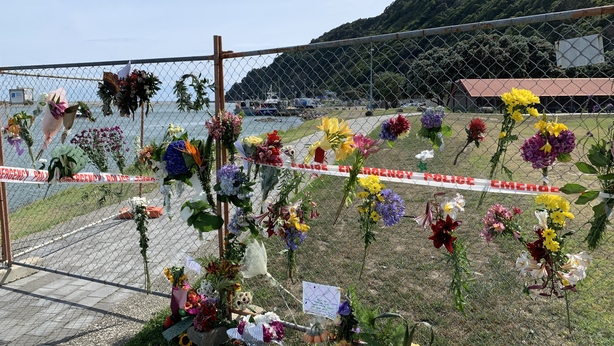 The island in the picturesque Bay of Plenty attracts more than 17,000 visitors every year and is marketed as an experience for the adventurous traveller.
But the volcano's threat level had been raised in recent days, leading to questions about whether tour groups should have been allowed to visit.
Additional reporting: AFP; Reuters