French President Emmanuel Macron was elected on a platform of change, and this latest strike is in response to his as-yet-unpublished reforms of the pensions system.
At least 450,000 people took to the streets across France - not including Paris - according to an AFP count based on police and official figures. Most protests were peaceful.
Any potential reform is still a long way off, with final proposals not expected until the New Year. If agreed, the reforms will not take effect until at least 2025, and possibly much later.
However if implemented, it would be the first major overhaul of the system which was created after the Second World War.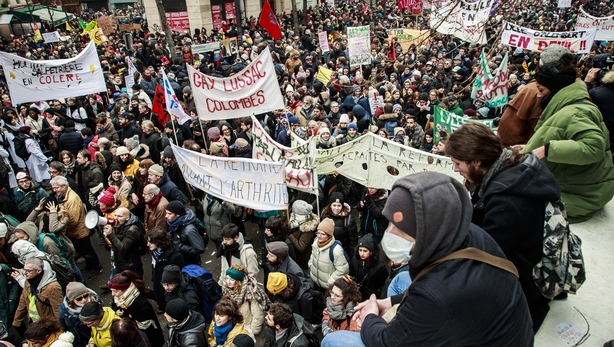 Essentially, President Macron wants to simplify the unwieldy pension system, which comprises 42 different plans, many with different retirement ages and benefits.
For example, rail workers, mariners and Paris Opera House ballet dancers can retire up to a decade earlier than the average worker. President Macron wants to see a change that would hike the earliest age at which one can collect full retirement benefits from 62 to 64, overhaul the formula for calculating benefits and merge the 42 regimes into a single one.
Unions say this would result in benefit cuts for millions. There is also strong opposition to raising the retirement age.
Mr Macron says the system is unfair and too costly. He wants a single, points-based system under which every pensioner has equal rights for each euro contributed.
For the former investment banker, the showdown with strikers will set the tone for the second half of his term, with more difficult reforms to come later, including to unemployment benefits.
Nor is it without risk for the hard-left unions whose membership and influence have diminished in recent years. They face a delicate balancing act of needing to pressure the executive while not creating a public backlash.
"For 30 years successive governments have tried to bring reform and fail because the unions cripple the country," said 56-year-old cafe owner Isabelle Guibal. "People can work around it today and tomorrow, but next week people may (start to) get annoyed."
Macron's latest test
The strike will be a major test of whether President Macron has the political strength to push through one of his key campaign pledges.
He has already faced a series of protests this year by the "gilets jaunes" as well as police, fire fighters, teachers, hospital workers and lawyers.
But so far the President has largely succeeded in pushing through controversial reforms to labour and tax laws, while also doing away with job-for-life guarantees and other benefits at the national rail, the SNCF, which for decades was considered an untouchable union bastion.