Bolivian President Evo Morales announced his resignation today, caving in following three weeks of sometimes-violent protests over his disputed re-election after the army and police withdrew their backing.
"I resign my post as president," Mr Morales said in a televised address, capping a day of fast-moving events in which several ministers and senior officials quit as support for Latin America's longest-serving president crumbled.
He said he would submit his resignation letter to help restore stability, though he aimed barbs at what he called a "civic coup".
The Organisation of American States (OAS), which conducted an audit of the 20 October election, issued a report that found serious irregularities in the vote won by Mr Morales, which sparked widespread protests around the country.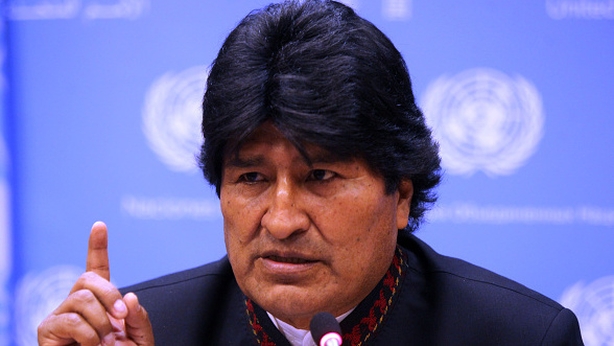 The OAS report said the October vote should be annulled after it had found "clear manipulations" of the voting system that called into question Mr Morales' win, with a lead of just over 10 points over main rival Carlos Mesa.
Earlier today, the commander of Bolivia's armed forces called on Mr Morales to resign.
"After analysing the conflicted domestic situation, we ask the president to resign his presidential mandate to allow for pacification and the maintaining of stability, for the good of our Bolivia," General Williams Kaliman told reporters.
Mr Morales came to power in 2006 as Bolivia's first indigenous leader.
This morning Mr Morales had agreed to hold new elections after the report from the election audit revealed serious irregularities in the election.
Speaking at an earlier news conference, he tried to placate critics by saying he would replace the country's electoral body for the new vote, though his opponents - already angry that he ran in defiance of term limits - were not assuaged.
As the fall-out from the audit report swept across Bolivia, there were signs that Mr Morales' support was waning fast.
Several of his allies resigned, including Mining Minister Cesar Navarro and Chamber of Deputies President Victor Borda, who belongs to Mr Morales' party. They both cited fear for the safety of their families as the reason for stepping down.
Venezuelan President Nicolas Maduro condemned a "coup" against his leftist ally Mr Morales.
"We categorically condemn the coup realised against our brother president," Mr Maduro said on Twitter.