A spokesperson for Global Trailer Rentals Ltd (GTR) has confirmed that it owns the refrigerated trailer in which 39 people were found dead in Essex yesterday.
GTR is based in Dublin but also has locations in counties Louth and Monaghan.
The spokesperson said the trailer leased on 15 October from Global Trailer Rentals' yard in Co Monaghan at a rate of €275 per week until it is returned.
The company has contacted the incident team in Essex police directly and gave them information about the person and company that leased the trailer.
Trailers owned by Global Trailer Rentals are equipped with GPS trackers. 
GTR said it will make the data from its tracking system available to investigating police. 
The company's directors said they are "shellshocked" at the news and "gutted" that one of their trailers had been used in such a way.
The company extended its sincere condolences to the relatives and friends of the those who died.
In a statement this afternoon GTR said it was "entirely unaware that the trailer was to be used in the manner in which it appears to have been".
It says the company contacted Essex Police yesterday "immediately upon becoming aware that a trailer on lease from this company had been involved in this incident".
Minister for Justice Charlie Flanagan said he understands it is quite common for Irish companies to register their trucking companies in other countries.
The minister said this was something that needed to be looked at.
"I believe we need to look at that ... I believe it is important there is no opportunity for activity of an unacceptable nature regarding the registration of trucks.
"It is quite common to see Irish trucking companies with their fleet having registration plates in eastern Europe in particular, I believe it's something we have to look at with a view to tightening up the situation."
We need your consent to load this rte-player contentWe use rte-player to manage extra content that can set cookies on your device and collect data about your activity. Please review their details and accept them to load the content.Manage Preferences
39 people found dead in container were Chinese nationals
Meanwhile British police have confirmed that the 39 people found dead in the back of a lorry are all Chinese nationals - eight women and 31 men.
Three properties in Northern Ireland are being searched as part of the investigation and a 25-year-old man from Co Armagh remains in police custody.
Police have been given permission to hold him for another 24 hours.
It comes as gardaí said they have no evidence that an Irish people trafficking gang was involved in the trafficking of the people who were found dead yesterday morning in the container.
Gardaí are conducting follow up inquiries in relation to the registrations and movements of the refrigerated container and the Irish-owned truck.
They do not however believe at this stage, and say they have as yet no information to suggest, that an Irish-based criminal gang was involved.
Police in the UK said the trailer containing the victims arrived by ferry from Zeebrugge in Belgium early yesterday morning and the front section, known as the tractor, came from Northern Ireland.
---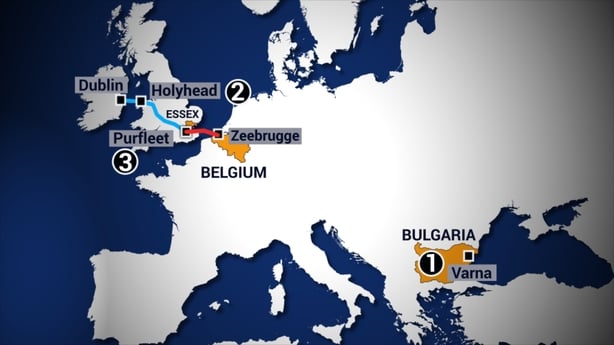 1. 2017: Lorry registered in Varna, Bulgaria, to company owned by Irish citizen
2. 19 October 2019: Tractor unit came to Holyhead, Wales, via Dublin
3. 23 October 2019: Ferry from Zeebrugge with container docked in Purfleet, Essex, around 12.30am
Container on back of tractor unit left docks at 1.05am
Container with bodies found in Waterglade Industrial Park, Essex, at around 1.40am
---
Police said all 39 victims were pronounced dead at the scene after ambulance staff made the discovery at Waterglade Industrial Park in Grays.
Of the 39 people, one has been described as a young adult woman. Police had previously believed one of the victims was a teenager.
The Chinese embassy in London said: "We read with heavy heart the reports about the death of 39 people in Essex, England.
"We are in close contact with the British police to seek clarification and confirmation of the relevant reports."
The 25-year-old lorry driver from Portadown is being held by Essex police on suspicion of murder.
Several pictures on his Facebook profile match those of the vehicle at the centre of the investigation.
Two houses in Co Armagh associated with the arrested man were searched by the PSNI, one being the home of the suspect near Portadown, with the other being the home of his parents. A third property in Armagh was also searched.
The lorry and the container have been moved to nearby Tilbury Docks so the bodies can be recovered while preserving the dignity of the victims.
Essex police said the work of trying to identify the victims is expected to be a lengthy process.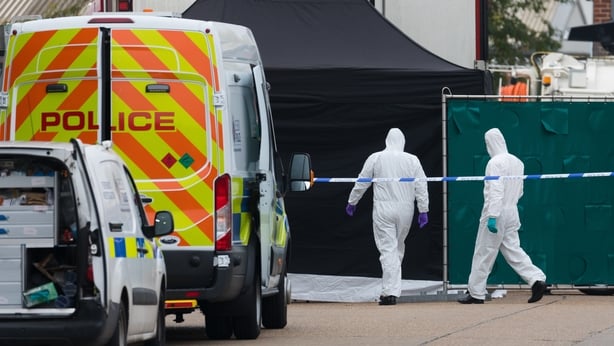 Police have said tracking the route used "will be a key line of inquiry".
The Bulgarian ministry of foreign affairs said the truck was registered in Varna in Bulgaria "under the name of a company owned by an Irish citizen".
Police originally thought the lorry had travelled to the UK through Holyhead in north Wales on 19 October but later revealed that the trailer had come directly from the Continent.
The tractor unit of the lorry entered the UK via Holyhead on Sunday 20 October, having travelled over from Dublin.
The lorry then collected the trailer, which had travelled from Zeebrugge, at the port of Purfleet at around 1230am on 23 October.
The cab and trailer left the port shortly after 1.05am.
Gardaí yesterday said they were satisfied the 39 people found dead in the container were not trafficked through the Republic of Ireland.
Detectives from the Garda National Immigration Bureau and officers from Special Crime Operations have been investigating the route the truck, and the container, took from Europe to Essex.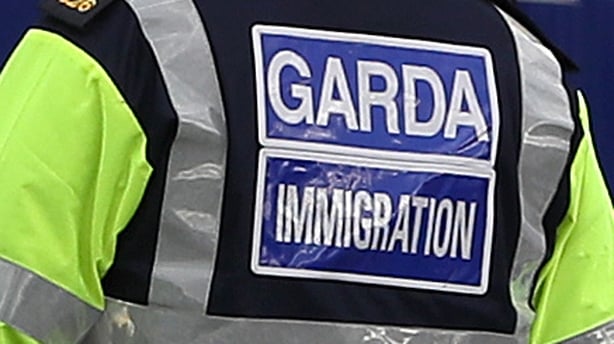 Police were called to Waterglade Industrial Park in Eastern Avenue shortly before 1.40am on Wednesday 23 October by the East of England Ambulance Service, who received reports of bodies being found in the container.
It is not know who raised the alarm.
A spokesman for the British Red Cross described the scene in Essex as "absolutely horrific".
Investigation will have full co-operation of gardaí - Coveney
Speaking during Leaders' Questions in the Dáil, Tánaiste and Minister for Foreign Affairs Simon Coveney said gardaí will co-operate fully with the investigation.
He said: "It is a reminder of just how ruthless and shocking people trafficking is right now.
"This is not simply something that we see in terms of trying to bring refugees from countries like Libya, across the Mediterranean. This is an issue that comes right into our own lives, into the UK."
He said: "The investigation that's under way at the moment involves An Garda Síochána also. The investigation taking place will have the absolute and full co-operation of An Garda Síochána.
"It is important to say that we do have a national action plan to prevent and combat human trafficking and An Garda Síochána has committed significant resources to investigating and prosecuting in the context of human trafficking and a specialised Garda unit.
"The human trafficking investigation and co-ordination unit has been established and is very much part of that human trafficking strategy, so I want to give that reassurance."
Drivers concerned over sophisticated smuggling measures
Speaking on RTÉ's Morning Ireland, Matthew Carter said one of the emergency services personnel had told a colleague of his that it was the worst scene he had seen in 30 years.
He said the organisation had a small team available to offer support to emergency services workers who attended the scene.
Rod McKenzie of the British Road Haulage Association said drivers are increasingly worried by the sophisticated measures used by "evil gangmasters" who seek to smuggle people across Europe in the back of lorries.
Speaking on RTÉ's Today with Sean O'Rourke, he said drivers are diligent in checking trucks and reporting anything suspicious, but despite reasonable checks migrants have been hidden onboard lorries.
He said hauliers need additional support from authorities and law support agencies to catch migrant gangs whom he described as "cynical, manipulative and evil" people. 
He described situations where people smugglers have set up fake roadblocks and threatened drivers with baseball bats to let migrants into the back of their vehicle.
However, he said the trend towards greater sophistication has seen more inventive methods, including removing the back engine of a lorry and hiding migrants in hidden sections without the driver's knowledge.
He said most drivers are extremely diligent about doing walkaround checks and alerting authorities if there is something suspicious noticed.
Mr McKenzie said that the situation worsened a number of years ago around the port of Calais, where migrants were trying to board trucks by jumping onboard to enter the UK.
He said as Calais authorities improved and got better technological solutions, it has become harder for migrants to get through from there.
As a result he said less well-guarded ports like Zeebrugge "has allowed situations like this [in Essex] to develop".
He said it is his understanding that security and technological options available to authorities in Zeebruge are less onerous than in Calais. 
Chief executive of NASC, the Migrant and Refugee Rights Centre, Fiona Finn said the deaths in Essex are "shocking" and each person is a "brother, sister or mother...who all have families left behind".

Reporting Paul Reynolds, Vincent Kearney, PA, Reuters