An Irish passport holder, who is being held in Russia on suspicion of spying, said prison authorities have hurt him, Interfax news agency has reported.
Former US Marine Paul Whelan also holds British, Canadian and US passports.
He was detained in a Moscow hotel room on 28 December and accused of espionage.
He had been given a flash drive that his lawyer said Mr Whelan thought contained holiday photos, but that actually held classified information.
"I was injured in the prison ... the prison doesn't want to tell you," Mr Whelan told journalists from a cage in a Moscow court, which extended his provisional detention to the end of October.
He arrived in the court handcuffed and escorted by two security guards wearing black masks and plain clothes.
"You can see the treatment," he said as he entered.
"I am standing here in great pain due to an injury sustained in the prison by the prison guards," he said, looking pale.
He did not say what type of injury he suffered.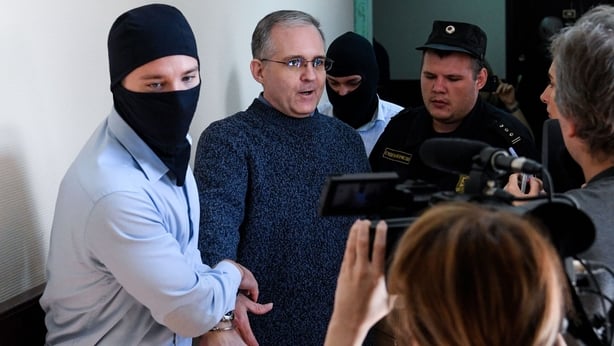 ---
Read More:
Irish passport holder held in Russia was misled, says lawyer
US citizen held in Moscow seeks Irish consular assistance
---
Mr Whelan's family said he had been in Moscow for a friend's wedding.
During an earlier hearing, he made a direct appeal to US President Donald Trump.
"Mr President - we cannot keep America great unless we aggressively protect and defend citizens wherever they are in the world," he said.
Mr Whelan is among high-profile detainees mooted for a potential prisoner swap with the United States.