Hundreds of members of China's People's Armed Police Force have been conducting exercises at a sports stadium in the city of Shenzhen, which borders Hong Kong.
The US State Department has expressed concern that they could be deployed across the border to end pro-democracy protests the city.
But foreign diplomats in Hong Kong said Beijing has little appetite for rolling the People's Armed Police or the People's Liberation Army onto the streets of Hong Kong.
Troops could be seen marching in and out of the stadium. The floor of an indoor area visible through an open gate was lined with mats and rucksacks.
Parking spaces at the stadium were filled with more than 100 dark-painted paramilitary vehicles, including troop trucks, armoured personnel carriers, buses and jeeps.
Chinese state media has made several mentions of exercises in Shenzhen.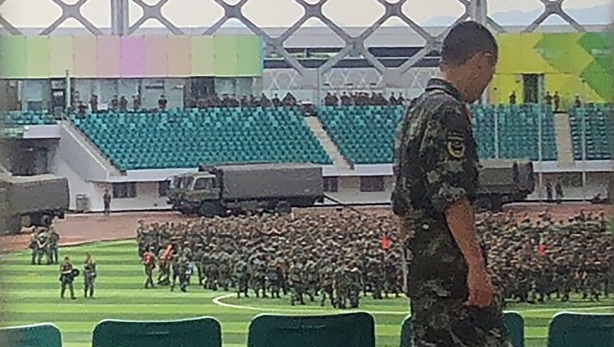 The US State Department said it was deeply concerned about the reports that Chinese police forces were gathering near the Hong Kong border and urged the city's government to respect freedom of speech.
However, diplomats in the territory said they believe the Chinese leadership is well aware that moving mainland forces into Hong Kong would shatter international faith in the "one country, two systems" model at the heart of its role as a global financial hub, and would swiftly lead to sanctions.
Police and protesters faced off again on the streets overnight, with riot officers firing teargas following the demonstrations at the city's airport earlier this week, which forced the cancellation of nearly 1,000 flights.
China 'will not sit by' if HK crisis worsens: Chinese envoy
China will not "sit by and watch" and is ready to "quell the unrest swiftly" if the crisis in Hong Kong becomes "uncontrollable", China's ambassador to London has said.
"If the situation deteriorates further into unrest uncontrollable by the SAR (Special Administrative Region) government, then the central government will not sit by and watch," Liu Xiaoming said in a news conference.
"We have enough solutions and enough power to quell the unrest swiftly," he said.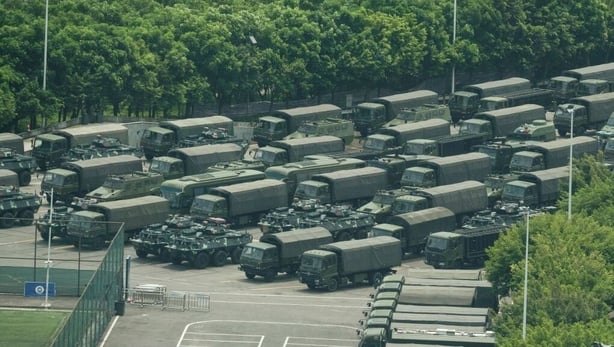 Meanwhile, US President Donald Trump has linked a trade deal between the United States and China to the humane resolution of the protests in Hong Kong.
He appeared to suggest a personal meeting with Chinese President Xi Jinping to help resolve the crisis.
"Of course China wants to make a deal. Let them work humanely with Hong Kong first!," Mr Trump said on Twitter.
"I have ZERO doubt that if President Xi wants to quickly and humanely solve the Hong Kong problem, he can do it. Personal meeting?"
I know President Xi of China very well. He is a great leader who very much has the respect of his people. He is also a good man in a "tough business." I have ZERO doubt that if President Xi wants to quickly and humanely solve the Hong Kong problem, he can do it. Personal meeting?

— Donald J. Trump (@realDonaldTrump) August 14, 2019
Following the tweet, China's Foreign Ministry released a statement saying it had "noted US President Trump's comment that Beijing needs to resolve the crisis in Hong Kong on its own".
President Trump, who has been seeking a major deal to correct trade imbalances with China ahead of his 2020 re-election bid, has faced mounting criticism from the US Congress and elsewhere for not taking a stronger public line on Hong Kong and for his characterisation of the protests earlier this month as "riots" that were a matter for China to deal with.
In his tweets, Mr Trump also said that his delay in imposing 10% tariffs on more than $150bn in Chinese imports to 15 December from 1 September "will be reciprocated" by China and the "much good will come from the short deferral to December".
His comment appeared to contradict senior officials in his administration, who said earlier that no concessions were made by China in response to the delay announced on Tuesday.