A knife wielding man who killed one woman and injured another was restrained by members of the public before being taken into custody, police in Sydney said.
The unidentified man had also tried unsuccessfully to stab other people, police said, in an incident that brought the central business district in Australia's largest city to a standstill.
A 21-year-old woman was found dead in an apartment building and a second woman, 41, was taken to hospital with a stab wound to her back.
She was in stable condition, police said.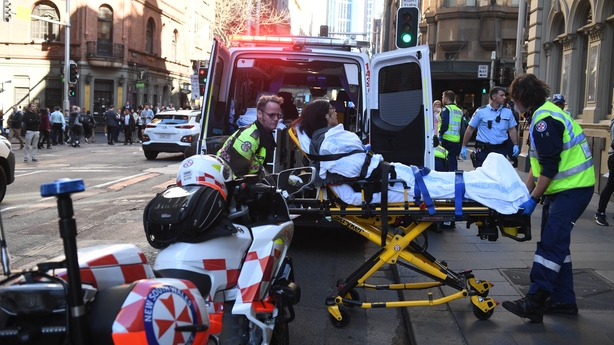 They did not say how the first woman died but said the man was responsible for both attacks. There was no apparent link between the two women.
Police have said they are not treating the attack as a terrorist incident, but the attacker may have some terrorist ideologies.
New South Wales police commissioner Mick Fuller said: "It is not currently classed as a terrorist incident ... As the investigation continues we will reassess that.
"Information was found on him that would suggest he had some ideologies related to terrorism ... but he has no apparent links to other terrorist organisations."
Video images on Twitter showed a young man running across a city intersection and jumping onto a car, waving what appeared to be a long-bladed knife.
The man, who was yelling, fell to the ground when the car moved and was confronted by a person holding a chair, the video showed.
It was unclear what the man was calling out.
Other footage showed the man pinned to the ground by several people holding two chairs and a milk crate on top of him.
Australian Prime Minister Scott Morrison praised those who stopped the assailant.
"The attacker is now in police custody following the brave actions of those who were present at the scene and were able to ... restrain him," Mr Morrison said.
Police said the man was acting alone.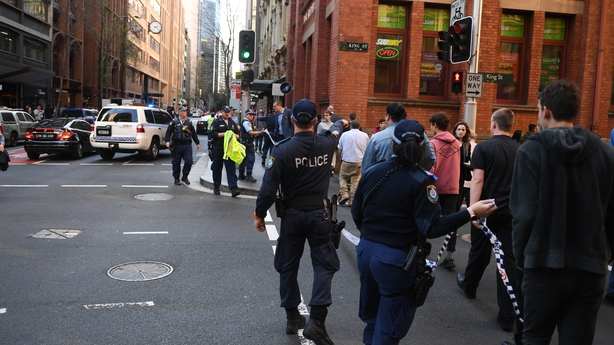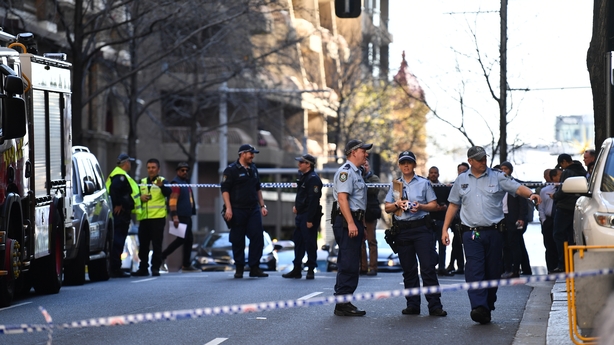 Superintendent Wood said: "A number of members of the public actually physically restrained the offender.
"And I want to acknowledge those people, those members of the public who got involved. They are brave, and I can only use that word seriously.
"They are significantly brave people. They approach the person... with clear evidence of a stabbing previously.
"These people are heroes, and I want to acknowledge that.
"These members of the public going about their day-to-day business have jumped into a situation which was extremely dangerous, extremely hostile, and they have brought a person - who we will be alleging stabbed an innocent person for no specific reason - into custody and allowed us to do our job."
We need your consent to load this rte-player contentWe use rte-player to manage extra content that can set cookies on your device and collect data about your activity. Please review their details and accept them to load the content.Manage Preferences
Lee Cuthbert and brothers Paul O'Shaughnessy and Luke O'Shaughnessy, all from Manchester, were working in the area when they became aware of the situation and went to tackle the suspect.
Mr Cuthbert told the Sydney Morning Herald newspaper: "We had a window open to get some air in and then we just heard the commotion ... we looked out and saw him on top of a car, wielding a knife, and we all just kind of reacted from there.
"We just tried to get down as quick as we could. You don't think, you just kind of react really, it was surreal, very, very surreal.
"We all kind of chased, worked together, but it was Luke who was the real hero. He pursued him the hardest and managed to get a grip of him."
Luke O'Shaughnessy, 30, told the Press Association: "We heard a massive commotion outside and I looked outside and I could hear a man chanting.
"I looked over and he jumped onto a car, and he had a knife and (was) covered in blood.
"So at that point I kind of acted on instinct. I shouted 'Paul' and said 'Let's go, there's a man with a knife."
He added: "It was a weird situation.
"It's funny, we (Luke and Paul) always said 'What would you do when you hear about these things around the world, what would you do?'
"We always said if that happens, we're the kind of guys that ask questions later. Just act on instinct.
"I thought I don't care, I can take him whoever he is... We ran around and made sure he didn't cause any more havoc."
Additional Reporting PA