Belgian meteorologists reported record high temperatures as western Europe sweltered in a heatwave that has disrupted transport and triggered safety warnings.
David Dehenauw, chief forecaster at the Royal Meteorological Institute (IRM), said a high of 39.9C was recorded at the Kleine-Brogel military base, about 100km northeast of Brussels and near the Dutch border.
The figure surpassed a previous reading of 38.8C that Mr Dehenauw had given for the same site just hours earlier.
In a tweet, he said this was the highest since Belgium's first records were kept in 1833, and warned that temperatures are expected to rise further tomorrow.
The previous record temperature was 38.8C on 27 June 1947. But that number was revised down to 36.6C in 1980 after new, more accurate equipment was installed at the institute's observatory in the Brussels district of Uccle.  
Mr Dehenauw said the latest record reading from today was "provisional" and could yet be beaten during the current heatwave, which is forecast to last until late Friday.
Earlier, large parts of Britain experienced storms and lightning strikes as the country braced for what could be its hottest day ever later this week.
Thunderstorms moved into southern and western areas late yesterday evening, with the Met Office issuing a yellow severe weather warning for most of England, Wales and Scotland.
It comes as western Europe baked in a new heatwave already breaking longstanding records, with temperatures reaching 41C in parts of France.
Forecasters are predicting new temperature highs in a string of countries, including Belgium, Luxembourg, Germany and the Netherlands.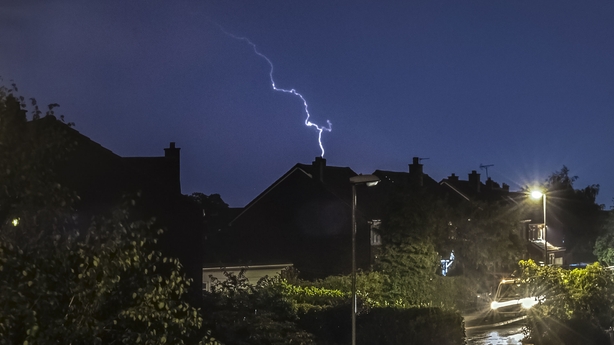 The UK Met Office said there was a "small chance" of damage to property from lightning strikes, hail or strong winds and driving conditions could be affected by spray and standing water.
Surrey Police tweeted a video of what it called "a great lightning show" as some Twitter users tweeted to say they had been woken up by the thunderstorms.
---
In Pictures: UK and European heatwave
---
It came after temperatures across England exceeded 30C yesterday.
In Kent, where the temperature soared to 32C, more than 100 firefighters, 20 fire engines and a variety of specialist support vehicles worked to control a fire on the Lydd Ranges.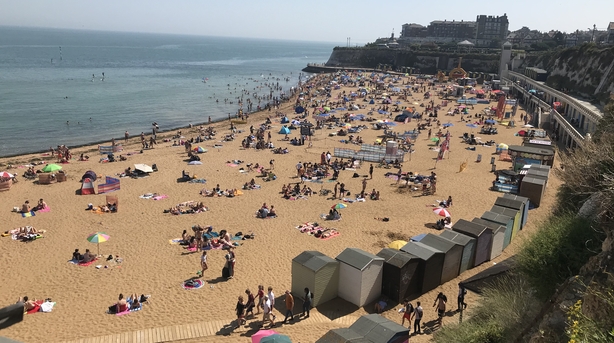 Other hotspots included Cardiff and Watnall, Nottinghamshire, where the mercury rose to 30C.
Met Office forecaster Luke Miall said temperatures in London are expected to reach 38C tomorrow, which would pass the current record for a day in July - 36.7C - recorded at Heathrow Airport in 2015.
It's looking likely that we could reach 39°C somewhere in southern and eastern England on Thursday. The hottest temperature ever recorded in the UK is 38.5°C 🌡️

There is currently a 60% chance we could break this on Thursday, depending on the amount of cloud pic.twitter.com/n3nSKW3Ey6

— Met Office (@metoffice) July 24, 2019
"There is now a 40% chance of going over the UK temperature record of 38.5C, which was recorded in Faversham, Kent, in August 2003," he said.
"The coolest areas will be Northern Ireland and western Scotland. Although it will still be quite warm, it will be in the low 20s rather than the 30s like other areas."
In Ireland temperatures are expected to reach 25C with Met Éireann forecasting "very warm and humid" conditions.
Additional Reporting PA