Much of Donald Trump's time in office has been overshadowed by allegations Russia helped get him elected, but when it came to confronting Russian President Vladimir Putin on the issue, the US President did it in a joke.
"Don't meddle in the election, president, don't meddle," Mr Trump said with a smile, wagging his finger playfully at the Russian leader as the pair held talks on the sidelines of the G20 summit in Japan.
Mr Putin said nothing, but grinned in response to the comment, which came only after a reporter shouted a question, asking whether Mr Trump would warn his Russian counterpart about influencing the presidential vote next year.
The meeting was the first time the two leaders have held face-to-face talks since a controversial meeting last year in Helsinki.
Mr Trump has been dogged throughout his presidency by allegations of suspicious ties to Russia.
A major probe led by special prosecutor Robert Mueller found there was an organised Russian campaign to influence the 2016 election won by Trump.
It found contacts between Russian operatives and Trump's election campaign, but no evidence of a joint plot, and the US leader has characterised the findings as exonerating him.
Ahead of his meeting with Mr Putin, Mr Trump brushed aside questions from reporters about what they would discuss.
"What I say to him is none of your business," he said at the White House.
But today Mr Trump said the pair would be discussing "trade ... some disarmament, a little protectionism perhaps".
"A lot of very positive things are going to come out of the relationship," he predicted, to smiles from the Russian president.
"I cannot but agree with Mr President," Mr Putin said.
Wagging his finger playfully at the Russian leader, @realDonaldTrump jokes to Putin 'don't meddle in the election' | https://t.co/iPEZqX39ED pic.twitter.com/Hsvj6hQBga

— RTÉ News (@rtenews) June 28, 2019
Mr Putin later received a broadside from British Prime Minister Theresa May who said normal relations would not be restored until Russia ends its "irresponsible and destabilising" activity.
It was their first formal face-to-face since the poisoning in the English city of Salisbury of former spy Sergei Skripal last year that plunged ties into the deep freeze.
The summit in Osaka is one of the most high-stakes G20 meetings in years, with rows brewing over a US-China trade war and climate change.
Fresh from describing traditionally close US ally Germany as "delinquent" for not paying enough into the NATO budget, Mr Trump was effusive when meeting Chancellor Angela Merkel.
"She's a fantastic person, a fantastic woman and I'm glad to have her as a friend," he said.
Mrs Merkel appeared well during the talks, a day after a second public shaking attack raised fears about her health. German officials insist she is not ill.
Likewise, Mr Trump hailed his host, Japanese Prime Minister Shinzo Abe, for sending "many automobile companies" to the United States, apparently pleased by a document Mr Abe gave him showing investment into the US.
Only two days earlier, he had seemed to call into question the US-Japan alliance, saying that Washington was committed to protecting Japan but if the US was attacked, the Japanese could just "watch it on a Sony television".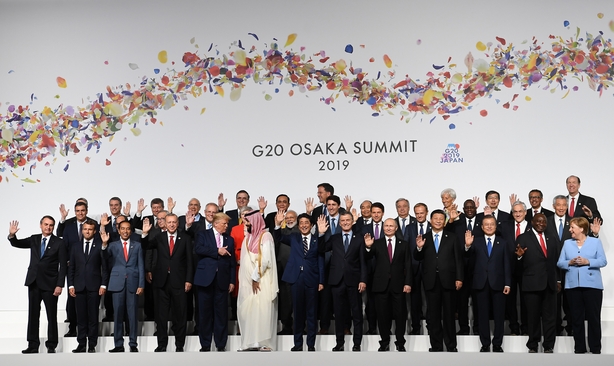 As the meeting opened, world leaders jostled and greeted each other during the family photo with French President Emmanuel Macron and European Commission President Jean-Claude Juncker whispering extensively into Mr Trump's ear.
Mr Trump entered with Mr Putin, chatting amicably, and the Russian leader patted his US counterpart gently on the back as they parted ways.
The most eagerly anticipated part of the meeting will be tomorrow when Mr Trump and Chinese President Xi Jinping hold their first face-to-face since the last G20.
Experts believe there is little chance of a full trade deal immediately, saying the best hope is for a truce that would avoid Washington imposing new tariffs and ramping up the conflict.
Before arriving, Mr Trump said China wanted a ceasefire because its economy was "going down the tubes", appearing to also threaten another $325 billion in levies in addition to the $200 billion Washington has already imposed.
After Mr Xi held a meeting with counterparts from Egypt, South Africa and Senegal, Dai Bing, an official from China's Ministry of Foreign Affairs, said "all leaders stressed that ... bullying practices are on the rise".
Australia's Prime Minister Scott Morrison, who dined with Mr Trump yesterday, said the dispute would "take a lot to work through".
"I walked away with the view that this is going to be tough, because there are some very serious issues that they're trying to resolve," he told Australia's Channel 7.
Trade will be far from the only contentious issue on the table, with climate change emerging as another sticking point.
Host Japan is hoping to bridge the gaps between European leaders who want strong action and a US administration committed to withdrawing from the Paris climate agreement.
French President Emmanuel Macron has said he wants strong wording in support of climate change action but Washington is unlikely to back any statement endorsing the Paris deal.
Mr Macron has also he would not sign a major trade deal between the EU and Latin American countries that some hope might be reached at the G20 if Brazil withdraws from the Paris agreement.
Looming over the talks will also be continuing tension in the Middle East. Mr Trump said before heading to Japan that any war with Iran "wouldn't last long".
That assessment is unlikely to find favour among G20 leaders, with Mr Macron warning yesterday: "There are no short wars."
When a war begins, he said, "we know when it starts, but rarely when it will end".