The number of people fleeing war, persecution and conflict has topped 70 million for the first time ever.
That is equivalent to every man, woman and child in Britain and Ireland being forced from their homes.
It is the largest number recorded in the UN Refugee Agency's almost seven decades of service.
The total number has doubled in the past 20 years and climbed by well over two million in the past year alone.
The figure is contained in the Global Trends 2018 annual report by the United Nations High Commission for Refugees (UNHCR), launched ahead of World Refugee Day, which takes place tomorrow.
By then, the authors of the report estimate, another 37,000 people will have been displaced.
That is how many people are being forced from their homes every 24 hours.
Inter-communal violence drove more than 1.5 million Ethiopians from their towns and villages, making them the largest group of newly displaced people.
Syrians were the next largest, with almost 900,000 people forced from their homes during 2018.
This brings to a staggering 13 million the number of Syrians who have been forcibly displaced by the ongoing crisis gripping their homeland.
In Colombia, 8 million people have been displaced, as have 5.4 million Congolese.
Two-thirds of all refugees come from just five countries: Syria, Afghanistan, South Sudan, Myanmar and Somalia. The majority (61%) live in urban areas.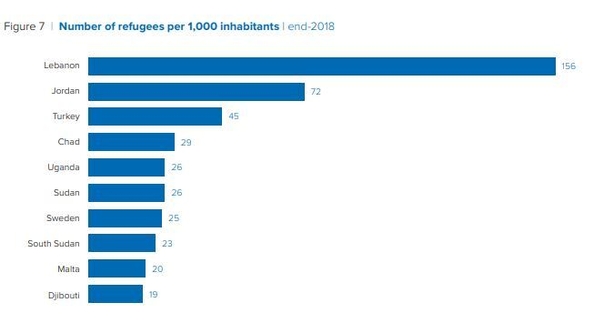 The UNHCR's figure of 70.8 million is a conservative estimate, and does not include all of the four million Venezuelans who have left their country in fear of their lives.
Also, as this is the figure for 2018, it does not include those forced from their homes so far this year.
The global situation is so severe that, as soon as a total number is calculated, it is overtaken.
Tens of millions of people have been forced to flee their homes. This is where they come from. pic.twitter.com/2WNUbYGvd3

— UNHCR, the UN Refugee Agency (@Refugees) June 19, 2019
Factfile on the world's refugees as new UNHCR data shows more than 70 million people were displaced in 2018https://t.co/RmQlpPpKBA pic.twitter.com/oR0nTXW5UZ

— AFP news agency (@AFP) June 19, 2019
Refugees are disproportionately hosted by poor and middle-income countries next to their own, leaving wealthier countries relatively untouched by the crisis that is overwhelming those poorer nations.
With the vast majority of refugees moving to a neighbouring country, fewer than one in five make it to the EU or US.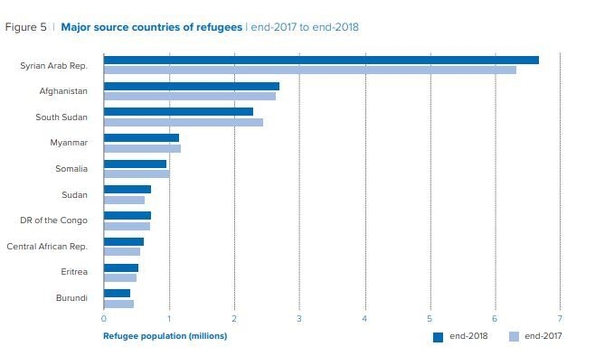 With just over 1% of global GDP, the world's Least Developed Countries host a third of the world's refugees. The UN says this is clearly unsustainable.
The High Commissioner for Refugees is clear about who is responsible for failing to tackle the escalating crisis.
"Conflict resolution requires international cooperation, and the Security Council doesn't seem to find unity even when it discusses humanitarian matters," Filippo Grandi said, adding that without cooperation in the global organisation "responsible for peace and security, how do you expect the number of refugees to diminish?"
The UN broke down the headline figure of more than 70 million into three main groups of people.
The largest group is made up of people displaced within their own country. These Internally Displaced People number over 41 million.
We need your consent to load this rte-player contentWe use rte-player to manage extra content that can set cookies on your device and collect data about your activity. Please review their details and accept them to load the content.Manage Preferences
The second group is made up of those outside their country of origin, receiving international protection, but not yet given refugee status. They number 3.5 million.
The third group consists of those who, having been forced out of their country by conflict, war or persecution, have been designated refugees. At almost 26 million, including 5.5 million Palestinians, this has climbed by 500,000 since 2017.
The UNHCR found that every second refugee is a child, with many of them entirely alone.
"You hear a lot about refugees seeking better opportunities ... children don't flee to seek better opportunities. Children flee because there is a risk and a danger," said Commissioner Grandi.
Almost 80% of refugees have been out of their homes, and countries, for at least five years. A quarter of those have been homeless for at least two decades.
The UN is concerned that the violence and threats that force people from their homes are adding to conflicts already under way, creating layer upon layer of intractable violence.
"We have become almost unable to make peace," according the High Commissioner. The way forward for refugees is to be able to return home safely and of their own will.
In 2018, fewer than 600,000 were able to do that. At the same time, more than 1 million more were forced out of their countries.
While this number is significantly down on 2017, it shows that the problem continues to grow faster than solutions are being found.
Another alternative is to be resettled in a host country.
However, over the course of 2018, fewer than 1 in 14 refugees were able to do that, with around 92,000 people resettled. A further 63,000 were naturalised.
President Michael D Higgins has described the UNHCR figure as a "shocking statistic".
Speaking at an event at Áras an Uachtaráin today, which was held to acknowledge the organisations and volunteers who work with asylum seekers and refugees in Ireland.
He said the UNHCR report highlighted the growing scale of the challenge faced in helping those affected and internally displaced.
The president also said he welcomed a recent report by Mr Justice Bryan McMahon into Direct Provision.
President Higgins said he strongly supported the proposals in relation to facilitating the application of driver licences and other forms of interaction with Irish life.
He said the report represents an urgent agenda for work as we commit to treat those who are displaced, who have come here seeking shelter with empathy and a sense of shared humanity.