Japanese Emperor Akihito, in his final remarks as his three-decade reign drew to a close, thanked the people for their support and expressed hope for a peaceful future.
Emperor Akihito, 85, the first Japanese monarch to abdicate in two centuries, has sought during his time on the throne to ease the painful memories of World War II and reach out to ordinary people, including those marginalised in society.
He was the first monarch to take the Chrysanthemum Throne under a post-war constitution that defines the emperor as a symbol of the people without political power.
He is handing over the throne to his eldest son, 59-year-old Crown Prince Naruhito, in a series of solemn rituals that also usher in the new imperial era named "Reiwa" - meaning beautiful harmony - that will last throughout the new monarch's reign.
Akihito technically remains emperor until the stroke of midnight.
The last abdication was in 1817.
Emperor Akihito's father, Hirohito, in whose name Japanese troops fought World War II, was considered a living deity until after Japan's defeat in 1945, when he renounced his divinity.
Emperor Akihito, together with Empress Michiko, his wife of 60 years and the first commoner to marry an imperial heir, carved out an active role as a symbol of reconciliation, peace and democracy.
The emperor, who has had treatment for prostate cancer and heart surgery, said in a televised address in 2016 that he feared his age would make it hard for him to carry out his duties fully.
Emperor Akihito began his abdication today in a ritual held in a sanctuary inside the palace grounds honouring the sun goddess Amaterasu Omikami, from whom mythology says the imperial line is descended.
He did the same at two other sanctuaries honouring departed emperors and Shinto gods.
Video aired on NHK public TV showed him wearing a dark orange traditional robe and black headdress, walking slowly into the first sanctuary as a courtier in a white robe walked behind holding the train and another carried a sword.
Crown Prince Naruhito conducted a similar ceremony, NHK said.
Ahead of the ceremonies, Japanese and foreign tourists gathered near the palace after early morning rains had stopped.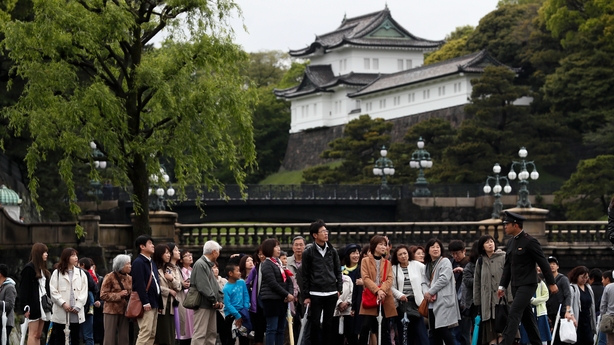 The abdication was publicly marked by a brief and relatively simple ceremony in the Imperial Palace's prestigious Matsu no ma, or Hall of Pine.
"To the people who accepted and supported me as a symbol, I express my heartfelt thanks," Emperor Akihito, wearing a Western-style morning coat, said.
"Together with the empress, I hope from my heart that the new Reiwa era that begins tomorrow will be peaceful and fruitful, and pray for the peace and happiness of our country and the people of the world," he said.
About 300 people attended that ceremony.
The historic abdication has resulted in an unprecedented 10-day holiday for the famously hard-working Japanese, as special days off to mark the new emperor combine with the traditional "Golden Week" celebrations in May.