Wubalam Dange sits outside na Ethiopian legal aid centre in tears with her four-year-old twin boys. This is the place where she sought refuge and help after being physically abused by her husband for six years.
"I would have been happier if I were not a woman. Life is miserable," she cries. Living in a single room home with her partner, the mother-of-two reached tipping point recently and brought a case against him.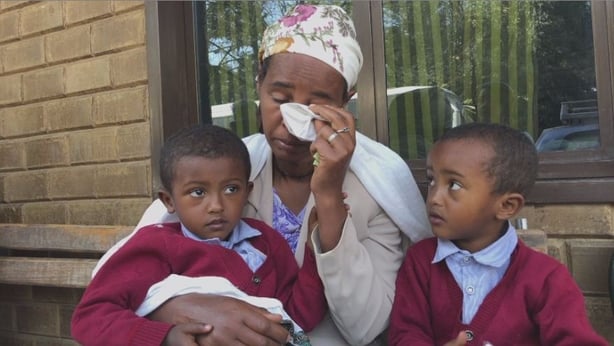 The court ruled that he would pay her maintenance and that the room would be partitioned into two. However, the torment is not over by any means, as she claims he still verbally attacks her as they still live under the same roof.
"I want to have my own house to live in peace," she begged.
Ms Dange's pleas for peace and freedom are not uncommon. A 2016 survey shows that a third of Ethiopian women have experienced sexual, emotional or physical abuse from their partner.
Another report from the same year showed that nearly one in four of all Ethiopian women has been a victim of physical violence, while one in ten are victims of rape.
More than 2,000 cases have been brought to this Ethiopian legal aid centre. Many circulate around family issues including divorce, maintenance and some criminal cases.
Director of the Ethiopian Lawyers Association Manyawkal Mekonnen said more women are coming forward to report abuse and violence as things are "progressing".
The laws are now there to protect women with the government and police changing tact with how they handle reports of abuse, he said.
But there are still challenges, according to Mr Mekonnen, with capacity a problem and "manpower" is needed to help women.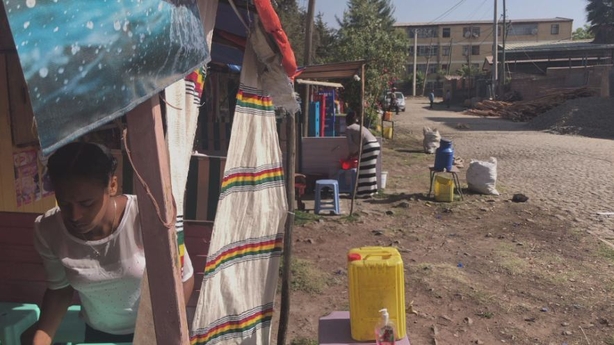 "Ethiopia is a predominately agrarian society and literacy is not that high. Patriarchy is everywhere but it is higher here," he said.
Traditional roles are still a huge part of life for women in Ethiopia, with no room for anything else. In rural areas, women can be tied to marriage from a young age forcing them to drop out of school, cook, clean and look after children.
The African nation has some of the highest rates of child marriage. It is an illegal but common practice, with 40% of girls married before they become adult age.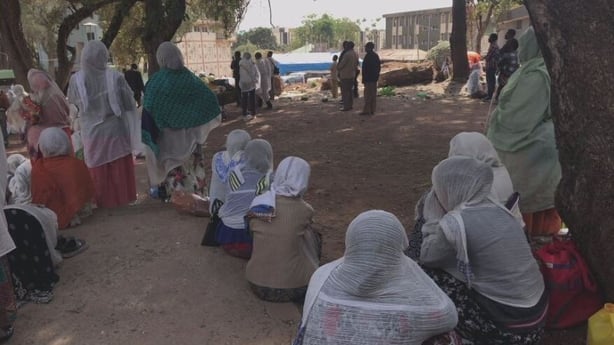 Two hours outside of the country's capital, is a dusty rural setting, one young woman laughs awkwardly while kissing her baby as she said she hates living here as men try to dominate women.
Implying that she does not have much hope for her own future, she stresses the importance of education. The 21-year-old vows to send her child away to the nearest town for a good education once he is old enough and pledges to track down relatives to help her.
Male dominance is part of society and ingrained in its culture. The writing is on the wall with old proverbs built into languages spoken across the country, including "a woman's country is her husband and her livelihood is her character" and "as a soul is in its creator, a woman is in her master".
Those words can sometimes come to life. In 2015, a 15-year-old Ethiopian girl Tejnesh Leweg'neh was abducted by three men and pushed off a cliff when she refused to marry one of them. She was left paralysed.
The same month, 16-year-old Hanna Lalango was abducted by a group of men and raped over several days and later died in hospital from her injuries.
Ethiopia is now just one country trying to stamp out traditional, patriarchal thoughts and actions following the #MeToo Movement - a watershed moment in the battle for women's equality, bringing to the fore often previously unreported sexual abuse and harassment claims.
"Whenever acid attack stories come out, it horrifies Ethiopia's reserved and conservative society and cast a searing light on a hidden culture of violence against women. But why do they happen?" Read the full article here #MeTooEthiopia #MeToo #Ethiopia https://t.co/9G6bolecPe

— metooethiopia (@metooethiopia) April 24, 2019
Institutions around the world want to show that they too can believe and respect women. Ethiopia's Prime Minister Abiy Ahmed is attempting a change from the top down by putting women in powerful roles.
After he took office recently, Mr Ahmed did something unprecedented for a man in power in Ethiopia. For the first time in the country's political history, and a hint he would champion women's rights, he thanked his late mother during his inaugural address as prime minister.
"My mother is counted among the many kind, innocent, and hardworking Ethiopian mothers … I would love to thank her. Furthermore, I would love to thank my wife who took my mother's vision to help me and substituted my mother," he said.
In October of last year, he went down another new road by making half of his cabinet women and appointed Sahle-Work Zewde as the first women president of Ethiopia.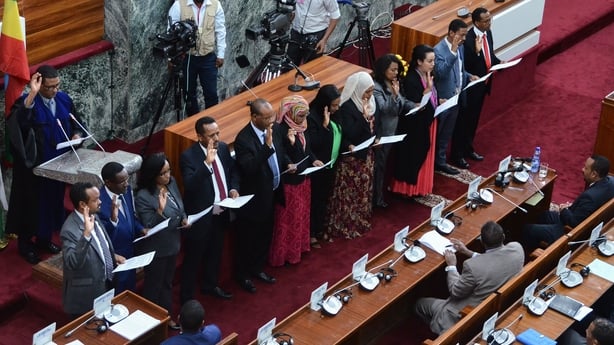 Human rights lawyer Meaza Ashdnafi was one of those chosen and given the role as the country's most senior judge. Her work globally known after her efforts to tackle the underage marriage of girls inspired an Angelina Jolie film in 2014.
Ethiopia then joined Rwanda as the only African countries to have equal gender representation in cabinet.
"These are not women that will take orders just to please the prime minister. These are women which have proven themselves before they got their appointments. These are not puppets," said Hewan Girma Professor of African American Diaspora Studies at University of North Carolina at Greensboro.
The Ethiopian academic has been in the United States for 20 years and watches with interest at the political situation unfolding in her home country as she believes the prime minister's actions were not lip service to the growing global feminist movement.
Ms Girma acknowledged that the appointments are relatively new and it is too early to tell their impact but they will stand as idols to the future.
The reality on the ground though, like so many places in the world, is that it can be tough and isolating to be a women in Ethiopia. Gender equality remains a serious concern with education and unemployment rates for women rating poorly against their male counterparts.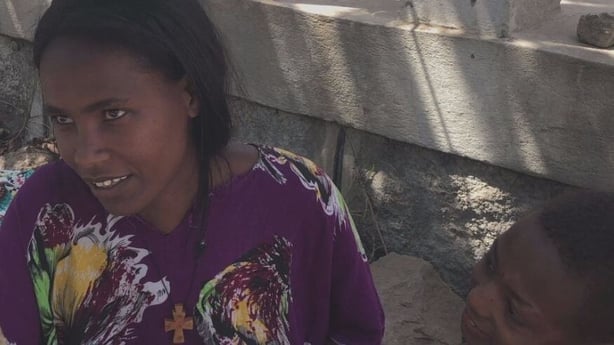 As many young women drop out of school at 15, for those who make it to university, it does not get easier. Women often struggle with sexual harassment and later discrimination when looking for a job.
"We can't walk out at night. We can't walk out to the libraries alone because we are scared of guys who might assault us," said 19-year-old law student Rodas at the gates of Addis Ababa University.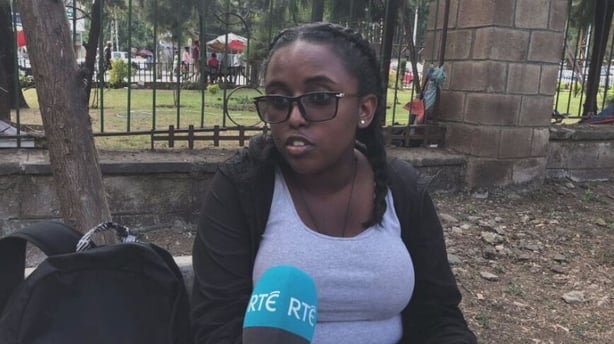 In a naive privileged position, I ask her if she would ever challenge those catcalling and shouting at her and her friends. Her answer is simple and strong, they do not challenge for fear of retaliation.
"You pretend like you didn't hear anything, you just walk away" she said.
However, Rodas has taken her voice elsewhere by becoming a member of the Yellow Movement.
The feminist group supports women financially and emotionally once they get to university by providing them with safe spaces to talk, or finance for stationery and sanitary products. It is here where she sees change.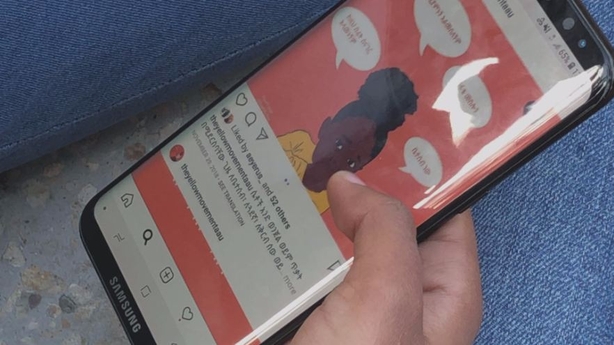 For women like Rodas, they have hope. They are challenging discrimination through education and empowerment, working to become a stepping stone of culture change for this and the next generation of men and women.
It is a new movement fueled by young grassroots activists, which put women's issues and the strive for equality on the national and international agenda, while those in politics move slowly but surely to try to portray a more progressive and inclusive attitude to help those on the ground. A fight that is not over by any means.