Billionaires and local governments pledged nearly €500 million to help restore Notre-Dame cathedral, with foundations and crowd-sourcing sites also launching fund-raising drives.
President Emmanuel Macron has vowed the emblematic church will be rebuilt after its spire and roof collapsed last night in a blaze thought to be linked to extensive renovation work.
"The fire will go on for several days. I would like to thank the firefighters on behalf of the nation," he said.
"At this time, the worst has been avoided. Even if the building hasn't been completely destroyed, the next few hours will be difficult, but thanks to the efforts of so many, the facade has been saved.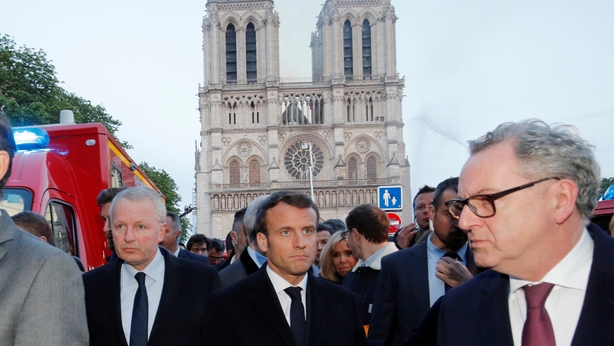 "Notre-Dame is our history, our imagination, where we've lived all our great moments, and is the epicentre of our lives.
"It's the story of our books, our paintings. It's the cathedral for all French people, even if they have never been. But it is burning and I know this sadness will be felt by all of our citizens.
"Tomorrow a national subscription will be launched for people around the country to help rebuild this great Notre-Dame," he said.
"Because that's what the French people want. That is what their history requires. Because that is our destiny."
French billionaire Bernard Arnault announced that he and the LVMH luxury conglomerate he controls would give €200 million for the reconstruction efforts.
The pledge came after Mr Arnault's rival Kering, the fashion group founded by fellow billionaire Francois Pinault, offered €100 million to help "completely rebuild Notre-Dame".
---
Read More:
Firefighters bring massive blaze at Notre-Dame Cathedral under control
In pictures: Blaze at iconic Paris cathedral
Major fire devastates Notre-Dame cathedral in Paris
Shock at destruction of 'Lady of Paris'
---
The privately run French Heritage Foundation has already launched a call for donations to help restore a "symbol of French history and culture."
The chief executive of French oil giant Total said the firm would contribute €100m.
Other high-profile French donors so far included the investor Marc Ladreit de Lacharriere with €10m, and construction magnates Martin and Olivier Bouygues, also with €10m.
Pledges were also pouring in from anonymous donors to groups including the privately run French Heritage Foundation, which said it had already secured pledges totalling €1.6m.
On a more modest scale, a fund set up by an "anonymous Parisian" on the Leetchi fundraising platform had topped €20,000 today.
And the Hungarian city of Szeged promised to donate €10,000 to the reconstruction effort, in recognition of the help it received from the French capital after a devastating flood in 1879.
Valerie Pecresse, president of the Ile-de-France region comprising the greater Paris region, said it would provide €10m.
And the head of a French lumber company told FranceInfo radio that it was ready to offer the best oak beams available to rebuild the intricate lattice that supported the now-destroyed roof, known as the "Forest".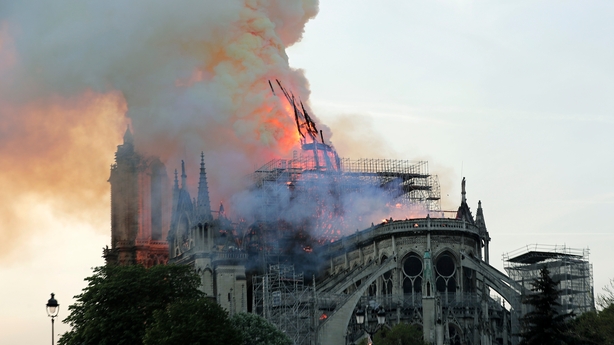 "The work will surely take years, decades even, but it will require thousands of cubic metres of wood. We'll have to find the best specimens, with large diameters," Sylvain Charlois of the Charlois group in Murlin, central France, told the radio.
Paris Mayor Anne Hidalgo today proposed organising an international donor conference to coordinate the pledges to restore the gothic architectural masterpiece.
The United Nations' cultural agency UNESCO has also promised to stand "at France's side" to restore the site, which it declared a world heritage site in 1991.
The painstaking renovation work is likely to cost hundreds of millions of euros over several years, if not decades, though experts breathed sighs of relief that the damage was not even worse.
But many officials were urging the government to mobilise the resources to quickly restore the cathedral.
"Since yesterday I've been hearing that it will take a decade, what nonsense!" former culture minister Jack Lang told AFP outside the church.
He called instead for an ambitious three-year project to rebuild the destroyed roof and its towering spire, which collapsed as a burning ember around two hours after the blaze erupted.
"You have to set a short deadline, as we've done in the past with other exceptional works," he said.
European Council President Donald Tusk has called on the EU's member countries to help France rebuild Notre-Dame, saying the site in Paris is a symbol of what binds Europe together.
Mr Tusk told representatives that the blaze reminds Europeans of "how much we can lose".
He said: "At stake here is something more than just material help. The burning of the Notre Dame cathedral has again made us aware that we are bound by something more important and more profound than treaties."
European Parliament President Antonio Tajani invited MEPs, meeting in Strasbourg, to contribute their day's salary to help finance the cathedral's reconstruction.
The gothic edifice had been undergoing an €11m overhaul financed by the French state to repair damage inflicted by time, pollution and the weather.