Sudan's defence minister has said President Omar al-Bashir has been detained "in a safe place" and that a military council will run the country for a two-year transitional period.
In a statement broadcast on state TV Defence Minister Awad Mohamed Ahmed Ibn Auf said there would be elections at the end of the transitional period.
Thousands of Khartoum residents chanted "the regime has fallen" as they flooded the area around army headquarters where protesters have held an unprecedented sit-in now in its sixth day.
"The Sudanese army will issue an important statement soon. Wait for it," the state television anchor said, without giving further details. 
Martial music replaced the television's normal programming.
The protests, which erupted in December, have become the biggest challenge yet to Mr Bashir's three decades of iron-fisted rule.
There has been an often festive mood at the sit-in, with protesters singing and dancing to the tunes of revolutionary songs.
Several military vehicles carrying troops entered the compound in the early hours, according to witnesses.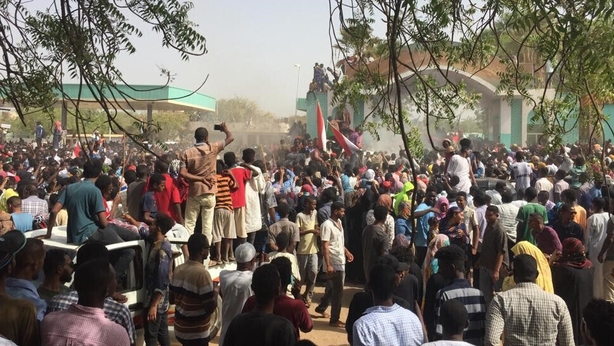 They said many army vehicles carrying troops were deploying in the centre of Khartoum early today.
The group spearheading the nationwide demonstrations urged residents of the capital and elsewhere to mass outside army headquarters.
"We call on our people from across the Khartoum capital and the region around to immediately go to the sit-in area and not leave from there until our next statement is issued," the Sudanese Professionals Association said.
Mr Bashir, a former paratrooper who seized power in a bloodless coup in 1989, has been a divisive figure who has managed his way through one internal crisis after another while withstanding attempts by the west to weaken him.
Sudan has suffered prolonged periods of isolation since 1993, when the United States added Mr Bashir's government to its list of terrorism sponsors for harbouring Islamist militants.
Washington followed up with sanctions four years later.
Mr Bashir has also been indicted by the International Criminal Court (ICC) in The Hague over allegations of genocide in Sudan's Darfur region during an insurgency that began in 2003.