New Zealand Prime Minister Jacinda Ardern has said her office received a "manifesto" from the gunman suspected of killing 50 people in two Christchurch mosques just minutes before Friday's attack.
"I was one of more than 30 recipients of the manifesto that was mailed out nine minutes before the attack took place," Ms Ardern told reporters.
"It did not include a location, it did not include specific details," she said, adding that it was sent to security services within two minutes of receipt.
Ms Ardern said she had read "elements" of the lengthy, meandering and conspiracy-filled far-right "manifesto".
"The fact that there was an ideological manifesto with extreme views attached to this attack, of course, that is deeply disturbing," she said.
Ms Ardern also told the press conference she would be looking for answers from Facebook and other social media firms about how the attack that killed 50 mosque-goers was live-streamed on their platforms.
Saying there were "further questions to be answered" by the tech giants, Ms Ardern said Facebook chief operating officer Sheryl Sandberg had been in contact and "acknowledged what has occurred here in New Zealand".
A horrific video shot by the gunmen who carried out the mosque massacre was live-streamed on Facebook before being removed by the company.
But the stream, lasting 17 minutes, was shared repeatedly on YouTube and Twitter, and internet platforms were scrambling to remove videos being reposted of the gruesome scenes.
"We did as much as we could to remove, or seek to have removed, some of the footage that was being circulated in the aftermath of this terrorist attack," Ardern said.
"But ultimately it has been up to those platforms to facilitate their removal."
"I do think that there are further questions to be answered."
In a statement, Mia Garlick of Facebook New Zealand vowed to "work around the clock to remove violating content".
"In the first 24 hours we removed 1.5 million videos of the attack globally, of which over 1.2 million were blocked at upload," the company said.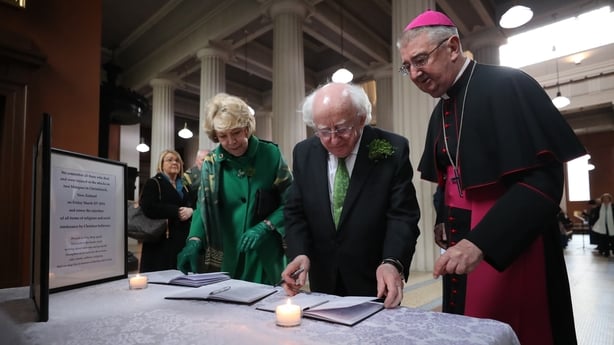 Here, President Michael D Higgins attended a service of silence and reflection for the victims of the New Zealand shootings.
Archbishop Diarmuid Martin told the congregation at Pro-Cathedral that to attack someone based on their faith offends Christian culture.