At least two people were killed and trucks loaded with foreign aid were set ablaze after Venezuelan President Nicolas Maduro deployed troops and armoured vehicles to turn back humanitarian assistance at border crossings with Colombia and Brazil.
Mr Maduro said he was breaking diplomatic relations with Colombia and ordered its diplomatic staff to leave Venezuela within 24 hours because of its government's assistance to opposition leader Juan Guaido.
Venezuelan opposition leader Juan Guaido gave a personal send off to an aid caravan from the Colombian city of Cucuta toward the border between the two countries earlier today, pledging to bring food and medicine to a hungry population despite President Nicolas Maduro's resistance.
We need your consent to load this rte-player contentWe use rte-player to manage extra content that can set cookies on your device and collect data about your activity. Please review their details and accept them to load the content.Manage Preferences
Mr Guaido, who most Western nations recognise as Venezuela's legitimate leader, briefly boarded one of a dozen trucks carrying US-backed humanitarian aid toward Venezuela's borders.
But Mr Maduro denies his oil-rich nation has any need of aid and accuses Mr Guaido of being a coup-mongering puppet for US President Donald Trump.
Venezuelan troops just across the border fired tear gas at opposition leaders seeking to receive the aid, a witness said.
Demonstrators in barricaded streets burned a bus and hurled stones at security forces to demand that Mr Maduro allow aid into the country.
"The humanitarian aid is definitely on its way to Venezuela, in a peaceful manner, to save lives right now," Mr Guaido said in a news conference in Cucuta flanked by three Latin American presidents, including Colombia's Ivan Duque.
A humanitarian aid truck also crossed the Brazilian border, an opposition leader in Caracas said. A witness said that while the truck was on Venezuelan soil, it had not passed through the customs checkpoint.
In the town of San Antonio on the Colombian border, troops repelled a group of activists including opposition legislators who had gathered on the other side of a bridge linking the two countries, according to a witness.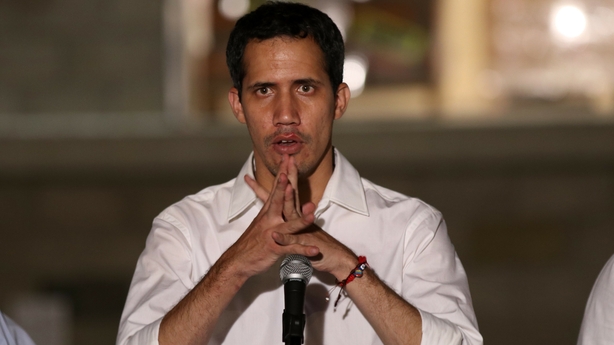 In the nearby town of Urena, angry protesters clashed with security forces, barricading streets with burning tyres.
One group torched a military uniform in a symbolic protest against the armed forces, which have stood by Mr Maduro despite growing international isolation.
Colombia's migration authority said four Venezuelan soldiers defected this morning.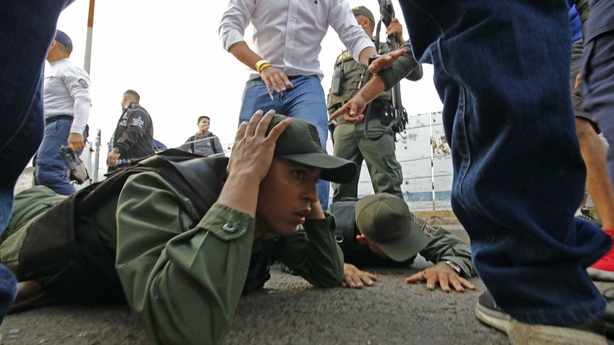 A social media video showed the troops driving armoured vehicles across a bridge linking the two countries, knocking over metal barricades in the process, and then jumping out of the vehicles and running to the Colombian side.
"What we did today, we did for our families, for the Venezuelan people," said one of the four men in a video televised by a Colombian news programme, which did not identify them. "We are not terrorists."
Colombian television also showed images of what it said was a Venezuelan army major recognising Mr Guaido as president, although it did not identify him. Reuters could not immediately confirm his identity.
Yesterday, the tense stand-off turned deadly when two people were killed and 15 wounded as they tried to prevent Venezuelan troops from blocking an entry point on the Brazilian border.
The clash occurred in southeastern Bolivar state close to the border with Brazil, which Nr Maduro ordered closed on Thursday.
Mr Guaido called on the military to arrest those responsible for the killings, "or you will be responsible".
UN Secretary-General Antonio Guterres urged Venezuelan authorities to refrain from using lethal force against protesters.
The "Venezuela Live Aid" concert, which featured some of the biggest names in Spanish-language music, was broadcast live online yesterday.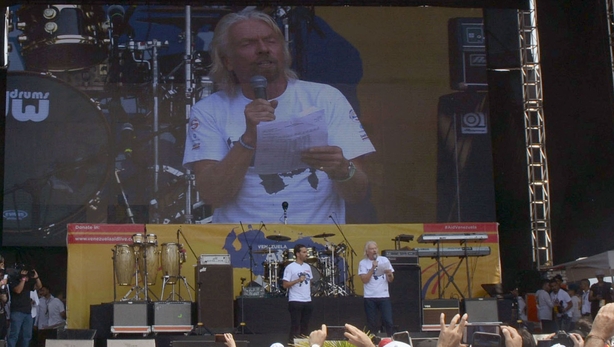 Mr Branson said he hopes to raise $100 million for humanitarian aid over the next 60 days via internet donations. Meanwhile aid is being stockpiled in Colombia, Brazil and the Caribbean island of Curacao because of Mr Maduro's ban.
Mr Guaido rallied his supporters when he showed up at the concert last night joined by Colombian President Ivan Duque, Chile's Sebastian Pinera and Mario Abdo of Paraguay.
The leaders greeted the crowd before the concert ended.
Mr Maduro's rival concert, decidedly smaller and featuring Cuban and local artists, began hours later nearby on the Venezuelan side of the border in Urena.
Performers took to the stage against a giant backdrop emblazoned with the words "#Trump Hands off Venezuela," with around 2,500 people in attendance.
Mr Maduro, who has support from China, Russia and the military high command, accuses the United States of plotting a military intervention.
---
Dublin crowd holds protest over unrest in Venezuela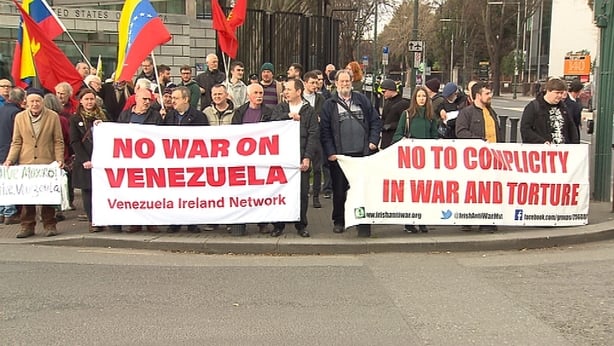 Meanwhile, up to 50 people took part in a protest outside the American Embassy in Dublin this afternoon.
People Before Profit TD Richard Boyd Barrett was among those protesting over the unrest in Venezuela.