At the Vatican's Child Abuse Summit, the Cardinal Archbishop of Chicago, Blaise Cupich has urged the Catholic Church to establish just accountability for what he called the "massive failures" of some church leaders in responding to clerical paedophilia.
Cardinal Cupich was speaking on the second day of a conference of over 200 senior Church officials convened by Pope Francis to confront what he has called the scourge of sexual abuse by the clergy.
"This past year has taught us that the systematic failures in holding clerics of all rank responsible are due in large measure to flaws in the way we interact and communicate with each other," he said.
Various aspects of the sexual abuse crisis made 2018 the worst year for the pope since his election in 2013.
In Chile, all of the country's 34 bishops offered their resignations over a nationwide scandal, and a damning report by a grand jury in Pennsylvania revealed that priests had sexually abused about 1,000 people over seven decades in that US state alone.
Last week, Theodore McCarrick, once a powerful cardinal in the US Church, was dismissed from the priesthood after the Vatican found him guilty of sexual abuse.
The Church had "to confront the past grave and callous errors of some bishops and religious superiors in addressing cases of clergy sexual abuse, and the discernment to understand how to establish just accountability for these massive failures," Cardinal Cupich said.
We need your consent to load this rte-player contentWe use rte-player to manage extra content that can set cookies on your device and collect data about your activity. Please review their details and accept them to load the content.Manage Preferences
Clerical abuse survivors speak of congregations obstructing legal settlements https://t.co/hnblATFP7Z pic.twitter.com/Zsric0eNrr

— RTÉ News (@rtenews) February 22, 2019
Meanwhile, the Primate of All Ireland, Eamon Martin, has said some religious congregations in Ireland must allow survivors who are suing them to get due restitution.
He said that some survivors he met in advance of it had complained that congregations they are suing are putting obstacles in the way of due process and natural justice.
He said the church cannot afford to do that, and must allow "these dear members of the Body of Christ" to receive due restitution, justice and personal and spiritual help.
The Day School Victims' Action Group told RTÉ News that members had complained at a recent meeting with the archbishop about the Christian Brothers Congregation's attitude towards their claims for compensation.
A spokesman for the group, Tim O'Rourke, said he had written to Archbishop Martin in advance of the summit asking him to urge the Christian Brothers - who he is suing - to enter mediation instead of fighting his and dozens of similar cases in the courts.
Along with four other male pupils, Mr O'Rourke was abused in 1968 at the age of 11 in Walsh Island National School in Co Offaly by Donal Dunne, a former Christian Brother and serial paedophile who is now dead.
He said that mediation would be less expensive and speedier which was important because many of the survivors he knew are in poor health.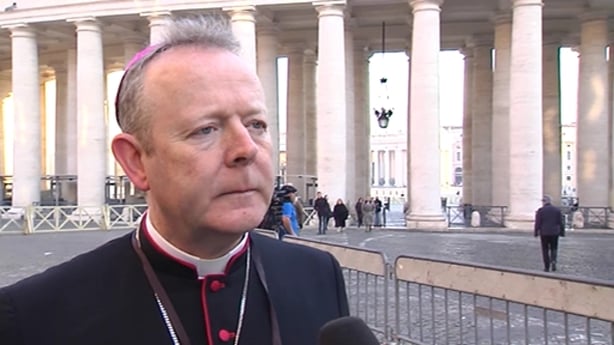 He said some others had died before getting justice.
He also said mediation was more in line with Catholic Church teaching.
Others demanding a swift end to their legal actions are thirty or so male survivors of abuse by Seán John Drummond who at the time of the offences was a Christian Brother in the economically deprived Saint Mary's parish in Limerick.
Many of the men are close to sixty years old and in failing health.
Ten years ago, many of them helped to convict Drummond for indecently assaulting 19 boys in Creagh Lane National School
In recent weeks, some of the Limerick-based survivors have pleaded personally with Archbishop Martin to persuade the Christian Brothers to finally settle the men's legal actions against the congregation.
Speaking in Rome, Archbishop Martin stressed the importance of the global aspect of the summit and expressed his disappointment that it has taken 20 years for such a meeting to be held.
He said: "Twenty years ago our bishops in Ireland were asking the Holy See to prepare guidelines to prepare Canon Law so that we could deal with this issue adequately, so in some ways it's sad that it has taken this long to have a global gathering of this nature.
"But looking at it positively, we maybe have a 150 countries that are gathered here ...  And we are sharing this issue, we're sharing this problem because our people are grieving, our people are hurting and they really demand this of us now. A very serious approach to this awful issue."
Archbishop Martin said it was moving to hear testimonies from people around the world about their experiences and he felt that the bishops were "very conscious of this very painful issue".
He said he has spoken to Irish abuse survivors who have told him they feel the Catholic Church fears them, and tries to isolate them as they are seen as a threat.
He said many survivors of abuse stress that they are "not in it for the money", rather "they're in this because they were in fact cherished members of the church and they want to be 'change-agents' in the church".
Some survivors have told him stories about how the church has dealt with their cases through litigation, and how some congregations have been slow to allow the legal process to take its course.
Some survivors told the archbishop the congregations appear to be putting obstacles in the way of due process and natural justice.
"We simply can't afford to do that, I think we must allow these dear members of the Body of Christ to receive justice, to receive restitution and indeed then to receive the support and the personal spiritual help that they need."
The conference ends on Sunday when the pope will make a final speech.
The Vatican says it will then formulate follow-up measures to make sure all bishop return home knowing how to put anti-abuse procedures into place.