A man detained by authorities in northern Syria who claims to be an Irish passport holder has said he was forced by so-called Islamic State to become an ambulance driver during the conflict.
Alexandr Bekmirzaev, 45, said he had nothing to do with the military campaign being waged by the group.
He is one of five alleged foreign jihadists detained by Kurdish-led Syrian Democratic Forces. The Kurdish forces are fighting the Islamic State group.
In an interview with AFP, the man said: "My name is Alexandr Bekmirzaev. I was born in 1973. I am born in Uzbekistan and then my family moved in Belarus. That's where I grow up." [sic]
He claimed that he travelled to Syria in 2013 after watching the conflict in Syria. He said in the interview that his motivation was to help the Syrian people and not to join Islamic State. He said he was not a fighter for IS, but rather that he worked in a hospital using first aid training he learned in Ireland.
When arrested, Bekmirzaev said he had lived in Ireland for over a decade and was granted Irish citizenship in 2010.
As the Syrian war raged in 2013, he said he lost his job in Ireland and moved to Syria, followed by his wife and then 10-month-old son.
He was detained in December on suspicion of fighting for IS.
But speaking from where he is being held in northern Syria, he has claimed he was not a fighter, insisting that he worked as an ambulance driver.
The man also said he wanted to go back to Ireland.
The Department of Foreign Affairs said it is aware of reports in relation to an Irish citizen detained in Syria.
It said its embassies and consulates in the region are making enquiries and will provide appropriate assistance.
Bekmirzaev claims that he was in IS-controlled areas because his family was being moved there during bombings.
"I didn't come to [Islamic State], I came to Syria to help Muslim people. For the first three months, as I said I was working only in hospital. When my family came and things get worse they took my family to the area that after get controlled by IS. So like it or not I have to follow it and that's how it ended up in that area." [sic]
The man, a Muslim convert, said that he moved to Ireland from Belarus in 1999.
A LinkedIn profile under the name Alexandr Bekmirzaev says that he worked as a security guard and as a sales assistant in Arnotts. The man in the AFP interview claims to have worked in the same areas: "I worked [in Ireland] in various places. Mainly I was working as a sales assistant in various shops. I used to sell menswear. Also sometimes I have two jobs. During the day I would work selling clothes. Weekends I would work security in nightclubs."
He said he travelled back to Belarus in 2010 to get married but subsequently had trouble getting a visa for his wife: "We get married in December 2010. Four months we live together, then I come back to Ireland in March 2011. I applied for a visa for her. The Irish Government refused.
"They said maybe it was fake married. I make an appeal. They refused my appeal. I wrote to the Minister of Justice and explained him that this is my wife and that's how I get married… Alhamdulillah (thank God) the Minister of Justice he believed my story, he said 'okay get your wife and you can bring her to Ireland'." [sic]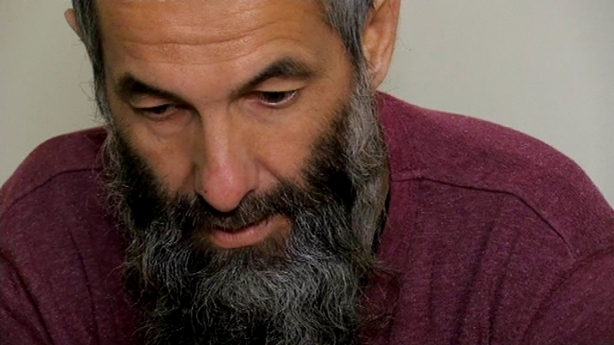 The detainee also said that no individual or group radicalised him in Ireland. He said he was inspired to travel to Syria after seeing news reports of the uprising from March 2011 onwards, and after hearing an interview with US Senator John McCain.
"There was no particular person. What could I say? I told him yesterday every time I turned on the news it was Syria, Syria, Syria. This man you cannot charge him. It was John McCain, former senator of the United States. He was saying to everyone, what are you doing, go and fight Bashar."
He said that at this time he had lost his job in Ireland during the recession:
"At this point I was working as security in a menswear shop. So in 2012 I went to Belarus for 3 days, I take my wife and bring her to Ireland. After a couple of days I have to go back to work. But they told me that they have to let me go because they have no work. I stayed at home.
"In Ireland if you lost a job you can go to the social welfare and the government will supply you. I stayed then and my wife she gets pregnant. In April 2013 my son [was] born. Then [McCain] said why don't you go to Syria and help the Muslims. Then in September 2013 I went to help the Muslims and here we go, five-and-a-half years later I'm sitting in front of you." [sic]
The man now says he wants to return to Ireland and rebuild his life. He also says he believes he has been punished enough from his experience of hardship in Syria.
"They probably have bad information about us. These videos and things but I didn't do anything…I want to go back. I do want to go back to my country. I hope they are not going to abandon me. I spend five-and-a-half years in this environment. If they are thinking that I am a terrorist. For this five-and-a-half years I went through, I paid my price. I want now a quiet life, I want to I go back to Ireland. [sic]
"I want to get healthy. I want to get a job. I want to look after my family. I want to live a quiet Muslim life like I did before. That's all I want. I am not a bad person. I am a very simple person," he said.
Dying days of 'caliphate'
"I thought we were going to die from the starvation," said Bekmirzaev.
Speaking to AFP, Bekmirzaev said he fled into territory held by Kurdish-led forces, who detained him along with four other suspected foreign jihadists late last month.
Backed by air strikes of the US-led coalition, the Syrian Democratic Forces (SDF) have since September been whittling down the last IS holdout near the Iraqi border.
Brought in for an interview by the Kurdish People's Protection Units (YPG) who are still interrogating him, the detainee described watching the IS stronghold collapse around him.
Many of the hundreds of suspected jihadists captured by the SDF say they want to be sent home.
The Kurdish administration in northeastern Syria also wants to send the prisoners back for trial, but governments in their countries of origin are often reluctant.
France said last week for the first time that French jihadists held by Kurdish forces in Syria could be allowed to return home.
"We are examining all options to avoid the escape and scattering of these potentially dangerous individuals," the French foreign ministry said.
Bekmirzaev was detained by SDF forces on suspicion of being a fighter trying to blend in with fleeing civilians, with the aim of escaping and then setting up IS sleeper cells to carry out further attacks.
But he insists he has never carried a weapon for Islamic State.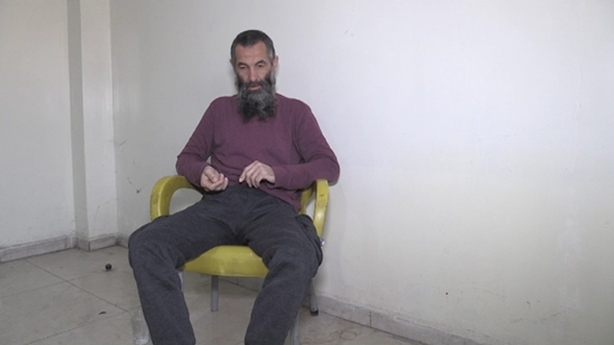 Since summer, there had been "bombing, bombing, bombing" on a near-daily basis, said Bekmirzaev, who was born to an Uzbek father and Belarusian mother.
With the so-called Hajin pocket encircled by the SDF, there was no flour in the market, and meat was prohibitively expensive, he said.
Bekmirzaev said he, his wife and five-year-old son were forced to eat bread made with wheat husks, what little the neighbours gave them, and sometimes grass.
"Vegetables? You wish. There is nothing, absolutely nothing. This is grass we eat," he said.
As US-backed fighters advanced inside the jihadist pocket, taking village after village, Bekmirzaev said he and his family were forced to flee deeper into jihadist-held territory.
"I left my home because the SDF approach probably around 800 metres from my house" in the village of Kishmeh, he said.
He and his family fled south along the eastern banks of the Euphrates River to the village of Al-Shaafa, he said, where they slept in a mosque.
From there, they again escaped in a large group including women and children, guided by a young man who helped them avoid landmines.
We thought, "if we go as a big group, it will be less dangerous, because they will see so many people, specially with the kids, kids crying," he said.
He claims he never intended to fight for IS and worked as an ambulance worker for around a year in 2014-2015, but it is not clear what he did after that.
He also says an IS commander confiscated his passport, and he had already been thinking of escaping the jihadists with his family from as early as 2015.
Bekmirzaev says he converted to Islam in his early 20s in Uzbekistan, after a troubled period "drinking a lot, taking drugs" following a brother dying by suicide.
He says he plunged into depression after losing his job in Ireland, to the backdrop of endless news reports about the conflict in Syria.
"I thought, 'I need to help to the Muslims' so I decide to come here," in September 2013, he said. Four months later, his wife and then 10-month-old son joined him.
IS overran large parts of Syria and neighbouring Iraq the following year, and the group's leader Abu Bakr al-Baghdadi proclaimed a "caliphate" there.
But the jihadist group has since lost most of that territory to various offensives, and is down to its last fighters in what remains of its eastern holdout.
Additional reporting: Colm Ó Mongáin and Fergal O'Brien