Recent developments in Venezuela have put a spotlight on the political and social chaos that has gripped the country in recent years.
Ever since the death of former leader Hugo Chávez in 2013, Latin America's once richest country has been heavily hit by a worsening economic crisis, as well as food and medicine shortages.
According to the United Nations, at least three million Venezuelans have left the country in recent years.
With opposition leader and self-appointed interim president Juan Guaidó gaining more and more support against socialist leader Nicolás Maduro, Venezuelans' around the world and here in Ireland are keeping a close eye on their home country.
Three Venezuelans living in Dublin describe the day-to-day hardships in their home country. pic.twitter.com/19gHX4I3ph

— RTÉ News (@rtenews) February 2, 2019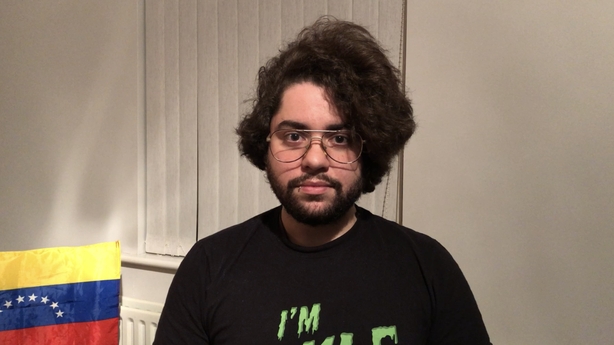 Karim De Abreu
Karim De Abreu says that when he calls his parents in Venezuela every day, he expects the worst.
"I see how they are doing, and I feel that not only are they getting skinnier as everybody in Venezuela, but they are getting frustrated."
"What my family does in Venezuela, they don't think about what's going to happen tomorrow.
"They just think what are we going to do today? Are we eating today? And if not, okay, do we have something we can buy tomorrow."
Karim, who has been living in Ireland since June 2017, says that the crippling economy has left his family deeply frustrated.
"Every day they are getting more irritated because if you just want toothpaste, you can't find it anywhere. And if you do, they are ridiculous prices, you cannot pay."
Since the escalation of protests in recent weeks, Karim has been very concerned for his family's safety. According to the United Nations, at least 40 people are believed to have been killed and 850 others detained in the country's recent violence.
"I want my Mum to stop saying things like 'You know what? If I go out and something happens to me, its okay, I've already lived my life.'"
When asked if he would like to move back to Venezuela, Karim said that he did not know. However, he is optimistic about what lies ahead for his home country.
"The change is right now, I can see a little bit of hope in the people I talk to. But especially my Mom and my Dad, because I can see a glimpse of hope."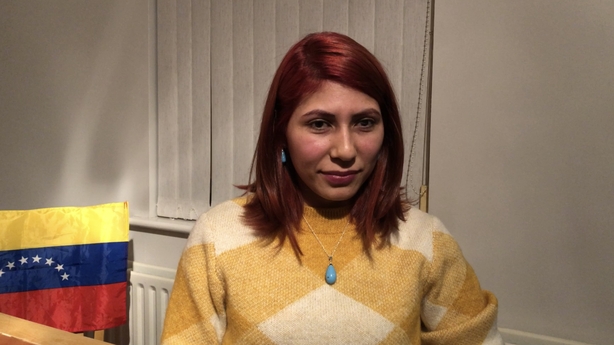 Nazareth Jaimes
Six years ago, Nazareth moved to Ireland. Now, she does what she can to support her family back home.
Two of Nazareth's sisters still live in Venezuela, and every month she sends money to help them buy food.
"Sometimes my sister doesn't eat so she can give the food to the kids, because it is a priority now.
"And because they are growing up as well they need something substantial. So my sisters are struggling – it is very difficult for them."
Transport is also a big problem for her sisters, Nazareth says, leaving her nieces and nephews unable to attend school.
"They have to stay at home most of the time with the kids so they are not able to work, to provide food and a better life for my nephews and nieces."
Nazareth says that it is difficult to tell if there will be any positive change in Venezuela anytime soon.
She said that even if there is a change, she cannot see herself returning home.
"Even if the government decide to leave, to reconstruct and build a country would take a long time and a lot of effort as well."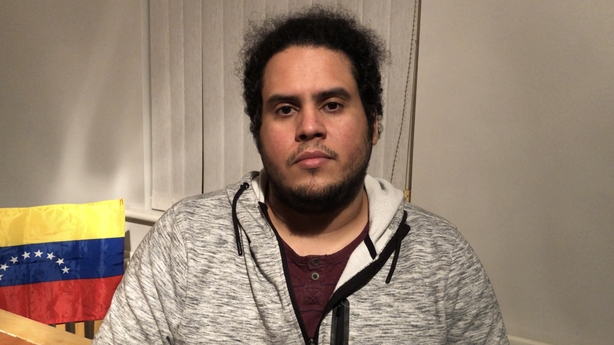 Martin Gomes
"When we can talk, the conversation can be a bit awkward."
Martin, like Karim, contacts his family every day, but he finds that sometimes conversations can be uncomfortable.
"In normal conditions, the topics can be like how is your day? How is the business? Talking about projects in the future.
"That does not happen anymore because the business is not working properly, or not working at all.
"We are out, we have a hard currency, and we can possibly help, but it can be awkward."
He says that a lot of his friends and family have left Venezuela and his father tried to find a way to leave also.
"My father was very proud to be a Venezuelan and he never considered leaving the country, except in the last two years.
"He has tried to find a way, but the situation is not the same and now everything is complicated."
Right now, Martin also does not see himself returning to Venezuela anytime soon.
"The thing is to go back ... it would not be for a recovery of my life.
"The life I had in Venezuela does not exist anymore. Simple as that."