Princess Haya bint Hussein, the wife of the ruler of Dubai, said she invited Mary Robinson to visit her and Princess Sheikha Latifa to seek counsel as a family friend.
Princess Sheikha Latifa is the daughter of Vice President and Prime Minister of the United Arab Emirates and Ruler of the Emirate of Dubai, Mohammed bin Rashid Al Maktoum.
Latifa tried to flee the United Arab Emirates last year and was allegedly captured at sea off India. She had previously recorded a YouTube video in which she criticised her father and the restrictions she lived under.
We need your consent to load this rte-player contentWe use rte-player to manage extra content that can set cookies on your device and collect data about your activity. Please review their details and accept them to load the content.Manage Preferences
Former president of Ireland Mary Robinson visited the family at the request of Princess Haya, and was later criticised by human rights groups for comments she made about the meeting, including a description that Latifa was "a troubled young woman".
Speaking on RTÉ's Marian Finucane Show, Princess Haya insisted that contrary to what is being said, it is not anything other than a private family matter.
She said she invited Ms Robinson to come and visit as she considers her to be someone "who will tell you the right thing and not what you need to hear".
It was important to know that she had outside counsel, said Princess Haya, and that is why she called Ms Robinson. She called her on a Tuesday, and the former Irish president and UN High Commissioner for Human Rights, visited that Saturday.
Princess Haya said she is very grateful for Ms Robinson's visit, adding that she asked for Mary Robinson to come to Dubai because the issue mattered deeply to her.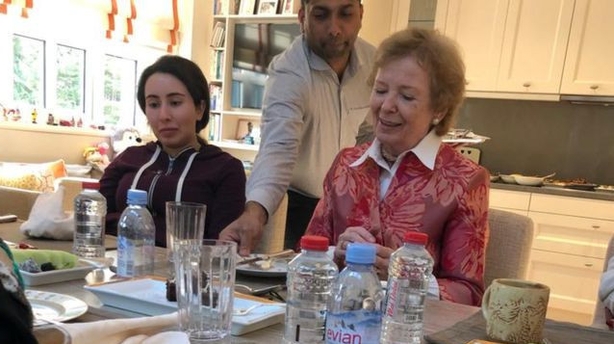 The wife of Latifa's father also said during the interview that it was an extremely private matter, and that the family is trying to protect Latifa from being used.
According to Princess Haya, Latifa is a "vulnerable" young woman.
Princess Latifa has not been seen in public since her alleged capture last March. Princess Haya said that she finds it "simply absurd" that the family is being asked to prove she is alive.
Princess Haya defended calling on the assistance of Ms Robinson, saying that she wanted her advice because of her "integrity and unblemished track record".
In the interview with Marian Finucane, Princess Haya said she was very sorry that her actions have led to fallout for Ms Robinson.
In relation to Ms Robinson's comments on Princess Latifa being a "vulnerable and troubled" young woman, Princess Haya said Ms Robinson "made no judgement, I asked her here myself and details of that counsel are private. Contrary to what's being said, it's not anything other than a private family matter".
We need your consent to load this SoundCloud contentWe use SoundCloud to manage extra content that can set cookies on your device and collect data about your activity. Please review their details and accept them to load the content.Manage Preferences