European Council President Donald Tusk has said that the EU is willing to help British Prime Minister Theresa May win the UK parliament's approval of the Brexit deal after meeting her this evening.
"Long and frank discussion with PM Theresa May ahead of Brexit summit. Clear that EU 27 wants to help. The question is how," Mr Tusk tweeted before hosting all EU leaders for a two-day summit on Thursday and Friday in Brussels.
Mrs May has said she was just at the start of discussions with European leaders, as she seeks reassurances that the backstop is only temporary in an attempt to persuade MPs to back her Brexit deal.
Asked about a possible date for a rescheduled parliamentary vote, she said: "We're just at the start of the negotiations and the start of the discussions."
She twice declined to respond directly to questions over whether enough of her own Conservative MPs had submitted letters to trigger a no-confidence vote in her leadership.
It comes as the EU earlier said it is willing to give Britain further clarifications on its Brexit deal, but will not renegotiate the treaty or its protocol on the Irish border, according to Jean-Claude Juncker.
Addressing the European Parliament in Strasbourg, the European Commission president said he was "astonished" at Mrs May's inability to get the package agreed with the EU last month through the British parliament.
Mr Juncker said: "The deal we achieved is the best possible. It's the only deal possible. There is no room whatsoever for renegotiation."
BREAKING:@JunckerEU tells @Europarl_EN "withdrawal agreement will not be re-opened." He said the backstop "necessary for the entire coherence of the agreement and it is necessary for Ireland. Ireland will never be left alone." #Brexit pic.twitter.com/757qMqqNPS

— Conor McMorrow (@ConorMcMorrow) December 11, 2018
"But of course there is room enough to give further clarifications and further interpretations without opening the withdrawal agreement," he said.
"The withdrawal agreement will not be reopened."
Mr Juncker repeated that neither side wanted ever to use a "backstop" that would keep Britain in a customs union with the EU in the absence of a better way to avoid extensive border checks between Northern Ireland and the Republic of Ireland.
He said: "We have a common determination to do everything to be not in a situation one day to use that backstop but we have to prepare.
"It's necessary for the entire coherence of what we have agreed. It's necessary for Britain and it's necessary for Ireland. Ireland will never be left alone."
His comments come as Mrs May held talks with her Dutch counterpart March Rutte in The Hague as she began a last-minute bid to seek changes to the backstop following yesterday's turmoil in the House of Commons.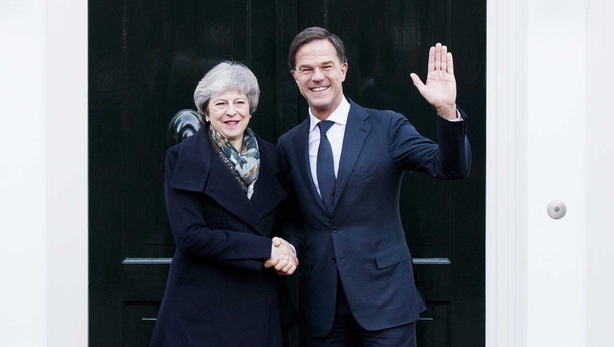 A delayed exit: @theresa_may briefly got stuck in her car as she arrived in Berlin to meet Merkel for #Brexit talks pic.twitter.com/q3sgPfpAGV

— RTÉ News (@rtenews) December 11, 2018
Mrs May then travelled to Berlin to meet the German Chancellor Angela Merkel.
Mr Tusk said last night that there would be no renegotiation of the UK's withdrawal deal, and in particular the backstop.
However, he said EU leaders would try to facilitate ratification in Westminster when they meet for a scheduled summit in Brussels on Thursday.
Mrs May told a furious House of Commons yesterday that she would do everything she can to seek further reassurances from EU leaders on the Irish backstop.
Amid withering and angry criticism following her decision to postpone a vote on the Withdrawal Agreement, Mrs May acknowledged that the backstop was the source of major opposition in the Commons.
However, Mrs May appears to accept that the Withdrawal Agreement cannot be reopened, although many in her party demand she does no less than that.
Attention is now focused on whether or not EU leaders will agree to some kind of declaration or letter of intent clarifying that the backstop will not be permanent.
The Irish Government will be determined that any declaration does not cut across the legally binding withdrawal treaty.
MPs in the House of Commons were today due to vote on the deal with Brussels, which covers the terms of Britain's withdrawal from the European Union after 46 years.
But facing a huge rebellion of her own Tory MPs, primarily over the backstop clause designed to keep open Britain's border with Ireland, Mrs May conceded she expected to lose and delayed it.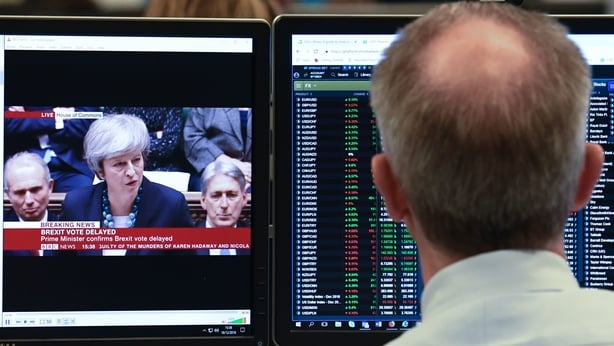 ---
---
Read more:

Government stepping up no-deal Brexit preparations - Coveney
May defers Brexit vote over backstop concern
UK chief negotiator in Brussels to seek clarity on backstop
Brexit deal is 'only deal on the table' - Varadkar
---
Guy Verhofstadt, the European Parliament's Brexit co-ordinator, expressed his disbelief at the political chaos engulfing Westminster.
"After two years of negotiations, the Tory government wants to delay the vote," he tweeted. "It's time they make up their mind!"
Mrs May spoke at the weekend to Mr Tusk, Ms Merkel and Taoiseach Leo Varadkar, raising speculation they offered some hope of further concessions.
EU leaders have repeatedly warned they have no appetite to reopen a divorce deal.
But some EU officials have mentioned the possibility of changes to the accompanying political declaration on future trade ties.
Mrs May's decision yesterday to delay the vote sent Sterling plunging, and both the UK and EU said they would step up preparations for the potentially disastrous scenario that Britain leaves with no deal.
The delay also prompted outrage among MPs, with one leading Conservative rebel, Brexit-supporter Mark Francois, accusing the government of having "hidden in the toilets".
Opposition party leaders have also taken the highly unusual step of uniting to send a joint letter to Mrs May accusing her of contempt of parliament.
They are demanding to know when Mrs May plans to hold a vote on the Brexit deal, with speculation that the vote might now not occur until the New Year - just weeks away from the Brexit departure date of 29 March.
Additional reporting: Fiona Mitchell, AFP, PA, Tony Connelly