Thousands of people waving Spanish flags have rallied in Madrid in support of national unity and against Catalonia's ongoing campaign to secede from Spain.
The Catalan secession crisis and Prime Minister Pedro Sanchez's decision to take a more conciliatory tone with pro-independence parties, whose votes are crucial to the legislative agenda of his minority government, has angered many conservatives in Spain.
Protesters carried signs reading "Stop Sanchez. Elections now!" at the protest in Madrid's central Plaza Colon.
Among those to address the crowd was Santiago Abascal, whose far-right, anti-immigrant Vox party is predicted to win its first seats in a Spanish parliament in regional elections in Andalusia on Sunday.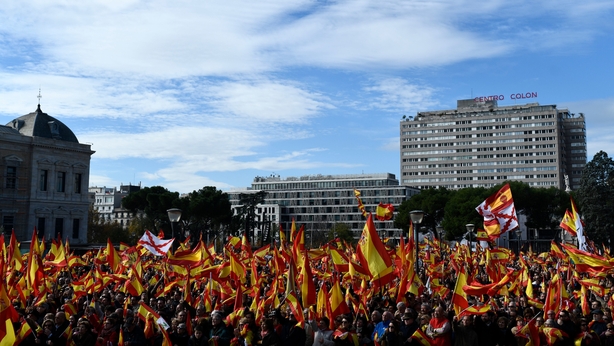 "We are here for our country and but also against something too: a legal but illegitimate government supported by the enemies of Spain, those who organised a coup d'etat in Catalonia," Mr Abascal told the crowd.
Mr Sanchez came to power earlier this year with the support of Catalan nationalist parties who voted with him in a no-confidence motion against former Prime Minister Mariano Rajoy, whose conservative People's Party (PP) was embroiled in a corruption scandal.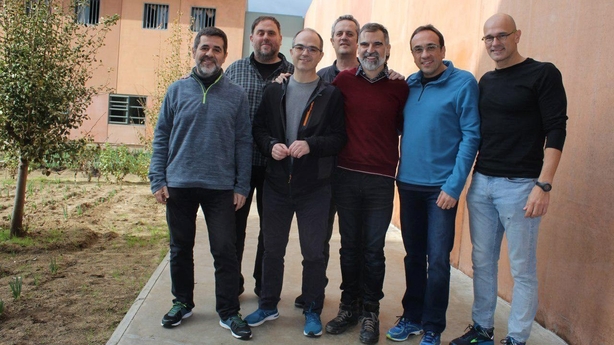 It comes as two jailed Catalan separatist leaders awaiting trial for their role in the region's failed bid to secede from Spain said they were starting a hunger strike to protest over their treatment by Spanish courts.
After Catalonia declared independence last year, Madrid took direct control of the region and brought charges including misuse of public funds and rebellion against Catalan leaders, nine of whom are in jail awaiting trial.
Two of the leaders in custody - Jordi Sanchez and Jordi Turull - announced in a joint statement that they had started refusing food to protest at the failure of Spanish courts to process numerous appeals in relation to their cases.
"We are not asking the court for special treatment. But we will not passively accept discrimination or unwarranted delays," the two men said in the statement.
Mr Sanchez told Reuters in an interview last week that he was convinced he would not get a fair trial in Spain, but believed he and other separatist leaders would be acquitted by the European Court of Human Rights.
A Spanish government spokesperson said the jailed separatists would get a fair trial.
"Only the judiciary is responsible for sentencing," the spokesperson added.
Tensions with Madrid have cooled since last year but the Catalan government continues to advocate for a referendum on leaving Spain, something the Spanish government has said it will not accept.