Turkish police have been searching two villas in a northwestern province for the remains of murdered Saudi journalist Jamal Khashoggi, state media has reported.
The officers began searching a two-storey building in Termal district in Yalova with the help of sniffer dogs and drones this morning, and the investigation later widened to the adjacent villa, state news agency Anadolu said.
Crime scene investigators were inspecting a well in the garden of the first villa in Samanli village, Anadolu reported, while images showed fire trucks at the scene.
Mr Khashoggi, a contributor for The Washington Post, was killed by Saudi officials on 2 October during a visit to the kingdom's consulate in Istanbul for paperwork before his wedding.
His body has not been found and his death has triggered widespread international criticism of Saudi Arabia.
There have been reports in pro-government media that his remains could have been dissolved in acid.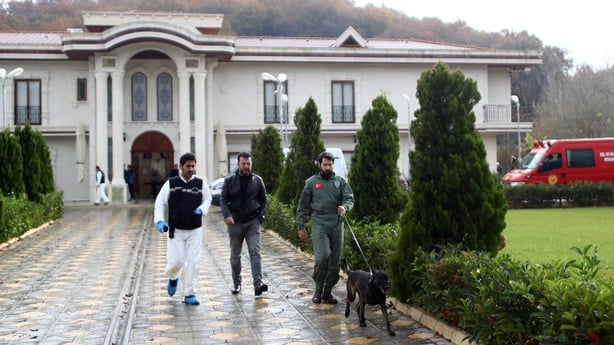 The searches come over two weeks after a Turkish newspaper had reported that samples taken from the consulate's drains showed traces of acid.
Turkish authorities say a team of 15 Saudi officials were sent especially to kill Mr Khashoggi, 59, but Saudi Arabia insists the team conducted a rogue operation.
Anadolu said some of the suspects had spoken to an unnamed Saudi citizen on the phone.
After learning this, authorities initiated the search of the Saudi businessman's villas, the news agency added, but he was not in Turkey during the phone calls with the suspects.
Yalova's governor said in a written statement that the Istanbul public prosecutor in charge of the murder investigation would provide the "necessary information" about the results of the search later.
There have been previous inspections of the Saudi consulate and the consul-general's residence in Istanbul as well as a forest in the city.