British police have released CCTV footage of two suspected Russian intelligence agents walking toward Sergei Skripal's home on the day of the former spy's poisoning with a nerve agent.
The clips show the Russians, known by the aliases Alexander Petrov and Ruslan Boshirov, appearing to take photographs on their arrival in the English city of Salisbury on 4 March.
Skripal and his daughter Yulia were found slumped unconscious on a park bench that same afternoon.
British police believe they were poisoned by a Soviet-era nerve agent called Novichok designed by Moscow specifically to conduct assassinations abroad.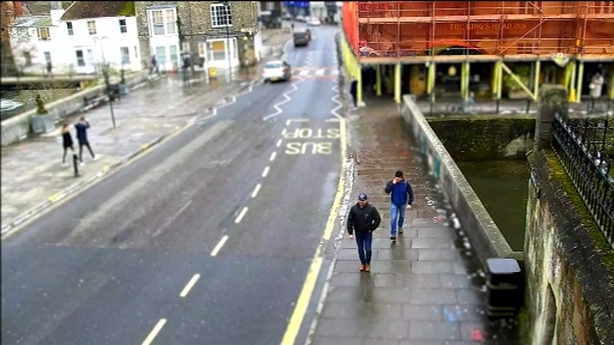 Russia denies that the two men are members of its GRU military intelligence service.
It also says the Novichok could have come from a nearby British or some other laboratory.
Nick Bailey, a British police officer who searched Skripal's home after the father and daughter were found, was also exposed to the nerve agent and spent weeks in hospital.
In an interview with the BBC Panorama programme yesterday, Bailey said he knew something was wrong when his "pupils were like pin pricks" and he became "quite sweaty and hot".
"Knowing how the other two (the Skripals) were or how badly they'd been affected by it, I was petrified," said Bailey.
He said the substance could have killed "thousands" of people.
Kremlin spokesman Dmitry Peskov on Friday repeated Russia's denials and said Britain had refused Moscow's offer to assist in the investigation.
"We have no information on what exactly this substance was, we do not have information on the quantity, on the person who poisoned, on what happened to him, on what happened in general," Peskov told reporters.
The Skripals survived but a local woman named Dawn Sturgess died after picking up a discarded perfume bottle that police think was used to carry out the attack.
Senior counter terrorism coordinator Dean Haydon said investigators were trying to determine what happened to the perfume bottle between 4 March and 27 June, the day it was found.
"We remain as determined as ever to identify and bring to justice all those responsible for the reckless acts that left four people critically ill and, tragically, saw Dawn Sturgess lose her life," Haydon said in a statement last night.
Police said one of the new CCTV clips shows the two suspects walking in the vicinity of Skripal's home address "just prior to when detectives believe the nerve agent was placed on the door handle".
Detectives released the footage as part of an appeal for witnesses.
Investigators think the two sprayed the handle of the main door of Skripal's home with Novichok before tossing the perfume bottle on the street.