By Yvonne Murray
China's import expo in Shanghai, known as CIIE, has been gathering crowds by the thousand, as Chinese buyers come to peruse what the world has to offer.
All delegates are filtered through the security lines - each face scanned with facial recognition cameras.
This week, more than 3,000 companies from 130 countries have come to sell to China's ever expanding consumer market.
The wares on display range from fresh milk to horses, from ping-pong-playing robots to a flying car and from destination weddings to a $4.3 million pair of diamond-encrusted shoes.
An Enterprise Ireland trade mission of 45 Irish companies led by the Minister of Business, Enterprise and Innovation Heather Humphreys has been busy meeting Chinese clients, cutting deals and showcasing their goods on the Irish stand.
"It's a really important opportunity for our companies to demonstrate their products to the Chinese buyers," said Julie Sinnamon, CEO of Enterprise Ireland.
"We have a specific strategy to grow our export footprint around the world and lessen our overall dependence on the UK market.
"Just over a billion euro worth of exports goes into the Chinese market and we've a target to grow that by 50% by 2020," she added.
The deals done by Irish companies this week are worth €50m. Irish Breeze announced a €25m agreement with China's e-commerce platform JD.com to sell its Waterwipes.
"We have a big database of customers and we want to provide the best goods for them," said Yang Ye, General Manager of JD Global.
"It's also the biggest website especially in baby and mums goods, so we chose Waterwipes."
Reagecon Diagnostics Ltd agreed a €10m sales and distribution partnership.
Solvotrin Therapeutics struck a €15m deal to have its product, Active Iron, distributed in China.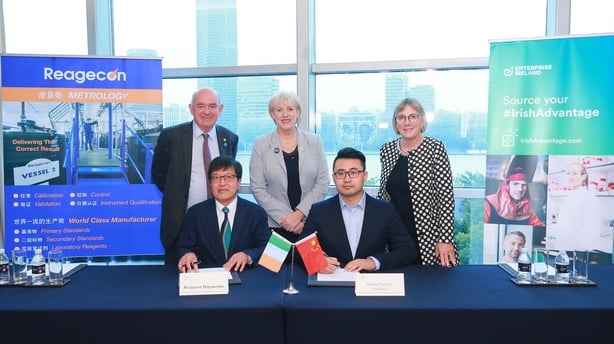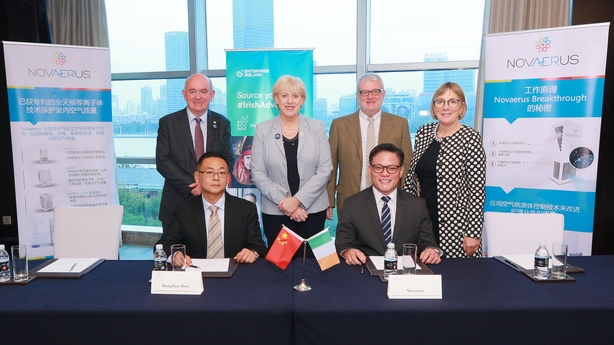 Cartoon Saloon, makers of the academy award nominated films Breadwinner and Song of the Sea, will be gaining access to the Chinese cinema market through a joint partnership.
Cartoon Saloon Managing Director Gerry Sherrin said: "We first came to China in 2014 and found out through Enterprise Ireland that Secret of Kells had been widely streamed here – more than 750,000 times - even though we had no official deal with any of the parties here.
"So we said there's obviously a market here and people like the material so we just built from there. Breadwinner will open here in December we hope."
This all takes place against the backdrop of an intensifying trade war with the US.
The two largest economies appear no closer to resolving differences over the US's claims that China steals intellectual property and restricts access for foreign companies to its domestic market.
At the opening ceremony of CIIE, President Xi Jinping, apparently in reference to the trade dispute said the Chinese economy is a sea. Storms can overturn a pond, he said, but not a sea.
He added that the door to China is open and will remain open.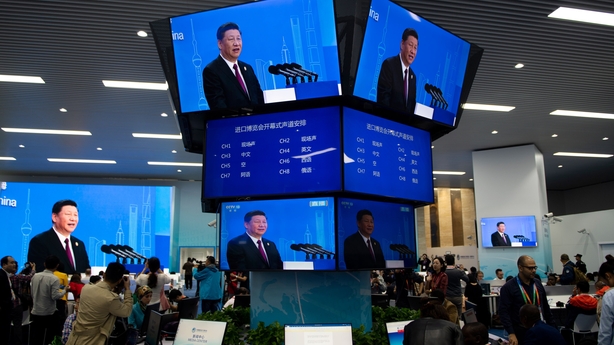 Last week, a joint statement by the EU called on China to show a real commitment to reform. This week, the visiting minister supported the call.
"We welcome China's repeated commitment to the rules-based open and inclusive multilateral trading system. Of course from time to time there are inevitable disputes but these can be resolved through dialogue and if necessary through the WTO," said Minister Humphreys.
"As a part of the EU of course we share some of the concerns expressed by the US on certain aspects of China's trade policies.
"In particular, we have concerns on the issue of enforced technology transfer as the price to enter the Chinese market and the protection of the intellectual rights in China.
"President Xi clearly said China respects international business rules that protect lawful rights of investors and IP rights. So what we want is a level playing field."
The CIIE is certainly a hugely symbolic event. Through it, China is sending a clear message that it is open for business.
International exporters will be watching closely to see how China's promise plays out.