Mary Robinson has been appointed as chair of international NGO The Elders, which was founded by Nelson Mandela and works in the areas of peace and human rights.
The former president of Ireland, who also served as United Nations High Commissioner for Human Rights, will now lead the group in the chair position, previously held by Desmond Tutu and Kofi Annan.
Mrs Robinson was Ireland's first female president in 1990. Since then, she has worked extensively in the areas of human rights, international cooperation and climate action.
The Elders is an international organisation of public figures, such as statespeople and activists, founded in 2007 by Mr Mandela.
In their own words, the group is made up of "independent global leaders working together for peace and human rights".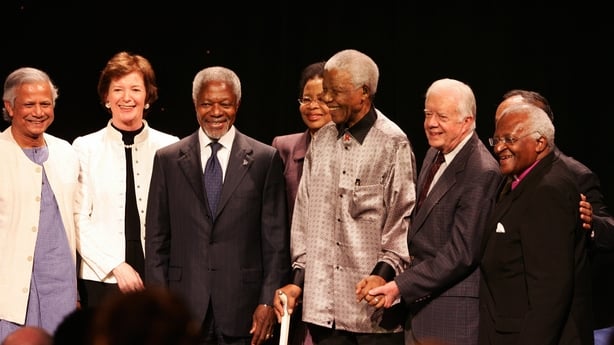 President Michael D Higgins congratulated Mary Robinson, saying that it is "a testament to the very high regard in which she is held at a global level" and adding that she is a source of inspiration and deep pride for Irish people.
"In her new role, Mary Robinson will build on the work of the late Kofi Annan, Archbishop Desmond Tutu and Nelson Mandela in harnessing the wisdom and experience of so many remarkable individuals to tackle the most pressing issues facing our world," said President Higgins.
"Mary Robinson's vast experience and personal, academic and executive contribution in the areas of Human Rights, the Multilateral System, Africa and the Middle East and most valuably on Climate Justice makes her well-placed to lead the Elders in maintaining its strong, independent voice to promote the common interests of humanity and protect the universal human rights we all share.
"On behalf of the Irish people I congratulate Mary Robinson on her appointment and wish her every success in her new role," added the current president.
Tánaiste and Minister for Foreign Affairs Simon Coveney has also congratulated Mrs Robinson.
"Her appointment to succeed the late Kofi Annan, former Secretary General of the UN, is recognition of her long and courageous engagement in the causes of international peace, justice and human rights. She takes up this position at a time when the world needs to hear strong voices, such as Mary Robinson's, advocating for multilateralism and international cooperation," said Mr Coveney.
The minister said that he has seen first-hand the high standing that Mary Robinson has around the world, especially in developing countries. "She brings great honour to Ireland in the process," he said.
Mr Coveney also paid tribute to Mr Annan, who he described as an "exceptional international statesman".