The 11 people murdered at a Pittsburgh synagogue in the deadliest attack ever on the Jewish community in the United States were mostly older worshippers, ranging in age from 54 to 97.
The suspected gunman, 46-year-old Robert Bowers of Pittsburgh, stormed the building during a Saturday morning service.
He also wounded six others including four police officers before being arrested.
Two brothers in their 50s and a husband and wife in their 80s were among those killed, according to the list of victims released by officials. A 97-year-old woman was also among the dead.
Mr Bowers, who had made statements about genocide and his desire to kill Jewish people, could face the death penalty. He will make an initial appearance before a judge tomorrow afternoon, US Attorney Scott Brady said at a news conference.
"The fact that this attack took place during a worship service makes it even more heinous," Mr Brady said.
Yelling "All Jews must die", the suspected gunman stormed a Pittsburgh synagogue during services yesterday, killing 11 worshippers and wounding six other people including four police officers before he was arrested.
There was no indication that the suspect was working with anyone else, said Mr Brady.
We need your consent to load this rte-player contentWe use rte-player to manage extra content that can set cookies on your device and collect data about your activity. Please review their details and accept them to load the content.Manage Preferences
"This was an attack upon our neighbours and our friends and one that we felt very deeply," Mr Brady said.
The Tree of Life synagogue in the city's Squirrel Hill neighbourhood, a heavily Jewish area, was holding a Shabbat religious service when the gunman burst in.
The mass shooting prompted security alerts at houses of worship around the country and condemnation from politicians and religious leaders.
It followed a spate of pipe bombs found mailed in recent days to prominent political figures, mostly Democrats including former US President Barack Obama, ahead of 6 November congressional elections.
"We'll get through this darkest day of Pittsburgh history by working together," the city's mayor, Bill Peduto, told reporters.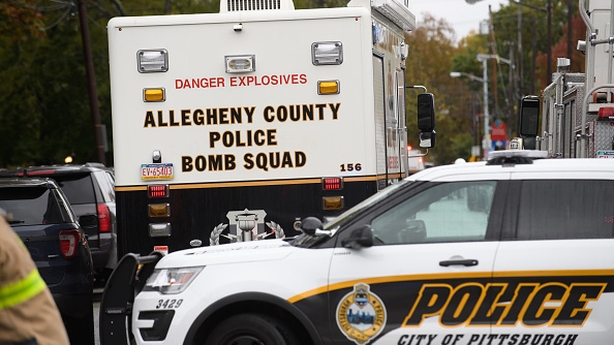 KDKA television cited police sources as saying Mr Bowers walked into the building and yelled: "All Jews must die."
Mr Bowers had made many anti-Semitic posts online, including one early yesterday. In another, he slammed Mr Trump for doing nothing to stop an "infestation" of the United States by Jews.
US Representative Adam Schiff, a Democrat who is Jewish, said today the country needs to combat a climate of hatred and division that he said Mr Trump helped foster.
"Honestly I think this president's whole modus operandi is to divide us. He gets up in the morning with new and inventive ways to divide us," Mr Schiff said on CNN's 'State of the Union' programme.
Yesterday, Mr Trump called the shooting an act of pure evil and called on Americans to rise above hatred.
Mr Trump told reporters yesterday that the killings might have been prevented if there had been an armed guard. Synagogue officials said police would only normally have been present for security on high holidays.
The city's mayor, Bill Peduto, said today that keeping guns out of the hands of irrational people was a better way to prevent violence.
"We shouldn't be trying to find ways to minimise the dangers that occur from irrational behavior. We should be working to eliminate irrational behavior and the empowerment of people who would seek to cause this type of carnage from continuing," he said.
US Homeland Security Secretary Kirstjen Nielsen told Fox News that Dept of Homeland Security officials had made a site visit to the Pittsburgh synagogue in March to provide training on active shooter responses.
FBI Special Agent Robert Jones said that Mr Bowers was armed with an assault rifle and three handguns. Mr Jones added that he did not know why Bowers picked the particular synagogue for his attack.
Mr Bowers surrendered after a shootout with a SWAT team.
Federal prosecutors charged him late yesterday with 29 criminal counts including violence and firearms offences, and violating US civil rights laws.
US Attorney General Jeff Sessions had said federal prosecutors could seek the death penalty.
Site 'used by synagogue shooter' says being forced offline
A website that hosted anti-Semitic posts apparently authored by Mr Bowers said yesterday it is being forced offline following the attack.
Gab.com, which is popular with white nationalists and members of the so-called alt-right, said its hosting provider Joyent would be suspending its services as of Monday morning, while PayPal has also reportedly banned the site.
"Gab will likely be down for weeks because of this," the site said on its Twitter account.
"We will continue to fight for free expression and individual liberty online for all people. Big tech can not stop us. The mainstream media can not stop us. The People will defend freedom against tyranny as they always have and always will," it tweeted.
Gab had earlier released a statement saying it had "zero tolerance" for violence or terrorism and was "saddened and disgusted by the news" from Pittsburgh