Saudi Arabia's crown prince has denounced the murder of critic Jamal Khashoggi as a "heinous crime", insisting that the kingdom was cooperating with Turkish authorities and "justice will prevail".
The comments come after the United States announced it will revoke the visas of nearly two dozen Saudi officials involved in the killing of the journalist - its toughest action to date against its longtime ally.
"The crime was very painful to all Saudis. And it is painful, heinous to every human being in the world," said Prince Mohammed bin Salman in his first comments since the killing.
"Those behind this crime will be held accountable... in the end justice will prevail," said during an address to the Future Investment Initiative Forum in Riyadh.
Saudi leaders have denied involvement in Khashoggi's murder inside Saudi Arabia's Istanbul consulate on October 2, pushing responsibility down the chain of command.
But the kingdom is under mounting international pressure over the killing amid US accusations of a monumental cover-up by the kingdom.
Prince Mohammed, widely known as MBS, said Saudi Arabia was working with the Turkish authorities to investigate the case.
"Many are trying to exploit the Khashoggi affair to drive a wedge between Saudi Arabia and Turkey," he said.
"But they will not succeed as long as there is a king named Salman and a crown prince named Mohammed bin Salman."
The US announced the visa action earlier today. Secretary of State Mike Pompeo said the US has "identified at least some of the individuals" behind the death of the Washington Post opinion writer in Saudi Arabia's Istanbul consulate.
"These penalties will not be the last word on this matter from the United States. We will continue to explore additional measures to hold those accountable," Mr Pompeo said.
"We are making very clear that the United States does not tolerate this kind of action to silence Mr Khashoggi, a journalist, through violence," he said.
State Department spokeswoman Heather Nauert later said that the measure will affect 21 Saudi suspects who will either have their visas revoked or be ineligible for future visas.
Mr Pompeo said that the Saudis came from "the intelligence services, the royal court, the foreign ministry and other Saudi ministries."
He said the United States was also looking into whether to take action under a law named after Sergei Magnitsky, the anti-corruption accountant who died in Russian custody, that would impose financial sanctions on individuals behind Mr Khashoggi's death.
US lawmakers have been pressing President Donald Trump's administration to take tough action, with several mentioning the Magnitsky Act.
Mr Pompeo reiterated that the United States still considered Saudi Arabia an ally, saying he and Mr Trump were "not happy" to move against the kingdom.
Mr Trump said the Saudi operation to kill journalist Mr Khashoggi had given rise to "one of the worst cover-ups" in history.
"They had a very bad original concept. It was carried out poorly and the cover-up was one of the worst in the history of cover-ups," Mr Trump declared in the Oval Office.
We need your consent to load this rte-player contentWe use rte-player to manage extra content that can set cookies on your device and collect data about your activity. Please review their details and accept them to load the content.Manage Preferences
"Bad deal, should have never been thought of. Somebody really messed up. And they had the worst cover-up ever," he added.
"Because whoever thought of that idea, I think is in big trouble. And they should be in big trouble. Okay?"
After more than two weeks of near silence, Saudi Arabia admitted on Saturday that Mr Khashoggi, 59, was killed in its Istanbul consulate on 2 October, in what it said was an operation gone wrong.
But Turkey's President Recep Tayyip Erdogan said Mr Khashoggi was targeted in a meticulously planned killing - and demanded that 18 suspects detained by Saudi Arabia be extradited to Istanbul to face trial.
Asked about Mr Erdogan's call for those behind Mr Khashoggi's "savage murder" to face punishment, Mr Trump said the Turkish president had been "pretty rough on Saudi Arabia."
But when questioned about whether he believes the Saudi account of events leading up to Mr Khashoggi's death, Mr Trump replied, "I want to see the facts first" - while reiterating Riyadh's importance as a US ally in the Middle East.
"Look, Saudi Arabia has been a really great ally. They've been one of the biggest investors, maybe the biggest investor, in our country," he said.
A former royal family insider turned critic of the Saudi crown prince, Mr Khashoggi disappeared after he entered the consulate to collect a document for his upcoming marriage.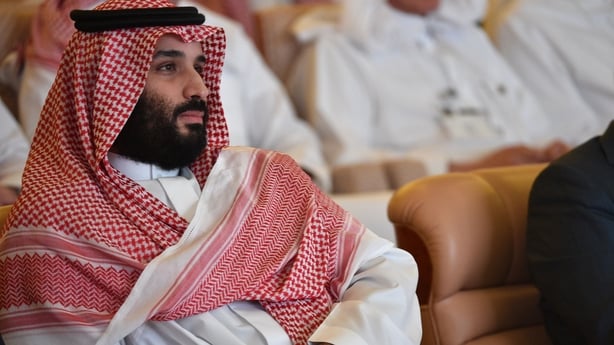 Turkish security sources say that when Mr Khashoggi entered the consulate, he was seized by 15 Saudi intelligence operatives who had flown in on two jets just hours before.             
His murder has severely dented the international reputation of Crown Prince Mohammed bin Salman and for Saudi Arabias allies, the question will be whether they believe that the Crown Prince, who has painted himself as a reformer, has any culpability.
The killing also overshadowed a major investment forum that opened in Riyadh yesterday.