Saudi Arabia's Foreign Minister Adel al-Jubeir has said the killing of journalist Jamal Khashoggi in the country's Istanbul consulate was "an aberration" and "a mistake".
He said Saudi Arabia does not know how Mr Khashoggi was killed or where his body is, adding the country is still working on finding out where Mr Khashoggi's body is and determining what happened.
He said Saudi Arabia wants to hold to account those responsible for the killing of Mr Khashoggi.
Mr Jubeir said Saudi Crown Prince Mohammad bin Salman was not aware of the incident.
Speaking in an interview with Fox News, the Saudi Foreign Minister said the incident was "a huge and grave mistake".
"This is a terrible mistake. This is a terrible tragedy. Our condolences go out to them. We feel their pain," he said.
"Unfortunately, a huge and grave mistake was made and I assure them that those responsible will be held accountable for this."
It comes as Turkish President Recep Tayyip Erdogan vowed to reveal the "naked truth" over the killing, saying that he would make a new statement on the case next week.
"We are looking for justice here and this will be revealed in all its naked truth, not through some ordinary steps but in all its naked truth," Mr Erdogan told a rally in Istanbul.
He added: "Why did those 15 men come here? Why were 18 people arrested?"
The Turkish president said he would make a full statement on the case when he would address his ruling party MPs in parliament on Tuesday.
The Turkish leader has so far refrained from making strong statements about the death of Mr Khashoggi, often referring to a prosecutors' investigation into the killing.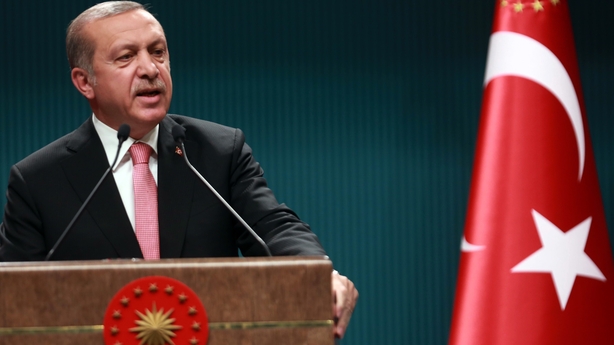 Britain, France and Germany have said there was an "urgent need for clarification" on the circumstances surrounding Mr Khashoggi's death.
In a joint statement released today the three countries said that Saudi Arabia needed to provide facts for its explanation of what happened to Mr Khashoggi to be considered credible.
---
Read More:
Khashoggi critical of Saudi prince in final interview
EU demands full probe, accountability after Khashoggi death
Trump unhappy with Saudi account of Khashoggi death
---
"There remains an urgent need for clarification of exactly what happened on October 2nd - beyond the hypotheses that have been raised so far in the Saudi investigation, which need to be backed by facts to be considered credible," the three countries said in a joint statement.
"We thus stress that more efforts are needed and expected towards establishing the truth in a comprehensive, transparent and credible manner," they added.
"We will ultimately make our judgement based on the credibility of the further explanation we receive about what happened and our confidence that such a shameful event cannot and will not ever be repeated."
After two weeks of denials, Saudi authorities admitted that Mr Khashoggi, a Washington Post columnist and prominent critic of powerful Crown Prince Mohammed bin Salman, was killed after entering the consulate in Turkey on 2 October.
But the country has faced a growing chorus of incredulity over its belated explanation that he died in a "brawl", as world powers demand answers and the whereabouts of his body.
"The threatening, attacking or killing of journalists, under any circumstances, is unacceptable and of utmost concern to our three nations," added the European allies' statement.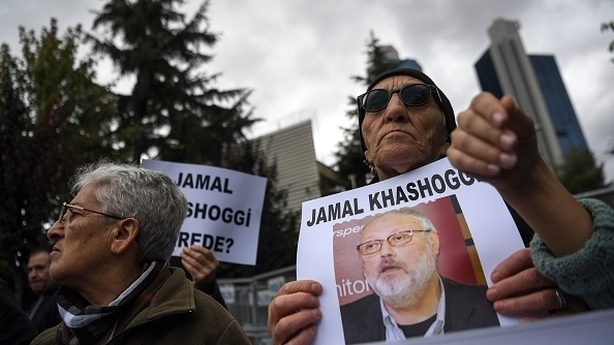 "The quality and significance of the relationship we have with the Kingdom of Saudi Arabia also rests with the respect we have for the norms and values to which the Saudi authorities and us are jointly committed under international law," they warned.
Turkish government sources have claimed that Mr Khashoggi was tortured and murdered by a hit squad flown in from Riyadh.
The Saudis initially dismissed the allegations as baseless.
A number of Saudi nationals have since been arrested while deputy intelligence chief Ahmad al-Assiri and Saud al-Qahtani, a senior aide to the Crown Prince, have been dismissed, state TV reported.