Mexican authorities have allowed dozens of women and children from the Honduran migrant caravan to pass into its territory, the country's ambassador to Guatemala has said.
Luis Manuel Lopez told AFP the women and children would be processed by immigration authorities and taken to a shelter in the city of Tapachula, 40km away.
The women and children are part of a group of thousands of Honduran migrants on the Mexican border with Guatemala hoping to reach the United States.
The migrants had earlier poured through Guatemalan border posts in the town of Tecun Uman and onto a bridge leading to Mexico, only to be halted by dozens of Mexican police in riot gear.
US President Donald Trump has warned the Central American caravan must be stopped before it reaches the United States, and Honduras and Guatemala said late last night they were mobilizing to assist the return of Honduran migrants to their homeland.
Some migrants shook fences at the border and police said a few officers were injured in clashes.
A handful of migrants jumped into the Suchiate River below to swim for rafts.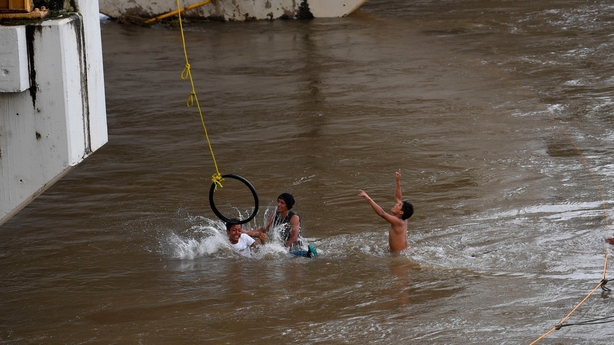 Others turned back toward Guatemala.
Carrying backpacks and small children, many simply sat down on the bridge. Some said that they had been teargassed.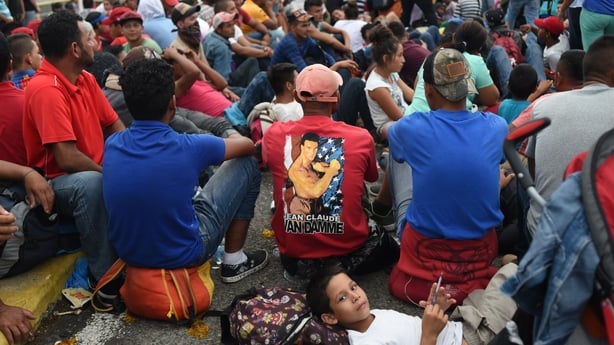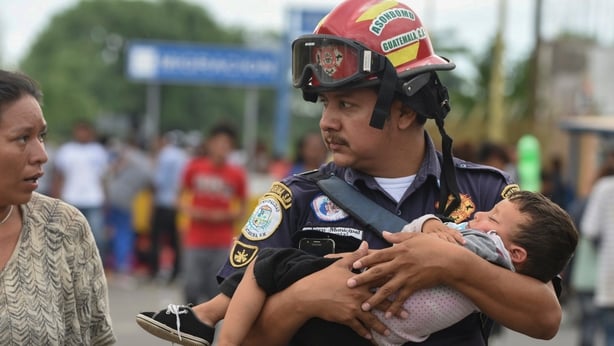 Honduran President Juan Orlando Hernandez said he had spoken to his Guatemalan counterpart Jimmy Morales for clearance to send civil protection personnel to help the Hondurans and to find transport for those wanting to return.
Shortly afterwards, Guatemala's government tweeted that Mr Hernandez would meet Mr Morales today in Guatemala City to implement a strategy for returning the Honduran migrants.
Meanwhile, in a late televised address, Mexican President Enrique Pena Nieto called the mass rush to penetrate the border "unprecedented", accusing some migrants of attacking police.
"Mexico does not and will not allow (people) to enter its territory illegally, let alone violently," he said.
A similar caravan of Central Americans that formed in southern Mexico in late March also drew the ire of Mr Trump, who on Thursday threatened to use the military and close the southern border if Mexico did not halt the new march.
Speaking in Scottsdale, Arizona, yesterday Mr Trump said he "appreciated very much" Mexico's efforts to stop the caravan.
"If that doesn't work out, we're calling up the military -not the (National) Guard - we're calling up the military," he told reporters.
"They're not coming into this country."
Mr Trump has also threatened to cut off aid to Honduras, Guatemala and El Salvador if they fail to prevent undocumented immigrants from heading to the United States.
Their emigrants make up the bulk of people now caught trying to enter the United States illegally every year.
Several migrants at the Guatemala-Mexico border spoke of entire neighbourhoods leaving their homes to join the caravan after news circulated on social media of a call for a new "caravan" to Mexico six months after the previous one.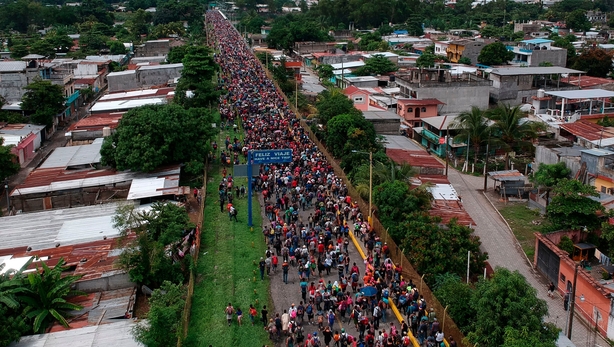 In contrast to the earlier caravan, which had advanced into Mexico before officials began intensive efforts to process the migrants, the Mexican government turned its attention to the new group right on its southern border.
Mexico's government has sought assistance from the United Nations High Commissioner for Refugees (UNHCR). As Mexico processes the migrants, the caravan will likely slowly disperse.
As of yesterday morning, the caravan had close to 4,000 people.