Saudi Arabia's interior minister has rejected claims there were orders to kill missing Riyadh critic and journalist Jamal Khashoggi, describing them as "baseless allegations and lies".
Prince Abdel Aziz bin Saud bin Nayef added that his country was "in compliance with international laws and conventions," the official Saudi Press Agency reported him saying.
Mr Khashoggi, a Washington Post contributor, vanished on 2 October after entering the kingdom's consulate in Istanbul to obtain documents for his upcoming marriage.
Saudi officials say he left shortly afterwards but Turkish officials and Mr Khashoggi's fiancée, who was waiting outside, said he never came out.
Turkish police and numerous media have claimed he was tortured and killed at the consulate.
We need your consent to load this rte-player contentWe use rte-player to manage extra content that can set cookies on your device and collect data about your activity. Please review their details and accept them to load the content.Manage Preferences
His case risks hurting not just fragile Turkish-Saudi relations but also damaging the image of the kingdom and its ties to the West as Crown Prince Mohammed bin Salman promotes a reform drive at home.
The Saudi minister, in the first ministerial reaction to the accusations about Mr Khashoggi's killing, said he welcomed the cooperation between his country and Turkey to clarify the circumstances of the disappearance.
It comes as a delegation from Saudi Arabia arrived in Turkey as part of a joint investigation into the disappearance of Mr Khashoggi, three Turkish sources said.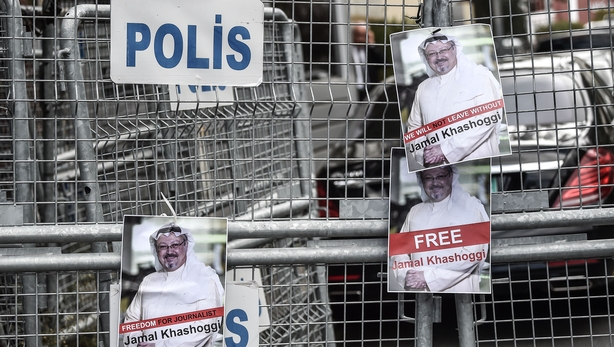 A Saudi source also said a senior royal, Prince Khaledal-Faisal, visited Turkey on Thursday for talks.
Later the same day Turkey said the two countries had agreed to form a joint working group - at Riyadh's initiative - to investigate the case.
Saudi state news agency SPA later quoted a Saudi official as welcoming Turkey's approval of its request to form the team.
US President Donald Trump has said he had not yet spoken to Saudi Arabia's King Salman about Mr Khashoggi's disappearance but would be calling him "pretty soon."
"This is a very serious thing and we're looking at it in a very serious manner," Mr Trump said.
Turkish sources have told Reuters the initial assessment of the police was that Mr Khashoggi, an outspoken critic of the Saudi government, was deliberately killed inside the consulate.
Riyadh has dismissed the claims.
The Saudi delegation, which arrived in Turkey on Thursday, is meeting a Turkish prosecutor investigating the case as well as representatives from the Justice Ministry, Interior Ministry, police and the national intelligence agency, one source said.
There is no set date for how long the meetings will take, but "very quick results need to be seen", the source said.
The team is now in Istanbul and will continue to work over the weekend, the source added.
Prince Khaled, the governor of Mecca, made his brief visit in his capacity as special adviser to King Salman, a source with links to the prince's family told Reuters, in a move that would suggest the monarch was treating the issue as a priority.
Turkish President Recep Tayyip Erdogan has previously said that Turkey could not remain silent over Mr Khashoggi's disappearance and called on officials at the Saudi consulate in Istanbul to prove he had left the building.
The Turkish foreign ministry on Tuesday said the Saudi consulate in Istanbul would be searched as part of the investigation.