A new Singapore Airlines route connecting the city-state to New York goes into operation today, becoming the longest commercial plane flight in the world.
The journey covers a distance of 16,700km in just under 19 hours, making it the lengthiest in both distance and time.
There is no economy class. The cabin is configured in only two segments: 67 business class seats and 94 premium economy seats.
The route uses the fuel-efficient ultra-long range variant of Airbus' A350-900, a category of plane that airlines are increasingly turning to as they look to squeeze more miles out of every drop of pricey fuel.
Here are the world's next-longest flights:
Auckland to Doha - 17 hours 40 minutes
Qatar Airways Flight 921, using a Boeing 777, held the previous title as world's longest commercial route, flying passengers over 14,500km from Auckland, New Zealand to Doha.
Houston to Sydney - 17 hr 30 min
United's 787 Dreamliners fly 13,800km to connect Australia's biggest city with Houston in the southern US.
Auckland to Dubai - 17 hr 20 min
Auckland has a second link to a Middle Eastern hub through Emirates Flight 449, which flies Airbus A380 superjumbos to Dubai at a distance of 14,200km.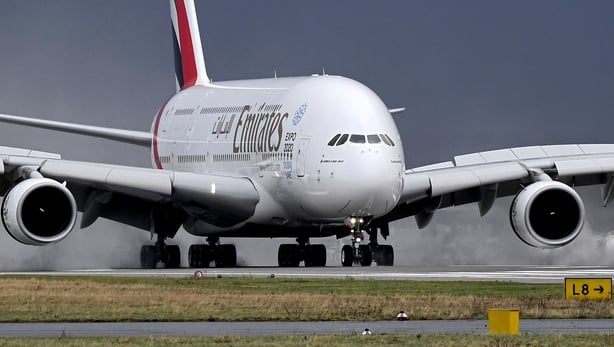 Los Angeles to Singapore - 17 hr 20 min
United launched its service connecting Los Angeles' LAX airport to Singapore using a 787 last year.
At the time the 14,100km link was the longest non-stop flight by distance from the US to anywhere in the world, the airline said.
Perth to London - 17 hr 20 min
The 14,500kme Qantas service launched this year is the first regular link between Australia and Europe, with the airline's Boeing 787 fleet connecting Perth and London.
Sydney to London?
The Perth route is part of an ambitious plan by Qantas to eventually connect Europe with airports on Australia's eastern seaboard as new, more efficient aircraft become available.
Chief executive Alan Joyce told the media last year that a non-stop, 17,000km service from Sydney to London could be on the cards as soon as 2022, but only if oil prices stay low enough to provide a decent return on the route.