US President Donald Trump's nominee Brett Kavanaugh took a step toward joining the Supreme Court today when the US Senate approved him in a preliminary vote, despite accusations of sexual misconduct against the judge.
After a bitter partisan fight that gripped the country, lawmakers backed Mr Kavanaugh by 51 to 49 in a procedural vote that moved the Republican-controlled Senate toward a definitive decision on whether to confirm him.
One Republican, Lisa Murkowski, opposing going forward while one Democrat, Joe Manchin, voted to move ahead.
The full confirmation vote could take place as early as tomorrow.
This evening, Republican Senator Susan Collins and Democratic Senator Joe Manchin said they would be voting to confirm Brett Kavanaugh's nomination.
I will vote to support Supreme Court nominee Judge Brett Kavanaugh. pic.twitter.com/1FfuMTOZz8

— Senator Joe Manchin (@Sen_JoeManchin) October 5, 2018
Susan Collins said allegations against Brett Kavanaugh were unproven.
"I do not believe these charges can fairly prevent Judge Kavanaugh from serving on the court," she said.
"The presumption of innocence and fairness do bear on my thinking and I cannot abandon them," she added, calling Mr Kavanaugh "an exemplary public servant."
Both declarations strongly increase his chances of a successful confirmation.
On Twitter President Trump said he was "very proud" that the Senate has cleared the way to hold a vote on Mr Kavanaugh.
Very proud of the U.S. Senate for voting "YES" to advance the nomination of Judge Brett Kavanaugh!

— Donald J. Trump (@realDonaldTrump) October 5, 2018
The divisive debate over Mr Kavanaugh provoked demonstrations by thousands of protesters yesterday. Opponents of the nominee rallied outside the Supreme Court and entered a Senate office building.
Senator John Cornyn said on Twitter that 302 protesters had been arrested for unlawfully demonstrating in Senate buildings.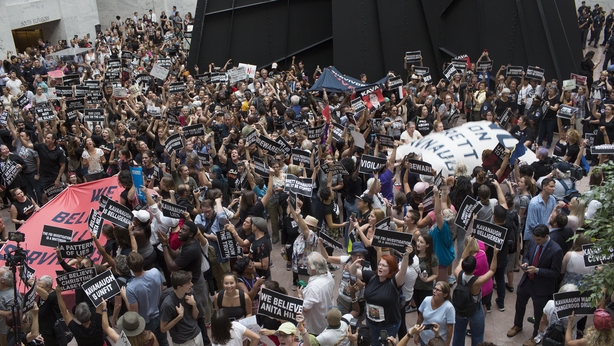 Mr Trump, himself accused by numerous women of sexual misconduct during the 2016 presidential race, wrote on Twitter that the FBI report showed that the allegations against Mr Kavanaugh were "totally uncorroborated".
The harsh and unfair treatment of Judge Brett Kavanaugh is having an incredible upward impact on voters. The PEOPLE get it far better than the politicians. Most importantly, this great life cannot be ruined by mean & despicable Democrats and totally uncorroborated allegations!

— Donald J. Trump (@realDonaldTrump) October 4, 2018
The confirmation of Mr Kavanaugh, a federal appeals court judge, would tip the balance on the Supreme Court to a 5-4 conservative majority.
He was nominated by Mr Trump to succeed retired Justice Anthony Kennedy, who was seen as a swing vote on the court.
Most Democrats opposed Mr Trump's nomination of Mr Kavanaugh from the outset, but their objections sharpened when Christine Blasey Ford, now a college professor in California, and two other women accused Mr Kavanaugh of sexual misconduct during the 1980s while he was a high school and college student.
Dr Ford and Mr Kavanaugh testified at a dramatic Senate Judiciary Committee hearing last week in which she described the alleged assault, and Mr Kavanaugh denied all of the allegations against him, while accusing the Democrats of a political "hit".
His sometimes angry tone in turn drew accusations from critics that he was temperamentally unsuited and too overtly partisan to take up a place on the top court.
In a Wall Street Journal opinion piece yesterday, Mr Kavanaugh said he "might have been too emotional at times" in his testimony, saying it "reflected my overwhelming frustration at being wrongly accused".
"I know that my tone was sharp," he wrote, "and I said a few things I should not have said."