Six people have been arrested in Barcelona as protesters for and against independence scuffled with police, two days before the first anniversary of a vote on secession that polarised the Spanish region.
Two people were arrested after separatist protesters threw powder paint at riot police who were keeping them apart from a rival unionist demonstration.
Another four were arrested later this afternoon.
Fourteen people received treatment for injuries sustained in the protests, all of them minor, local press reported.
Tensions remain high in the independence-minded region a year after the 1 October vote deemed illegal by Madrid but celebrated by separatist Catalans.
Pro-independence groups had camped out overnight on Friday to prevent a demonstration in support of police deployed in Catalonia during last year's failed bid to split from Spain.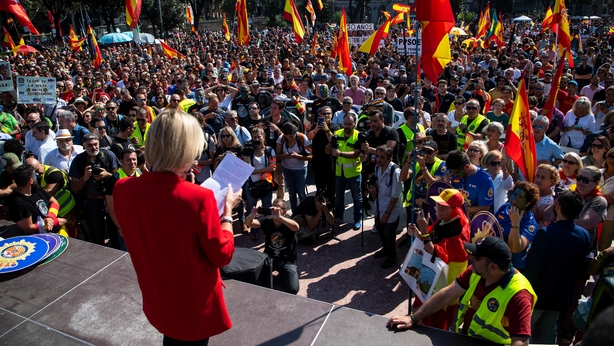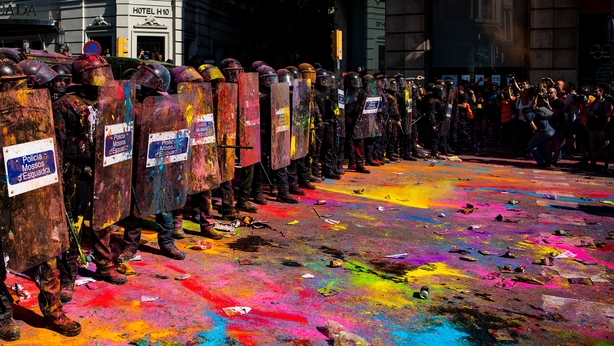 The demonstration went ahead but was forced to take a different route.
Voters chose overwhelmingly to become independent, though turnout was low with those against secession largely boycotting the vote.
According to Catalan authorities almost 1000 people were injured last year after police tried to stop voting at polling stations across the region.
Despite managing a vital if narrow victory in regional elections last December, Catalan pro independence parties have struggled to retain momentum this year with many of their best known leaders either in self imposed exile or in detention awaiting trial or charges for their role in organising last year's vote and subsequent declaration of independence.
Oriol Junqueras, one of nine Catalan leaders in pre-trial jail since late last year, announced he would run in European Parliament elections next year.
"Standing as a candidate for the European elections is the best way to denounce the regression in democratic values and repression we have seen from the Spanish government," he said.
Over several hours pro-independence groups chanting "Neither forgetting nor forgiveness" faced off with unionist protesters chanting "Long live Spain" ahead of a weekend of further demonstrations planned to mark last year's vote.