US President Donald Trump has praised North Korean leader Kim Jong-un on for his courage in taking steps to disarm, but said much work still needed to be done and sanctions must remain in place on North Korea until it denuclearises.
"The missiles and rockets are no longer flying in every direction, nuclear testing has stopped, some military facilities are already being dismantled," Mr Trump said in his speech to the annual United Nations General Assembly.
"I would like to thank Chairman Kim for his courage and for the steps he has taken, though much work remains to be done," he said, adding: "The sanctions will stay in place until denuclearisation occurs."
Mr Trump's remarks on North Korea were dramatically different from those in his speech last year at the UN assembly, when he threatened to "totally destroy" North Korea and mocked the North Korean leader as "Rocket Man" on a "suicide mission."
Mr Trump held an unprecedented summit with Mr Kim in Singapore in June which yielded a broad pledge by Mr Kim to "work towards" denuclearisation of the Korean peninsula.
However, Mr Kim's commitments and actions so far have fallen far short of Washington's demands for a complete inventory of North Korea's weapons programs and irreversible steps to give up a nuclear arsenal that threatens the United States.
Mr Trump has nevertheless heaped personal praise on the North Korean leader and expressed enthusiasm for a second summit.
On Monday, he said he expected this to be announced "pretty soon" but that the location had yet to be determined.
During a meeting with South Korean President Moon Jae-in at the United Nations, Mr Trump said Mr Kim has been "really very open and terrific, frankly."
"I think he wants to see something happen."
The US President singled out Japanese Prime Minster Shinzo Abe, Mr Moon and Chinese President Xi Jinping for their support over North Korea, in spite of some questions about the commitment of the latter two leaders to maintaining tough sanctions on Pyongyang.
At a meeting last week with Mr Moon, Mr Kim promised to dismantle a missile site and also a nuclear complex if the United States took "corresponding action".
US Secretary of State Mike Pompeo said he hoped to travel to North Korea again before the end of the year to make final preparations for a second Trump-Kim summit.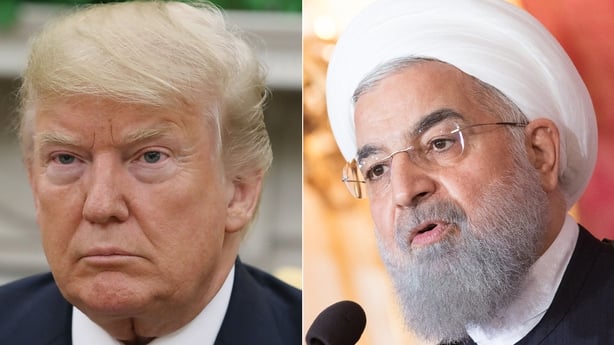 Trump rejects any meeting with Iran's Rouhani at UN
Mr Trump has also said he would not meet Iranian President Hassan Rouhani as world leaders gathered for the UN Assembly but signalled he was open to a future meeting, despite simmering tensions over Tehran's nuclear deal.
Both countries' presidents are attending the annual United Nations General Assembly in New York.
Foes for decades, Washington and Tehran have been increasingly at odds since May, when the Republican US president pulled out of the 2015 international nuclear deal with Iran and announced sanctions against the OPEC member.
The accord, negotiated under Democratic US President Barack Obama, lifted most international sanctions against Tehran in exchange for Iran curbing its nuclear programme.
Over the summer, Mr Trump had said he would meet with Mr Rouhani without preconditions to negotiate a new deal, an offer reiterated on Sunday by US Secretary of State Mike Pompeo and extended to Iran's supreme leader, Ayatollah Khamenei.
Mr Rouhani said yesterday that Tehran would not talk to Mr Trump until the United States returned to the 2015 deal.
The top adviser to Mr Khamenei, Ali Akbar Velayati, rejected the US offer today, saying "Trump's and Pompeo's dream would never come to reality," the IRNA news agency said.
"Despite requests, I have no plans to meet Iranian President Hassan Rouhani. Maybe someday in the future. I am sure he is an absolutely lovely man," Mr Trump wrote in a post on Twitter.
Donald Trump says that in less than two years his administration has achieved more than almost any previous American administration. https://t.co/t4SKKm9Y3D

— RTÉ News (@rtenews) September 25, 2018
Alireza Miryousefi, spokesman for Iran's UN mission, said that Iran has not requested a meeting with Mr Trump.
Some Iranian insiders have said any talks between Mr Rouhani and Mr Trump would effectively kill the existing nuclear accord.
Tensions have been rising after a deadly attack on a military parade in south western Iran in which 25 people were killed.
Mr Khamenei said yesterday the attackers had been paid by US ally Saudi Arabia and the United Arab Emirates, and that Iran would severely punish those behind the bloodshed.
'Didn't expect that reaction, but that's OK' | @realDonaldTrump addresses UN General Assembly pic.twitter.com/6qVkIjSD6t

— RTÉ News (@rtenews) September 25, 2018
Quashing the current pact would come at a political cost for the Iranian president, who championed the deal with the supreme leader's guarded backing and could lose support from European allies.
Mr Rouhani is also under increasing pressure from Iranian hardliners, including Iran's elite Revolutionary Guards, which have kept up the anti-American rhetoric ahead of the UN session.
Mr Trump's administration is pushing allies to cut imports of Iranian oil to zero as Washington prepares to restore sanctions on Iran's oil sales in November.
The remaining countries in the deal, which see it as the best chance to stop Iran from developing a nuclear bomb, agreed yesterday to keep working to maintain trade with Tehran.
Following a meeting yesterday with Britain, China, France, Germany, Russia and Iran in New York, German Foreign Minister Heiko Maas warned that the US strategy of applying maximum pressure on Tehran and going it alone could risk a regional escalation.