The US Ambassador to the United Nations has rejected Iranian claims that the United States and its Gulf Arab allies are fomenting unrest in Iran.
Nikki Haley responded to the claims by saying Iranian leaders should look closer to home.
Iranian president Hassan Rouhani has said Iran is ready to confront the US and its allies, a day after an attack on an Iranian military parade killed 25 people, including 12 members of the elite Revolutionary Guards.
Speaking before leaving Tehran to attend the annual UN General Assembly in New York, Mr Rouhani accused US-backed Gulf Arab states of providing financial and military support for anti-government ethnic Arab groups in Iran.
"America is acting like a bully towards the rest of the world...and thinks it can act based on brute force," said Mr Rouhani, who engineered Iran's 2015 nuclear deal that ushered in a cautious detente with Washington before tensions flared anew with US President Donald Trump's decision to quit the accord.
We need your consent to load this rte-player contentWe use rte-player to manage extra content that can set cookies on your device and collect data about your activity. Please review their details and accept them to load the content.Manage Preferences
"But our people will resist and the government is ready to confront America. We will overcome this situation (sanctions) and America will regret choosing the wrong path."
Iran's Foreign Ministry summoned the United Arab Emirates' charge d'affaires over comments made about the bloodshed in the southwestern city of Ahvaz.
However Ms Haley told CNN that Mr Rouhani "needs to look at his own base to figure out where that's coming from. He can blame us all he wants. The thing he's got to do is look at the mirror."
Iran's Revolutionary Guards have vowed to take "deadly and unforgettable" vengeance against the attackers.
State-run PressTV said the action was taken over comments by an unnamed UAE official, without giving details.
The Gulf Arab state of Qatar, which is at odds with US allies Saudi Arabia and the UAE, condemned the assault on the military parade, which wounded at least 70 people.
Gunmen fired on a viewing stand where Iranian officials had gathered to watch an annual event marking the start of the Islamic Republic's 1980-88 war with Iraq.
Soldiers crawled as gunfire crackled. Men, women and children fled for their lives.
It was one of the worst ever attacks against the Islamic Revolutionary Guards Corp, the sword and shield of Shia clerical rule in Iran since its 1979 Islamic Revolution.
It answers to Supreme Leader Ayatollah Ali Khamenei and runs its own business empire in Iran, a major oil producer which has been relatively stable compared with Arab states that have grappled with unrest since uprisings in 2011.
Since pulling out of the big powers' nuclear pact with Iran in May, Mr Trump has reimposed US sanctions meant to isolate Tehran and force it to negotiate tougher curbs on its nuclear and ballistic missile programmes.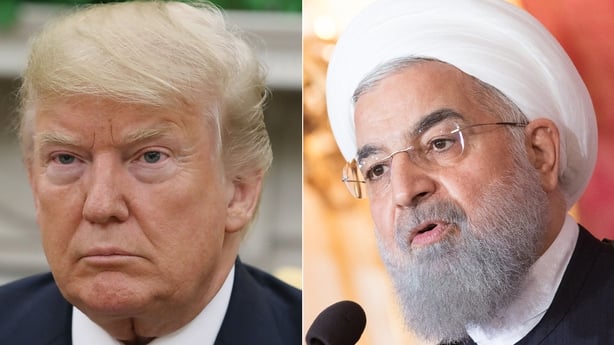 Iran has ruled this out.
"America wants to cause chaos and unrest in our country so that it can return to this country, but these are unreal fantasies and they will never achieve their goals," Mr Rouhani said.
Iran is at odds with Western-allied Saudi Arabia for predominance in the Middle East.
The regional powers back opposing sides in the conflicts in Yemen and Syria as well as rival political groups in Iraq and Lebanon, with the Guards defending Iranian interests.
"The small puppet countries in the region are backed by America, and the United States is provoking them and giving them the necessary capabilities," said Mr Rouhani.
There was no immediate comment from Saudi Arabia on Mr Rouhani's allegations.
Saudi Arabia and the United Arab Emirates say that Iran poses a security threat to the Middle East and tries to dominate the region.
Iran denies the accusations and calls for regional states to guarantee the oil-producing region's security without the interference of the US and other Western powers.
"Iran's answer (to this attack) is forthcoming within the framework of law and our national interests," said Mr Rouhani, adding that the US would regret its "aggressiveness".
An Iranian ethnic Arab opposition movement called the Ahvaz National Resistance, which seeks a separate state in oil-rich Khuzestan province, claimed responsibility for the attack.
"The Persian Gulf states are providing monetary, military and political support for these groups," said Mr Rouhani.
So-called Islamic State militants also claimed responsibility. Neither claim provided evidence. All four attackers were killed.
"Hopefully we will overcome these sanctions with the least possible costs and make America regret its aggressiveness towards other countries, and particularly Iran," said Mr Rouhani.