The President of Tanzania has declared four days of national mourning following a deadly ferry accident on Lake Victoria in which over 130 people died.
"I have decided to declare four days of national mourning starting today," John Magufuli said in an address on TBC One public television.
Many people are still feared missing as rescuers continued their search for survivors today. Initial estimates suggested that the ferry was carrying more than 300 people.
Mr Magufuli also ordered the arrest of "all those involved in the management of the ferry".
"It appears clear that the ferry was overloaded," he said in a speech on TBC One public television, also referring to "negligence". "The arrests have already begun."
37 people had been rescued from the sea, according to the regional police commander for the port of Mwanza.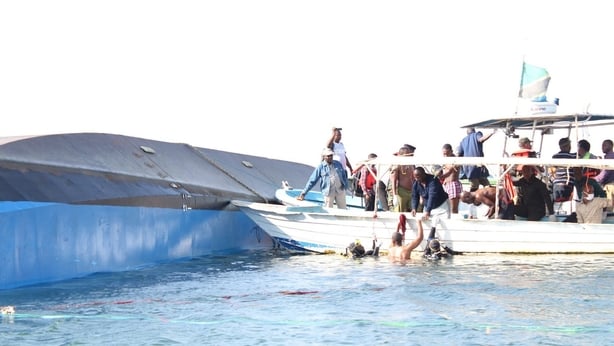 The precise number of those aboard the ferry when it capsized was hard to establish since crew and equipment had been lost.
A statement from Tanzania's Electrical, Mechanical and Services Agency said it was unknown how many passengers were aboard the MV Nyerere.
The ferry was also carrying cargo, including sacks of maize and cement, when it overturned close to the dock.
The cause of the incident was not immediately clear, but overloading is frequently to blame for such incidents.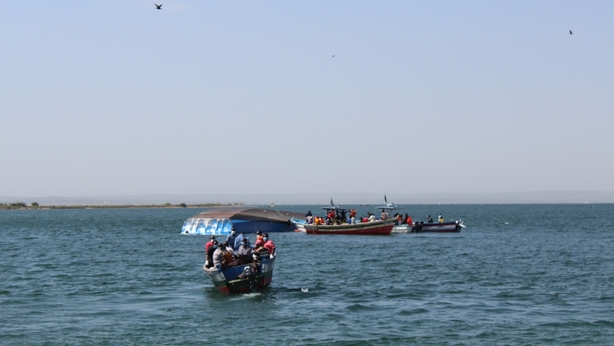 With a surface area of 70,000sq/km, oval-shaped Lake Victoria is roughly the size of Ireland.
Capsizes are not uncommon in the massive lake, and the number of fatalities is often high due to a shortage of life jackets and the fact that many people in the region cannot swim.
The deadliest such accident in recent decades was in May 1996, when around 800 people died after their ferry sank on its way to Mwanza in Tanzania.
Waters in the lake can be rough and boats are frequently poorly maintained, while ferry operators often fail to record the number of passengers on board.
Around 20 people were killed in December 2016 when their boat overturned in Lake Victoria as it was carrying passengers to Uganda's mainland for Christmas holidays.
And in March 2012, only two survivors were found after a boat believed to be carrying around 60 people capsized on the lake in Uganda.
Lake Victoria is the source of the White Nile, one of the main two tributaries of the Nile, which stretches north over nearly 6,700km into Sudan and Egypt.