Myanmar's de facto leader Aung San Suu Kyi has defended the crackdown against "terrorists" from the Muslim minority, and also addressed the army's handling of the crisis.
Speaking at the World Economic Forum on ASEAN in Hanoi, she said: "There are of course ways in which, with hindsight, the situation could've been handled better.
"But we believe that in order to have long-term security and stability we have to be fair to all sides. We can't choose who should be protected by rule of law."
Some 700,000 Rohingya Muslims fled Rakhine state after government troops led a brutal crackdown state in response to attacks by the Arakan Rohingya Salvation Army on police posts and a military base in August 2017.
Myanmar has come under intense diplomatic pressure in recent weeks, with the UN rights office singling out its powerful military chief for his role forcing the Rohingya from the country.
The stateless Rohingya are denied citizenship in Myanmar and widely reviled in the Buddhist-majority country.
Ms Suu Kyi also said that two Reuters journalists jailed for investigating a massacre in Rakhine state were not convicted because they were journalists but because they broke the law.
Wa Lone, 32, and Kyaw Soe Oo, 28, were each imprisoned for seven years last week for breaching the country's hardline Official Secrets Act while reporting atrocities committed during the military crackdown in Rakhine.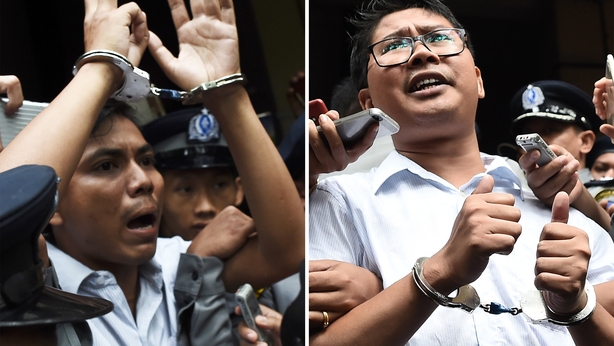 The sentence prompted a storm of global outcry as an assault on freedom of speech, while Ms Suu Kyi came under intense pressure for failing to speak up for the pair.
She broke her silence on the issue today, robustly defending the court's decision to jail the duo.
"They were not jailed because they were journalists" but because "the court has decided that they had broken the Official Secrets Act", she said in her first direct comments on the issue.
Challenging critics of the verdict - including the United Nations and rights groups who once lionised her - to "point out" where there has been a miscarriage of justice, Ms Suu Kyi said the case upheld the rule of law.
"The case was held in open court ... I don't think anybody has bothered to read the summary of the judge," she added.
Army-led "clearance operations" last August drove 700,000 Rohingya into Bangladesh, carrying with them widespread accounts of atrocities - rape, murder and arson - by Myanmar police and troops.
The Reuters reporters had denied the charges, insisting they were set up while exposing the extrajudicial killing of ten Rohingya Muslims in the village of Inn Din in September last year.
This week, the UN rights office accused Myanmar of "waging a campaign against journalists".
It decried "the instrumentalisation of the law and of the courts by the government and military in what constitutes a political campaign against independent journalism".