By Yvonne Murray
In a Beijing suburb, a young mother is taking her ten-month-old baby out for their daily walk. Lu Chang is a dance teacher and her mother looks after the baby while she goes to work.
"Even though I can have two children," says Lu Chang, "I don't want to. I'm so tired. And also, I'm so busy with my own business."
Lu Chang is typical of today's generation of Chinese urban women who are reluctant now to have more than one child.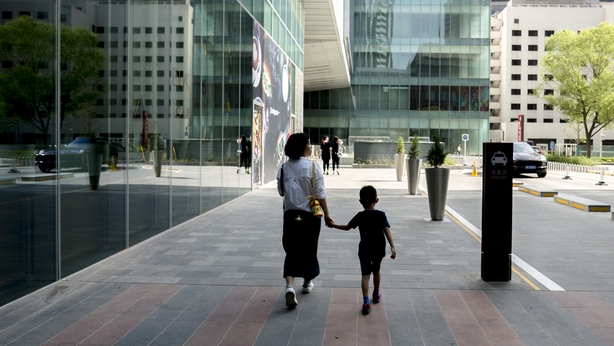 She grew up as an only child at a time when families were prohibited by law from having more than one. Her mother, Jenny Guo, would like her daughter to have more children and says she will help look after them. For her, this is the opportunity she was denied. 
"At that time, we all wanted to have more," she says. "But we were not allowed. You had no choice. You had to follow the policy."
China's One Child Policy was introduced in 1979 and is often described as one of the biggest experiments in social engineering in human history. It is thought to have prevented the births of 400 million people. 
In some parts of China it was brutally implemented. 
We need your consent to load this rte-player contentWe use rte-player to manage extra content that can set cookies on your device and collect data about your activity. Please review their details and accept them to load the content.Manage Preferences
Women were forced to pay exorbitant fines if they became pregnant for the second time. Many, who couldn't pay, were forced into late-term abortions.
The traditional preference for sons, particularly in the countryside, led to a higher rate of abortion of girls and even cases of infanticide.
Babies were abandoned; others hidden from family planning officials.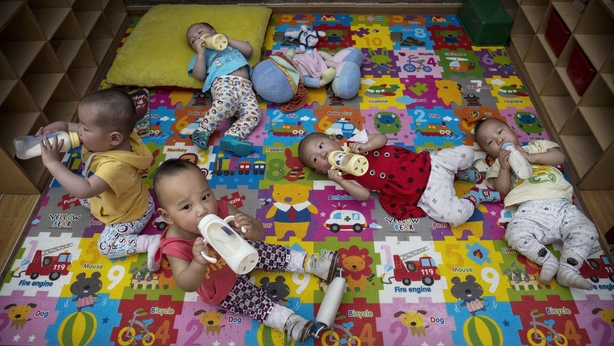 But now, as China faces the prospect of a rapidly ageing population as well as a skewed sex ratio - roughly 30 million fewer women than men - the government is trying to boost the birth rate.
The 2016 change in the law allowed two children per family, which initially sparked a baby boom.
At the end of 2017, the National of Bureau Statistics reported that the birth rate dropped from 1.295% in 2016 to 1.243% in 2017. 
If the decline continues, China is predicted to enter negative population growth in the next decades.
By 2030, a quarter of the population will be older than 60, while the workforce continues to shrink.
"This policy should have been relaxed a long time ago," says Joan Kaufman, senior director of academics at the Schwarzman Scholars Programme and a lecturer on global health and social medicine at the Harvard Medical School.
"It's really too little too late," she said. "The norm now is just one child.
"Having watched this since 1980," she adds, "I find it tragically ironic that there is a campaign to get people to have more children after there was so much personal sacrifice for a policy that probably would have happened anyway.
"If you look at the evidence of the neighbouring countries, with economic growth there is a reduction in fertility and China would probably be in a better place on the fertility level had they just let it drop more gradually in line with economic growth."
"Japan got rich before it got old, so they could provide the pensions and social services for the elderly. China is getting old before it gets rich."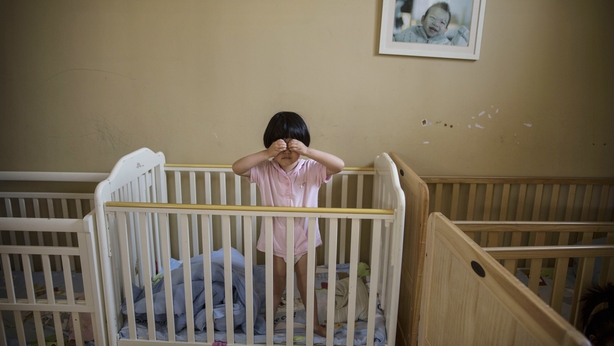 At a kindergarten in Beijing, I meet one mother who decided to have two children before the policy changed. She had to pay a €30,000 fine. 
"Now that you can have a second child for free, I feel it's a little unfair. We had to pay for the education [of the second child] and other things ourselves. We didn't get any extra support."
Many women of child-bearing age scoff at government campaigns to encourage them to have more children.
"And who is going to pay to raise my children?" says one Beijinger dismissively. 
Cost is often cited as the main reason for small family size.
"In China we call it the three mountains," one mother tells me.
"Education, healthcare and housing - everything is too expensive. If the government wants people to have more children, they need to look at these things."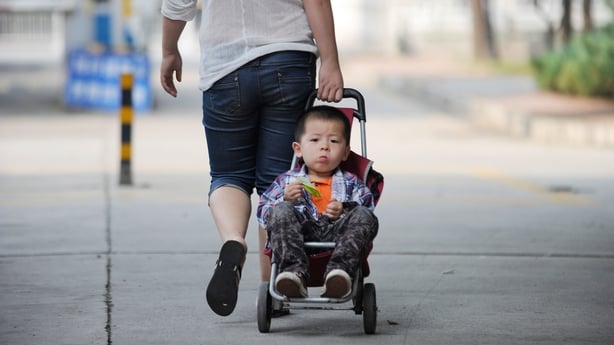 The new middle-class that has emerged out of China's economic development feels huge pressure to give their child every advantage in the world's most populous nation.
Many feel it is better to put all their effort into raising a single child well, rather than dilute their limited resources among siblings.
Places in the good public schools are highly sought after and often parents are asked to pay a hefty administration fee to secure their child's schooling.
In addition, middle-class parents feel obliged to pay for extra tuition, music, art and sports classes in an effort to make sure their child keeps up with its peers. 
"Rich people can have more children," one mother remarks bluntly.
"They can afford it. But for us 'lao bai xing' (old hundred names - a Chinese reference to ordinary people) it is just too expensive."
Another factor is the labour laws in China, which mean that women often have to choose between career or motherhood.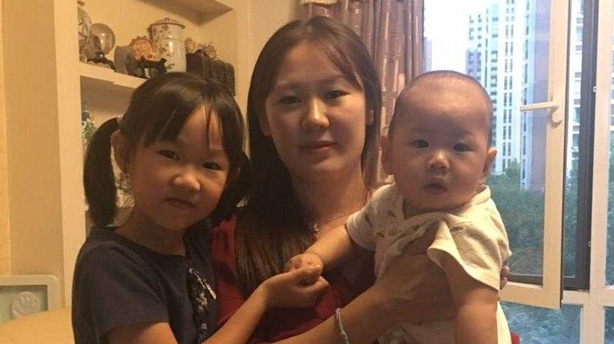 On her second day back at work after maternity leave, Dora, a mother of two, shows me photographs of her four-month-old baby and her five-year-old daughter.
She says she wanted to have two children because she felt lonely as an only child growing up. But she would have liked more time off work.
"It's not enough time," she says. "My son is very little. He wants his mum.
"But at least my parents and my in-laws can help to take care of my children, while my husband and I work."
It is unclear what measures the government will undertake to promote the birth rate.
In one province, it has been reported that access to abortion is being restricted prompting fears that the harsher measures of the One Child Policy could be used in reverse.
"My hope is that it wouldn't become draconian on the other side - penalties for not having children for example," says Dr Kaufman.
"Other countries have tried positive incentives like tax benefits, free schooling and longer maternity leave." 
China recently unveiled the new design for a postage stamp to be launched ahead of next year's "Year of the Pig" in the Chinese zodiac.
The stamp features two happy adult pigs and three baby pigs. It was interpreted as a signal of further changes in the family planning laws to come. 
But with China now so used to small families and so concerned about the cost of raising children, smiling piglets will probably do little to stimulate a baby boom.