At least 19 people aboard an Emirates flight from Dubai to New York were confirmed ill when the aircraft landed on at John F Kennedy International Airport.
However, as many as 100 passengers and crew reported feeling sick at some stage.
Ten of the 19 people on Flight 203, which landed with at least 521 passengers at around 9am (2pm Irish time), were taken to hospitals.
The other nine declined treatment, said Raul Contreras, a spokesman for the New York City mayor's office.
"Everyone else was clear," he said.
All passengers aboard the plane were allowed to leave by Wednesday afternoon, according to an Emirates spokeswoman, who said three passengers and seven crew members were being treated at a hospital.
"Nine passengers underwent additional medical screening at the site near the aircraft and were released afterwards," said the spokeswoman for Dubai-based Emirates.
"The rest of the passengers were allowed to leave and clear customs."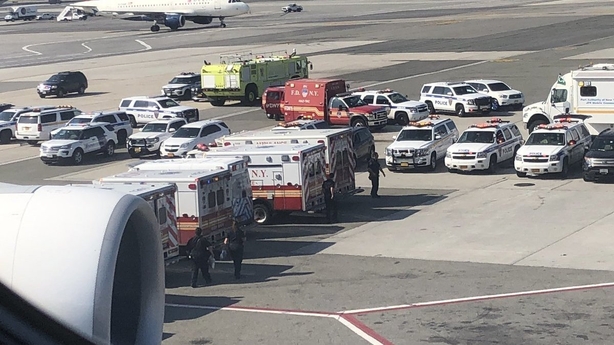 About 100 people complained of feeling ill on the flight from the Middle East, with symptoms including cough and fever, the Centers for Disease Control and Prevention (CDC) said in a statement.
The plane - a double-deck Airbus 380 - was taken to a location away from the terminal so emergency officials could evaluate the situation. The A380 is the world's largest passenger aircraft.
The White House was monitoring the situation, spokeswoman Sarah Sanders said, and President Donald Trump was being updated as new information became available.
Larry Cohen, who identified himself as one of the passengers aboard the plane, uploaded photos on Twitter showing dozens of police and emergency vehicles waiting outside the plane on the tarmac.
432 now off and cleared. 8 more sick and being treated at the airport. https://t.co/2QH3EubVPJ

— Eric Phillips (@EricFPhillips) September 5, 2018
All passengers being asked to fill out the Center for disease control and prevention form pic.twitter.com/6SidlKx090

— Larry Coben (@LarryCoben) September 5, 2018
Diala Makki was traveling first-class on Flight 203 en route to New York Fashion Week when she learned from flight crew that a number of people had become sick onboard and passengers were to be detained until officials made checks.
"The Emirates cabin crew were super-helpful, they were not in panic mode, which was amazing," she said.
"Then we got the American officials check every one of us until we got out. They dealt with it really well."
Makki, a television host from Dubai, said she got "just a little bit scared" through the entire experience and was aware of reports of 100 people sick.
"That's what I heard, but the cabin crew told me it was 10, so I don't know," she added.
The flight was delayed at take-off and lasted nearly 14 hours, according to FlightAware.com.