The United States has cut funding to a UN agency that supports Palestinian refugees, saying its business model and fiscal practices were an "irredeemably flawed operation."
"The administration has carefully reviewed the issue and determined that the United States will not make additional contributions to UNRWA (United Nations Relief and Works Agency)," State Department spokeswoman Heather Nauert said in a statement.
Washington has long been the largest UNRWA donor but is "no longer willing to shoulder the very disproportionate share of the burden," Ms Nauert said.
Just hours after the Palestinians warned such a move would further undermine the already flailing chances of peace with Israel, Ms Nauert said there would be no additional contributions beyond a $60 million dollar payment in January.
"The United States will no longer commit further funding to this irredeemably flawed operation," she added.
There have been widespread warnings about the impact about a halt to funding from the US which contributed $350 million to UNRWA's budget last year.
But Ms Nauert said the US would "intensify dialogue with the United Nations, host governments, and international stakeholders about new models and new approaches" to help alleviate any impact on Palestinian children.
"We are very mindful of and deeply concerned regarding the impact upon innocent Palestinians, especially school children, of the failure of UNRWA and key members of the regional and international donor community to reform and reset the UNRWA way of doing business," she added.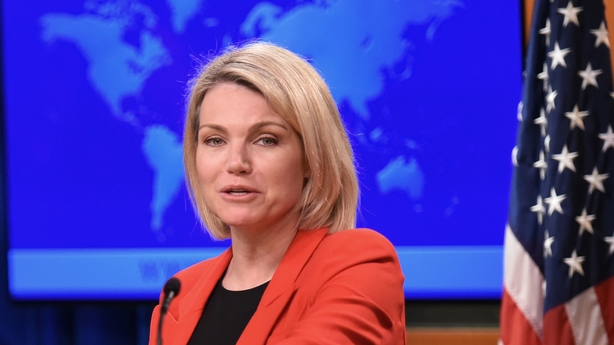 The Palestinian ambassador to Washington, Hossam Zomlot, had earlier said that the US would be guilty of "reneging on its international commitment and responsibility" if reports that funding was to end were confirmed.
"By endorsing the most extreme Israeli narrative on all issues including the rights of more than five million Palestinian refugees, the US administration has lost its status as peacemaker and is damaging not only an already volatile situation but the prospects for future peace," Mr Zomlot said in a statement.
The Palestinian Authority has refused all contact with Washington since US President Donald Trump announced late last year that he was unilaterally recognising Jerusalem - which is claimed by both Israel and the Palestinians - as the Israeli capital, making the US one of very few countries to do so.
The United States also announced last week that it was canceling more than $200 million in bilateral aid to Palestinians in Gaza and the West Bank.