A bitterly divided US Congress came together this afternoon to commemorate the late Senator John McCain, remembering him as a tenacious fighter for his ideals who never lost his sense of humour or his ability to inspire others.
Leaders from both parties gathered in the US Capitol Rotunda to honour McCain on the third of five days of memorial celebrations in Arizona and Washington for the Vietnam War hero and two-time Republican presidential candidate.
US President Donald Trump was missing from the ceremony, a result of the animosity between the two men that lingered even after the Arizona senator's death on Saturday from brain cancer.
Mr Trump will also miss Saturday's service at the Washington National Cathedral, where former president Barack Obama, the Democrat who defeated McCain in 2008, and Republican president George W. Bush, who beat McCain in the 2000 Republican presidential primary, will pay tribute to the late Senator.
A ceremony honouring the life of @SenJohnMcCain is getting underway in the Capitol Building in Washington. #JohnMcCain @rtenews pic.twitter.com/v71INiawld

— Brian O'Donovan (@BrianOD_News) August 31, 2018
Senate Republican leader Mitch McConnell, who often fought with McCain over issues such as campaign finance reform and Obama's healthcare overhaul, praised him as a "generational leader" in the Senate.
"He would fight tooth and nail for his vision of the common good. Depending on the issue, you knew John would either be your staunchest ally or your most stubborn opponent," Mr McConnell said.
"At any moment, he might be preparing an eloquent reflection on human liberty or a devastating joke, served up with his signature cackle and that John McCain glint in his eye," he said.
Today's events in the Capitol also featured remarks by fellow Republicans Vice President Mike Pence and House of Representatives Speaker Paul Ryan, marking McCain's 35-year career in Congress.
After the ceremony, the public will pass through the Rotunda for six hours to pay their respects to McCain by filing past his coffin, which was brought into the Rotunda and placed atop a pine board catafalque originally constructed in 1865 for former President Abraham Lincoln's casket.
Mr Trump will travel to one of his private golf clubs for a campaign fundraiser.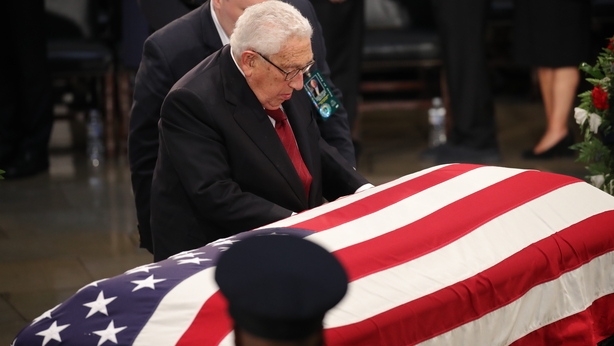 Sitting American presidents traditionally "serve as a source of solace and comfort" for the country at times of loss and tragedy, Princeton University historian Julian Zelizer said.
But the Trump-McCain relationship left little room for that.
In 2015, not long after Mr Trump kicked off his presidential campaign, McCain condemned his hard-line rhetoric on illegal immigration, accusing Mr Trump of "firing up the crazies."
Mr Trump hit back, saying of McCain's five-and-a-half years as a prisoner of war in Vietnam: "He was a war hero because he was captured. I like people who weren't captured."
Mr Trump received five deferments that got him out of military service.
More recently, McCain accused Mr Trump of kowtowing to Russian President Vladimir Putin at a July summit in Helsinki. It was, McCain said, "one of the most disgraceful performances by an American president in memory."
Mr Trump in turn delayed issuing any statement after McCain's death.
At one point, the US flag atop the White House that had been at half-mast was raised back up, then lowered again after Mr Trump drew fire from Congress and veterans.