Family, former colleagues and other dignitaries have been filing past the flag-draped casket of US Senator John McCain in Arizona.
It is the first of several memorial tributes planned for the war hero and two-time Republican presidential candidate.
A hearse bearing his body arrived at the Phoenix state building with a police motorcycle escort for a brief ceremony honouring the Arizona senator, who died from brain cancer on Saturday aged 81.
Governor Doug Ducey and his wife greeted the hearse along with military personnel, war veterans, law enforcement officers and firefighters in dress uniform.
An Arizona National Guard team carried the coffin into the centre of the rotunda, followed by family members, the governor and other politicians and guests.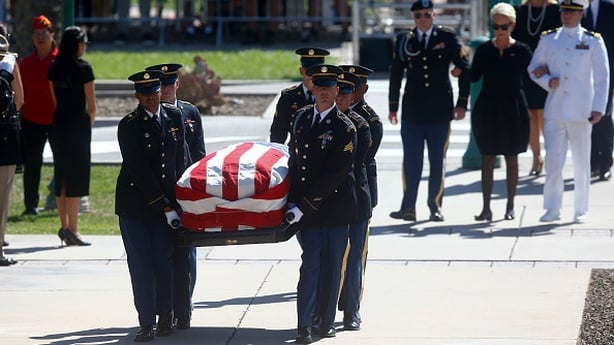 Speakers paid tribute for about 30 minutes to McCain's life and legacy.
"He fought like hell for the causes he believed in," Mr Ducey said.
"But along the way he did it with humour and humanity, and without compromising the principles he held so dear."
Mr McCain's wife, Cindy, widely seen as a possible candidate for appointment to succeed her husband, led the procession of relatives and dignitaries filing past his casket.
The ceremony marked the start of five days of tributes in Phoenix and Washington for Mr McCain, who would have turned 82 today.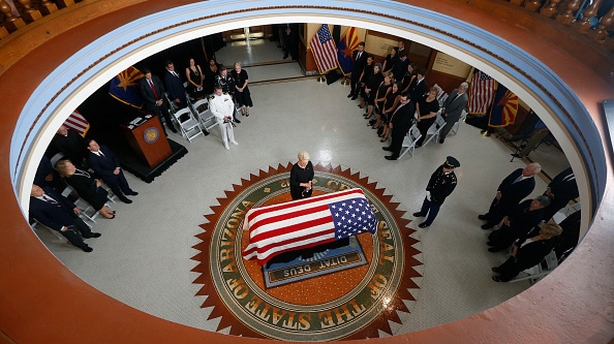 Mr McCain, a former US Navy pilot who endured more than five years as a prisoner of war after his aircraft was shot down over Hanoi during the Vietnam War, went from military service into a decades-long political career.
Over the past two years he stood out as sharp critic of US President Donald Trump.
The bad blood between the two persisted after Mr McCain's death, with his family asking Mr Trump not to attend the funeral.
Following a Phoenix church service tomorrow, Mr McCain's body will be flown to Washington where he will lie in state on Friday at the US Capitol before a funeral on Saturday at the Washington National Cathedral.
Mr McCain is to be buried at the US Naval Academy in Annapolis, Maryland, on Sunday.
Mr Ducey has said he will wait until after Mr McCain's burial to name a successor to fill the Senate seat.
All five living former presidents - Barack Obama, George W Bush, Bill Clinton, George HW Bush and Jimmy Carter - paid tribute to Mr McCain's courage and character.
Mr Obama and George W Bush will deliver eulogies at his funeral on Saturday.