At least 22 children and four women were killed in a Saudi-led coalition air strike while fleeing fighting in Yemen, the UN aid chief has said.
In addition to that strike, four other children died in a separate air strike, the UN undersecretary-general for humanitarian affairs Mark Lowcock said.
Both were in the Al-Durayhimi district, south of the rebel-held city of Hodeida.
"This is the second time in two weeks that an air strike by the Saudi-led coalition has resulted in dozens of civilian casualties," Mr Lowcock said in a statement.
A coalition attack on a bus in the northern rebel stronghold of Saada on 9 August killed 40 children, prompting UN Secretary-General Antonio Guterres to call for an independent investigation.
Mr Lowcock echoed Mr Guterres' appeal for "an impartial, independent and prompt investigation" and said "those with influence" over the warring sides must ensure that civilians are protected.
The coalition has announced that it will investigate the 9 August bus attack that drew strong international condemnation, but rights groups insist that any probe should be impartial.
The rebel-run Saba news agency said the air strike today hit a bus and a home but the United Arab Emirates, a key partner in the coalition, blamed the Houthi rebels for the attack.
Al-Durayhimi lies some 20km south of Hodeida, and has seen two weeks of fighting between the rebels and pro-government forces backed by the UAE.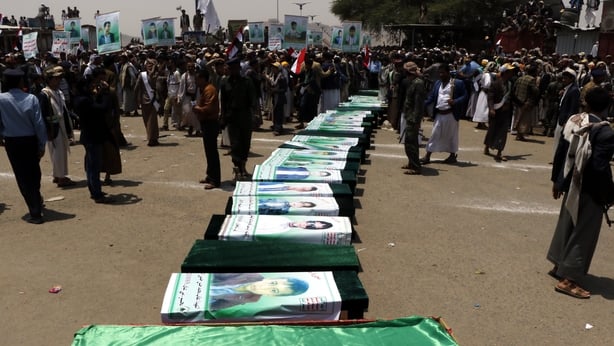 "I had hoped that the outrage that followed the Saada attack in Yemen two weeks ago would be a turning point in the conflict. Yesterday's reported attacks in Al-Durayhimi indicate that it was not," said Henrietta Fore, the director of the UN children's agency UNICEF.
Ms Fore urged the warring sides, their foreign backers and the Security Council to "take action and end this conflict once and for all."
The UN Security Council this month called for a "credible" investigation of the bus attack in Yemen, but did not demand an independent probe.
Three of the five permanent council members - the United States, France and Britain - have supported the coalition in its military campaign although they have expressed growing concern over the heavy toll on civilians.
Kuwait, a non-permanent council member, is part of the coalition fighting the Houthi rebels.
Led by Saudi Arabia, the coalition launched its military campaign in Yemen in 2015 to push back the Houthis who still hold the capital Sanaa and return President Abedrabbo Mansour Hadi to power.
The war has left nearly 10,000 people dead and unleashed what the United Nations describes as the world's worst humanitarian crisis.