Former Donald Trump campaign chairman Paul Manafort has been found guilty on eight charges of tax and bank fraud and failing to disclose foreign bank accounts.
The verdict came after a jury said it could not reach consensus on the other ten charges against him.
The jury, after almost four days of deliberations, found Manafort guilty of two of nine bank fraud charges, all five tax fraud charges he faced and one of four charges of failing to disclose foreign bank accounts.
Judge TS Ellis declared a mistrial on ten of the 18 counts, after the jury told him it could not reach a verdict on those charges.
A lawyer for Mr Manafort said he was disappointed with the verdict and was evaluating all of his options.
The judge has not set a sentencing date and has given prosecutors until next Thursday to decide whether to retry Manafort on the deadlocked charges.
Following the verdict, Mr Trump tried to distance himself from Manafort's conviction, saying it did not involve him.
"I feel very badly for Paul Manafort. It has nothing to do with me. Nothing to do with Russia collusion," Mr Trump said as he arrived in West Virginia for a rally.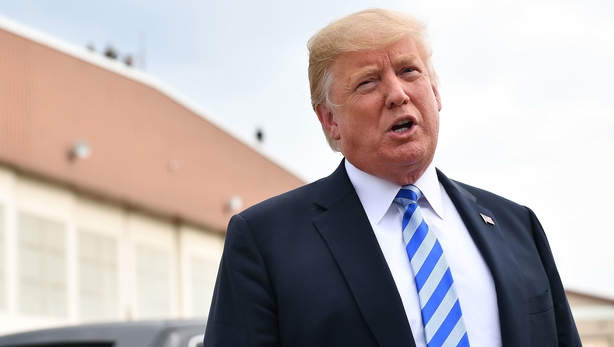 The trial of Manafort, a veteran Republican operative, is the first stemming from Special Counsel Robert Mueller's investigation of Russia's role in the 2016 US election.
The charges against Manafort largely predate his work on Mr Trump's successful campaign.
Prosecutors accused Manafort, 69, of hiding from US tax authorities $16m he earned as a political consultant for pro-Russian politicians in Ukraine to fund an opulent lifestyle and then lying to banks to secure $20m in loans after his Ukrainian income dried up and he needed cash.
The verdicts completed a stunning fall for Manafort, a once-powerful political fixer and consultant and well-known figure in Republican politics for decades.
While Mr Trump has sought to play down his connections to him, Manafort worked for five months on Mr Trump's 2016 campaign during a pivotal period in the presidential race, including three months as chairman.
#PaulManafort, the former campaign manager of @realDonaldTrump, has been found guilty of 5 charges of tax fraud, 2 charges of bank fraud and 1 charge of hiding foreign bank accounts. @rtenews pic.twitter.com/gvCmhba5d5

— Brian O'Donovan (@BrianOD_News) August 21, 2018
Elsewhere, Mr Trump's former personal lawyer, Michael Cohen, has pleaded guilty to tax fraud, campaign finance violations and bank fraud.