By Yvonne Murray
At the Salesian House of Studies, in the hills of Hong Kong, Cardinal Joseph Zen taps the table for emphasis. 
"The Vatican is selling out and abandoning the faithful of the underground church in China," he says.
The 86-year-old former Bishop of Hong Kong, is referring to recent negotiations aimed at finally reconciling two seemingly opposing doctrines: Chinese communism and Roman Catholicism.
The largely secretive deal is expected to give the atheist Chinese state what it has long been seeking - formal control over the appointment of bishops.
Its most vocal critic, Cardinal Zen, was born in Shanghai and moved to Hong Kong a year before the communists swept to power in 1949. 
"We were cut off from our families and our church in China," he says about the years after the communist takeover, "and the persecution there began immediately."
Catholicism, like all religions, suffered intense oppression during the Cultural Revolution and while the worst excesses of that era gave way to more openness, members of the church remain subject to heavy surveillance and sometimes arrest. 
"The Holy See encouraged them to persevere and for so many years Popes praised their courage," he says. "And now they are being told to surrender."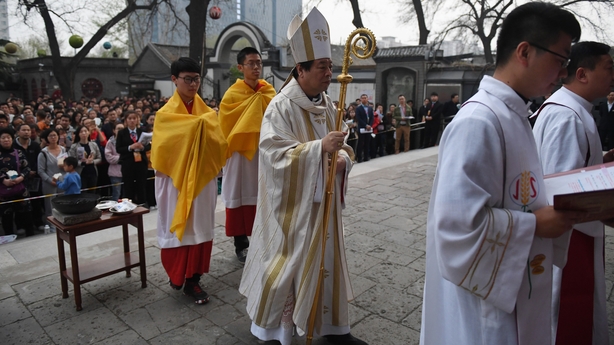 In China, there are only five religions recognised by the state – Catholicism, Protestantism, Buddhism, Islam and Taoism – and all remain officially under government control. 
As a result, China's estimated 10-12 million Catholics are split, fairly equally, into two camps: one official church led by a state-controlled organisation, The Chinese Catholic Patriotic Association, and another so-called underground church run by bishops appointed by the Pope. 
In practice, on the ground in China, there is already significant overlap between the two communities.
Although many underground communities operate in secret, in some areas of the country the unofficial church is tolerated to the extent that congregations worship openly in large churches.
Several official Chinese bishops have been excommunicated from the Church of Rome but others enjoy approval from both the Vatican and Beijing. 
Recently, some in the underground community fear restrictions on unofficial activities are tightening, in line with Xi Jinping's crackdown on civil society.
At the same time, the Holy See is working to foster better relations with Beijing.
In what's largely viewed as a significant concession, a Vatican delegation to China early this year asked two underground bishops - Bishop Zhuang Jianjian of the southern Chinese city of Shantou and Bishop Guo Xijin of Fujian province – to step aside to make way for communist party-backed appointees.
It is a big step towards a final deal formalising the Communist Party's right to appoint bishops. The Pope, it is thought, will only retain a veto.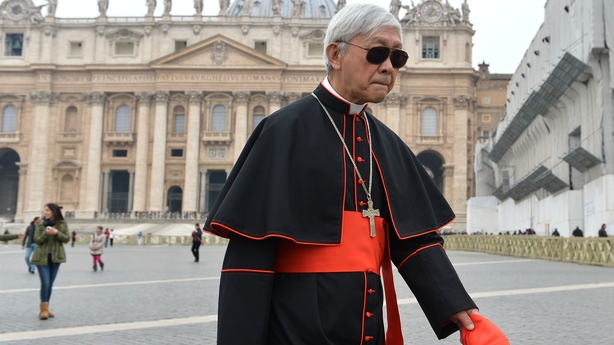 Cardinal Zen promptly set off for Rome to seek an audience with Pope Francis over the matter.
"From what I know in confidentiality," he says, "the Pope is on our side and he doesn't know exactly what the Holy See is doing." 
The Vatican has denied there was any disagreement between the Pope and his delegation to China and accused Cardinal Zen and his supporters of fostering confusion.
Rome's apparent readiness to compromise is seen as an attempt to promote the growth of Catholicism within China.
As congregations diminish in traditionally Catholic countries like Ireland, China, with its population of 1.4 billion, presents a new frontier in the battle for souls. 
Partly because of the political split within the Chinese Catholic church, other faiths, such as Protestantism, have spread much faster, with an estimated 40-60 million practicing protestants today.
Proponents of the new deal say it is essential to the survival of Catholicism in China.
"I am in favour," says Francesco Sisci, senior researcher at Renmin University in Beijing and specialist on China-Vatican issues.
"The rift in the Chinese church," he adds, "is deep and full of pain, and Rome has been working hard on mending fences."
"A normalisation of ties would hopefully enable the Chinese catholic church to recover fully her unity," he says.
Father Joseph, an Irish priest from the Vincentian order – which sent its first Irish missionary to China in 1785 – worked in China for 24 years.
When asked whether he felt he was tightly monitored by Chinese authorities, he would often reply "there's probably a file on me somewhere with the words 'mostly harmless,' stamped on the front."
He believes the real issue is identity, not ideology.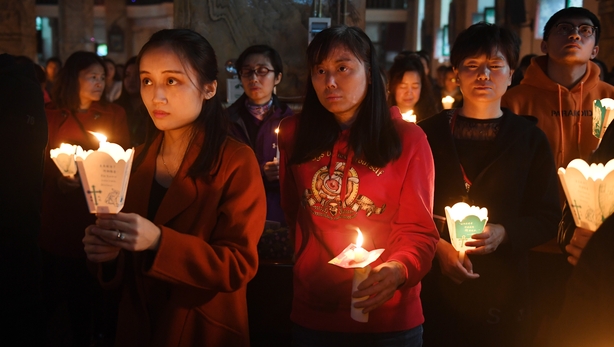 "Catholics, especially those who identify with the underground groups, have developed a strong internal identity which dismisses all "overground" clergy (most of whom, by now, are actually in full communion with Rome) as irredeemably tainted," he says.
"They have "taken the soup" as it were," he says.
"The rapprochement between Rome and Beijing would be a wonderful achievement, but it would be naive to imagine that those strong, almost tribal identities would just fade away."
"Think of Northern Ireland post Good Friday Agreement. It is still divided along the old fault lines," he adds. "There has to be an acceptance that resolution is not a narrow issue."
A bigger challenge to the church's survival, Fr Joseph believes, is China's ongoing internal migration.
"Catholicism has been unable, both for internal reasons and because of government restrictions, to adapt its structure to deal with migration," he says.
"It remains a rural church while millions of Chinese citizens have moved to the cities." 
"There is nothing in China to compare with the response of the Irish church to mass emigration in the 19th century," he says, "when priests and religious followed the Irish overseas and set up infrastructures to sustain the faith in new environments."
For many of the faithful of modern Ireland, the Vatican's mishandling of sex abuse cases amounted to a betrayal, leading to emptying pews across the country. 
Now as the church seeks to win souls in China through its diplomatic dance with Beijing, the same charge is being levied by those who feel abandoned by Rome.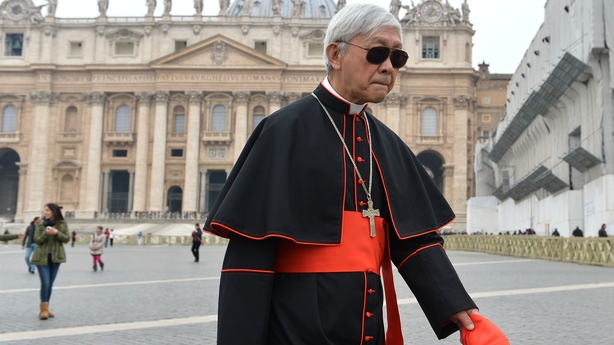 "If the government takes our churches, let them take them," says Cardinal Zen.
"We will go home. We will till the soil. We will live in the catacombs like the primitive church. So what?"
"It's the faith that's important," he says. "Martyrs can be without sacraments for years and years, and die for that," he adds.
The cardinal says he will continue his fight against the new agreement until the Pope orders his flock to accept it.
"I cannot fight the Pope," He says. "This might be my last act of protest. I will retire into silence."
We say our goodbyes. "Pray for us," he says quietly, as he closes the door.