Indian Prime Minister Narendra Modi has promised the flood-ravaged state of Kerala more helicopters, boats and other equipment needed to evacuate tens of thousands of stranded people, as he was given an aerial tour of stricken areas.
There are growing fears that the death toll, already in the hundreds, could escalate rapidly, with so many people still marooned, desperate for food and potable water.
The chief minister of the southwestern state has estimated that two million people have been forced to move into relief camps since the monsoon season brought torrential rains three months ago.
He put the death toll from floods and landslides at 324.
An official involved in the relief operations told Reuters on Saturday that 185 people had died since 8 August, when the waters began to rise, causing Kerala's worst floods in a century.
Mr Modi was taken by helicopter over inundated farmland and villages, as India's military stepped up its response to an emergency that is still unfolding.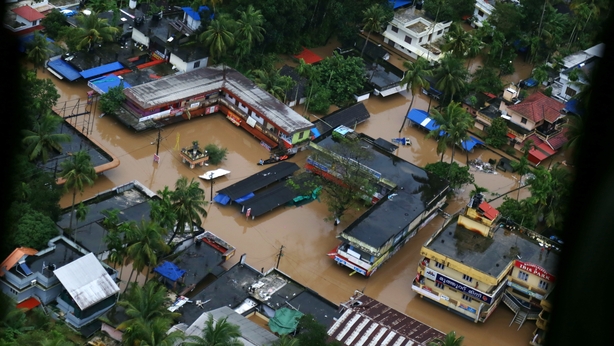 "More helicopters, boats and other equipment are being sought and Modi promised to provide all of these as fast as possible," Kerala Chief Minister Pinarayi Vijayan said.
"The air marshal in charge of the air operations said more helicopters are on the way," Mr Vijayan said.
The chief minister said initial estimates suggest the state may have lost 195 billion rupees (€2.42bn) as a result of the floods.
Mr Modi declared initial assistance of five billion rupees and promised more, Mr Vijayan said.
The prime minister also gave assurances that the federal government would send desperately needed grains, as storage in the state had been flooded and stocks destroyed.
As the rescue efforts ramped up, more army boats and helicopters were operating in the worst-affected areas to "save as many people as possible," the government official involved in the rescue operation said.
In some communities, thousands of people remained stranded on roof tops and upper floors, without food, water, and medicine.
Some people have died in relief camps too, officials said.
Monsoon rains are likely to ease from Sunday, an official with the state-run India Meteorological Department told Reuters.